Review: Nokia Lumia 928 for Verizon Wireless
Article Comments 8
May 17, 2013, 1:43 PM by Eric M. Zeman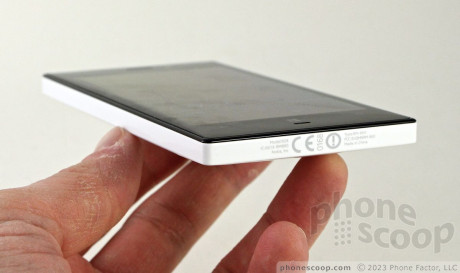 Nokia's new Lumia smartphone for Verizon Wireless is a variation on a theme. This Windows Phone is good, but not without some flaws.
Advertisements article continues below...
Form
Is It Your Type
Seeing a high-end Nokia smartphone run on Verizon's network is likely a welcome site to some. Fans of Nokia's hardware have had few handsets from which to select in Big Red's stores during the last 10 years. The Lumia 928 should serve to quench both your Nokia and Windows Phone thirst if you like to call Verizon's network your own.
Body
Six months after the Lumia 920 hit AT&T's store shelves, the Lumia 928 - a variation of the 920 - lands in Verizon Wireless's stores. If you were pining for the 920, but need to stick with Verizon, now's your chance to grab the latest Lumia from Nokia. Of course, calling it the "latest Lumia" is a bit of a misnomer, because much of the innards are from last year's model.
The 928 has an entirely new outer shell, however, and it loses nearly all the appeal held by the 920. Where the 920 was rounded and smooth, the 928 is rectangular and blocky. It has sharp corners and flat side edges that I found uncomfortable. These cosmetic changes make the 928's size and bulk all the more obvious to the user, both when looking at the phone and when holding or using it.
The 928 has a bit of a vanilla look to it (and not just because we're reviewing the white model). The entire front is covered in black glass that runs edge-to-edge. The glass is tapered where it meets the sides, but the tapering is barely noticeable. The polycarbonate shell that forms the sides and back surface is stark and plain. It is broken up only by the camera module and flash on the back. The white model has a glossy finish that I did not care for. The entire surface of the 928 was prone to collecting finger oils, which often gave it a greasy sheen. Ick.
It's a big device; there's no getting around that fact. It's chunky and heavy (though not as heavy as the 920 was), and it's wide. People with small hands may not be able to hold the 928 comfortably. It will fit in pockets, but it feels like you've crammed a block of wood down your pants because it's such a large hunk of plastic. The quality of the materials is good, but just shy of great. I thought there was a bit too much creaking going on when I handled the phone. That said, the 928 is solid and strong thanks to the polycarbonate.
The 928's display is swimming a little bit in the big sea of black glass on the front. Nokia could easily have fit a 5-inch display where the 928's 4.5-inch screen is. There's plenty of bezel all the way around the screen. The three Windows Phone action keys are below the screen. Each of the three capacitive buttons worked well and provided haptic feedback when touched. The Nokia and Verizon logos are barely visible in the area near the user-facing camera and earpiece speaker.
All of the ports and side buttons are concentrated on the top and right edges of the 928. The top houses the 3.5mm stereo headphone jack, the SIM card tray, and the microUSB port. The SIM tray can be fetched with your fingernail; no paperclip required. The volume toggle, screen lock, and camera buttons are placed along the right side. All three have good profiles and are easy to find with your fingers. I didn't like the action on any of them, however. The screen lock and volume toggle, in particular, were far too mushy with no real "click" to them. The camera button was better, but discerning between its two stages was impossible unless you use the most delicate touch to press the key.
The 928 is sealed up tight, so you can't access the battery. Nor does the 928 offer access to a memory card. You'll have to rely on the built-in storage (about 23GB accessible to users.)
There's nothing really wrong with the 928, but I wish it were lighter and had the 920's more comfortable shape.
Performance
Screen
The 928's display measures 4.5 inches across the diagonal and has 1280 x 768 pixels. The display uses OLED technology and Nokia's ClearBlack to enrich the contrast. It's very bright and colorful, and all the on-screen elements are easy to read and see. Viewing angles are great, and there's no color shift or brightness loss when the phone is viewed from an angle. As with other Lumia devices, the 928's display was easy to see and read outdoors. It's a fine screen.
Signal
The 928 did particularly well on Verizon's LTE network. It remained attached to 4G the entire time I tested it. The 928 never dipped down to Verizon's EVDO 3G network (for data.) All of the voice calls I made connected on the first attempt. The 928 didn't miss any calls and didn't drop any while I used it. With a constant LTE connection, the data speeds were always good, which meant browsing the web and updating web-connected apps was a good experience throughout.
Sound
I thought calls made with the Lumia 928 were good, but not great. For starters, the earpiece produces a thin sound that I didn't find satisfying at all. Second, you have to position the phone *just right* to get the earpiece aimed into your ear. It seems very directional. If it's not lined up properly, the volume drops a lot and it sounds a bit muffled. With the volume set all the way up and the phone lined up with your ear canal, calls were moderately loud, but any amount of ambient noise in the area will overpower the earpiece. This with whom I spoke reported that my voice sounded clear, but distant. The speakerphone also has volume issues. If the 928 is held in your hand, it will be very hard to hear the speakerphone, even if the volume is maxed out. It works much better if you place the 928 on a hard, flat surface, such as a desk to table. The quality of the speakerphone wasn't that great, either. Ringtones and alerts were sufficiently loud, but I thought the vibrate alert was a bit weak.
Battery
The Lumia 928 did not give me any trouble as far as battery life is concerned. It consistently lasted an entire waking day (7AM - 11PM) with no problem. Most of the time, it had plenty of power to spare at the end of the day. Even on days when I used it heavily, the battery had enough oomph to go the distance. As with most modern phones, you'll need to charge it daily, but you shouldn't have to worry about topping off throughout the day.
Basics
Menus
The 928 runs Windows Phone 8 from Microsoft. Because handset makers and carriers aren't allowed to adjust the user interface, the experience on the 928 looks and feels just like it does on other WP8 devices.
The lock screen has customizable alerts. You can choose which alerts reach the lock screen and which don't, as well as pick which type of alerts are given priority. I like that you can customize the lock screen wallpaper, as well as set passcodes and jump straight to the camera.
The Start screen offers plenty of customization options. The Live Tiles can be resized in small, medium, and large variations, and of course the Tiles can be arranged however you want. Plenty of apps support Live Tiles in WP8, which makes the Start screen even more lively with the ever-changing array of content.
Windows Phone supports multitasking - or quick-app switching - and will pick up right where you left off when you return to an open app. Press-and-hold the Back button to activate the feature.
The 928 has a 1.5GHz dual-core Snapdragon S4 Plus processor. Windows Phone has always been a quick operating system and the dual-core engine provides more than enough power to keep the 928 feeling light on its feet.
Calls and Contacts
The phone app is simple to use and offers a standard set of features, such as hold, mute, speakerphone, merge calls, send to Bluetooth, and reject calls with text messages. It's easy to text or call a number stored in the call log, as well as add it to a contact. The interface is stark, but in a good way.
The People Hub ties in users' Facebook, LinkedIn, and Twitter profile data, as well as their email-based contact database. It's an extremely rich contact app and provides a near flood of updates about those in your various social networks. Each contact card holds tons of data, including links to social accounts, and make it easy to call or message someone without having to type numbers anywhere.
Messaging
The stock messaging tools are unchanged on the Lumia 928 when compared to other WP8 devices. The email app is excellent, though it stops short of being as awesome as Gmail on Android (or on the iPhone, for that matter.) Social networking - which is built into the People Hub - is quite useful.
The two features that really set Windows Phone 8 apart are Groups and Rooms. These are both subsections of the People Hub. They essentially let you manage, communicate with, share photos with, and coordinate calendars between small groups of people. Groups are meant to be larger social and/or work circles, while Rooms are meant to be smaller collections of your closest family/friends.
The text messaging app also encompasses Facebook messaging and Skype IM. It used to include WIndows Live, but Microsoft has moved all Windows Live users to Skype. If you want to include Skype messaging, you have to first download the separate Skype app and sign in. Only then will your Skype contacts be loaded into the messaging app. Once they are, you can see who's online and who isn't. I have always liked that WP8 puts all your messaging services into a single app with a unified interface.
Despite having certain social networking functions built into the People Hub, you need to download the full Facebook, Twitter, and LinkedIn apps if you really want to interact with your social networks in depth.
Extras
Media
The 928, like all Windows Phone devices, uses Microsoft's XBox Hub and storefront for entertainment and media. The XBox Hub includes gaming, music, and video. It's a decent app to help score some entertainment, but you'll need to use desktop software to sync your music to the device (especially since there's no sideloading via microSD).
Nokia Music, which is exclusive to Nokia's Windows Phones, is on board as well. Nokia Music is separate from XBox. It has its own store through which music can be purchased, and offers a wide variety of streamed radio stations, personalized recommendations, and the ability to browse through local concerts. I like the concert discovery tool.
The 928 also includes Verizon's NFL mobile app, which lets owners watch football games, as well as get scores and news. Since we're in the offseason, most of the content in the NFL app is related to the recent draft and other developments in the league. YouTube is not included, but there are several third-party YouTube apps in the Windows Phone Store.
I didn't have any trouble with these services at all. Music sounded good and videos looked good.
Camera
The camera launches with a long press of the dedicated button, even when the phone is locked. It's dead-simple software that's easy to master. The menus and controls are all self-explanatory and work well.
I found the camera opened quickly and was ready to take the first image in less than 3 seconds. The shutter button itself requires some finessing. As noted earlier, the stages are hard to tell apart. If you're really gentle with the button, you'll be able to focus before firing the shutter.
The 928, like all WP8 phones, supports "Lenses". Lenses for the camera are third-party plug-in apps that perform specific actions with the camera. Nokia offers several of its own lenses, which are not available to other WP8 devices. A half dozen were preloaded, and they include Cinemagraph (for making animated GIFs), Panorama, Smart Shot (for piecing together group shots in which everyone is smiling and no one is blinking), Bing Vision (for image search), CNN iReport, and PhotoSynth (Microsoft's panorama app).
Using any of the Lenses requires a few extra steps, but that's not unlike other devices that offer special shooting modes.
The camera allows users to adjust scenes, ISO, white balance, and aspect ratio, but not resolution. It's stuck at 8 megapixels.
Photos
The 928 has an 8.7-megapixel imager and it does a fairly good job, but it had the same problems I saw on the Lumia 920. White balance was wildly inconsistent (see the landscape shot below). Focus was nearly always spot on, as was exposure. Reds and pinks tended to blow out the sensor, though, even with even lighting. I thought the low-light performance was also a bit mixed (see concert shots below). It's a good camera most of the time, but the inconsistency worries me.
Video
The 1080p HD video I shot had perfect focus. The footage below is razor sharp. I saw a lot of inconsistencies in exposure and white balance, though. You can actually see the white balance change as I pan the 928 around in the video. Aside from the white balance issue, I thought most of the video looked good.
Picture Hub
The Windows Phone Pictures Hub acts as Central Command for all your photos. It pulls in all the photos from your social networks (Facebook and LinkedIn) and presents them in one spot for perusing and sharing. I found it quite easy to shuffle my images between albums, as well as post them to social networks or send them up to SkyDrive for safe keeping. You can also bookmark your favorite albums (your own, or those of your friends) so they can be found quickly later.
The Picture Hub lets you crop and rotate images, but Nokia's Creative Studio takes things a little bit further. The Creative Studio app is sort of like Instagram in that it lets users apply various filters and effects to change the tone/appearance of their photos. Creative Studio was recently updated and it includes some really cool new features, such as the ability to blur the background, or use a tilt-shift adjustment tool to give photos a unique look. As far as tilt-shift tools go, it works pretty well. It has a pretty good feature set for those who like to explore their creative side.
Apps
Verizon has made it a pleasant habit to keep bloatware off its Window Phone handsets. The 928 ships with Data Sense (measures monthly data usage), MyVerizon, NFL Mobile, and VZ Navigator. That's it. Everything else is either stock Windows Phone or made by Nokia. Any of the apps can be deleted, and there's plenty of storage space available for downloads from the Windows Phone Store.
Bluetooth
I was able to pair the 928's Bluetooth radio with a range of devices with no problems. Calls did not sound all that great when sent to either my car's hands-free system or a regular Bluetooth headset. Volume was the biggest problem, it just doesn't get loud enough. Music sounded quite good through my stereo headphones, though.
Browser
Thanks to the solid performance of the 928's LTE data radio, browsing the internet was always a good experience on the 928. Internet Explorer 10 and LTE go together well, and the 928 does a fine job of making web sites look spiffy on the bright display. While IE10 is good at displaying web content, the app itself isn't as feature-rich as the stock Android and iPhone browsers. There are alternatives available in the Windows Phone Store if you're looking for alternatives.
Clock
The 928 has a nice digital clock on the lock screen. It also displays the day of the week and the date. I wish the clock were bigger. It's easy to see outdoors, though.
GPS
The GPS radio of the 928 itself performs flawlessly. It pinpointed me quickly and accurately no matter where I was.
As noted earlier, Verizon's VZ Navigator is on board as is Nokia's HERE navigation suite. HERE Maps offers a wealth of features that go head-to-head with the best that Google Maps offers on Android handsets and the iPhone. It helps users manage locations, share points of interest, and route directions. Some of the associated apps include Nokia Drive and Nokia Transit. These are individual apps that perform specific functions. Nokia Drive plots point-to-point driving directions, while Nokia Transit helps manage mass transit route planning. Part of me wishes these apps were all combined into one, but I understand that keeping them separate gives each more focus.
Microsoft Apps
Some of the useful tools on board most Windows Phones - the 928 included - are SkyDrive, Office, and OneNote. SkyDrive is Microsoft's cloud storage service. All WP8 devices have access to 7GB of online storage for free. It is accessed online via your Outlook/Hotmail account. You can set SkyDrive up to automatically upload your photos for safekeeping, as well as store documents and so on. Office needs no introduction, as it is Microsoft's age-old productivity suite. On the 928, you can open/edit Word, Excel, and PowerPoint documents, as well as sync them to your personal (or corporate) computers. OneNote is Microsoft's extensive note-taking and -managing app. It functions similar to EverNote.
Nokia City Lens
Nokia City Lens is an augmented reality application for finding nearby points of interest. It works in concert with the camera. You pan the camera around and the app shows you what's in the vicinity. It's easy to pick one of the shops or restaurants it finds and pull up more information and/or details about it.
Wrap-Up
The Lumia 928 is a fine phone, though it stops short of being excellent. I find the blocky nature of the design a bit unappealing and the weight and finicky controls don't help much. The screen is great, though, and the 928 does a fantastic job of connecting to Verizon's network. Voice calls were mediocre, but battery life was really good.
The software features aren't that different from other Windows Phone devices, save for the custom apps developed by Nokia. Nokia's HERE Maps and Creative Suite apps are highlights, for sure. For the amount of boasting that Nokia does about its PureView camera technology, I was not impressed with the 928's performance in that regard. The camera can be fantastic, but all too often it is merely just OK.
For Verizon customers who want or need a Windows Phone device, the Nokia Lumia 928 is a solid choice for the moment.
Pics
Where were the transformers pictures taken at?
Universal Studios, in Florida.
I agree with Eric
From the review, the pics it takes are completely mediocre. I was expecting better for all the talk.