Nokia Announces Lumia 928 for Verizon Wireless
Article Comments 8
May 10, 2013, 9:07 AM by Eric M. Zeman
updated May 10, 2013, 9:31 AM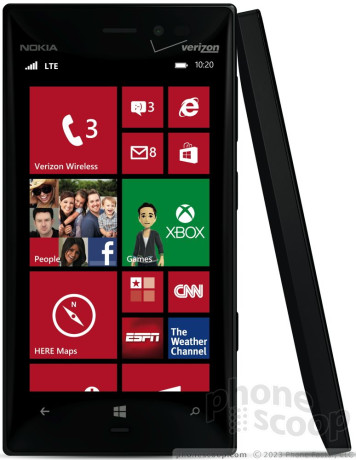 Nokia today announced the Lumia 928, a new Windows Phone smartphone for Verizon Wireless. The Lumia 928 features powerful imaging capabilities with Carl Zeiss optics and optical image stabilization to improve image sharpness. The camera rates 8.7 megapixels and has an aperture of f/2 for improved low-light image capture. It also includes a Xenon flash. The video camera, which has its own LED light, will be aided by three microphones that can handle high-volume, high-pressure events, such as concerts, and still offer clear, distortion-free recordings. It captures video at 1080p HD. There is also a 1.2-megapixel user-facing camera that can capture 720p HD video. The Lumia 928 includes a 4.5-inch OLED 1280 x 768 HD Clearblack display that is protected by Gorilla Glass. Nokia says the display as a pixel density of 334ppi and it offers 500 nit brightness. Other features include wireless charging, a 1.5GHz dual-core Qualcomm processor with 1GB of RAM, LTE 4G, a polycarbonate design, Nokia's HERE suite of location-based apps, and 32GB of internal storage. The Nokia Lumia 928 will be available online and in stores May 16 for $99.99 with a new contract after $50 mail-in rebate. For a limited time, Lumia 928 buyers will get a $25 credit for Windows Phone apps and games with the purchase of the phone.
How is this different from the 920?
🤨
The 928 is essentially the Verizon version of the 920 from at&t. That said, the 928 has the advantage of being updated with newer or more refined tech since the 920 came out last year. I anxious to see the reviews of the 928 to know how it fares again...
(continues)
How it's different: It's clearly 8 better than the 920.
There are a few small things changed. definitly not worth changing to unless maybe your getting it free or swapping from AT&T to Verizon already. Being a 920 owner already i did read up a bit and ran into some stuff here at verizon about it. Heres a l...
(continues)