Review: Samsung Galaxy S 4 for Sprint
Form Perform Menus Camera Media Extras Wrap-Up Comments 12
Camera
There are so many features in the GS4's camera, it borders on the ridiculous. Some of them genuinely delight, others are somewhat silly. One thing Samsung hoped to do with its camera software was to make it easier to use. In that goal, I think it is fair to say Samsung succeeded.
There's no dedicated camera button, but the camera can be launched from the lock screen. The camera is the only app that will bypass a password. The app opens quickly enough and presents owners with a camera user interface similar to what we've seen on other Galaxy-branded devices over the last few years.
Samsung has taken a cue from HTC and combined the camera/video camera controls on one screen. There's no longer a "camera mode" and "video mode." Instead, the GS4 has both a camera button and video camera button on the right side of the screen at all times. This way, either media type can be captured without first requiring the user to swap modes. This is a good thing. The other benefit of this setup is that you can capture stills while also recording video. There's a third button below these two shutter buttons called Mode. We'll get to that in a second.
There's a button for switching to the user-facing camera, a button that activates the picture-in-picture mode, and a button to open the full settings menu. Pressing the settings button first opens an expanded view of the control strip, with more options (flash, microphone mute, night shot). These can be customized if you wish. As usual, owners can fine-tune most aspects of the camera software (pixels, aspect ratio, white balance, exposure, etc.).
The GS4 has 12 different "modes" for capturing images, and there are two ways to interact with them. The first time you press the mode button, you'll see a carousel view of the different modes with a detailed explanation of each mode and what it produces. You can spin through the carousel options quickly to find the mode you're looking for. Alternately, there's a button that lets you see all the modes laid out in a visual grid. This grid layout is a faster way to access the shooting modes once you're familiar with the way operate.
Most smartphone or camera users should be familiar with about half the shooting modes: auto, sports, night, panorama, HDR, and portrait (called "Beauty Shot" by Samsung). The rest are worth explaining a little bit.
Best Photo: This shooting mode takes a series of pictures and then lets you pick the best one. Rather than bracketing exposures, it simply takes a handful of shots timed about a half-second apart from one another. You then select one final image from the bunch.
Best Face: This mode helps you create a group shot in which everyone is smiling and has their eyes open. It takes a series of five shots and you can then pick the best version of each person's face and then merge the results into one image.
Sound & Shot: I don't really get this one. When Sound & Shot is used, the GS4 takes a single shot and then records up to 9 seconds of audio, and then combines the still image with the audio into a single picture with sound. I guess you could use it to create a still image that has audio of everyone shouting "Happy Birthday, Grandma!"
Drama Shot: This is my favorite. This mode will take several shots of an action scene and then merge them together into a cool image. There are some caveats: First, you have to hold the camera still, as the drama shot wants the background image to be static. Second, you can't be too close to your subject (don't as me, the camera software freaks out if you're too close). The idea is to capture something as it moves across the still background. For example, I was able to get a neat shot of my daughter running around and you can see 4 images of her overlaid on the same background as she dashed across the screen. This would be pretty cool for sports photography, too.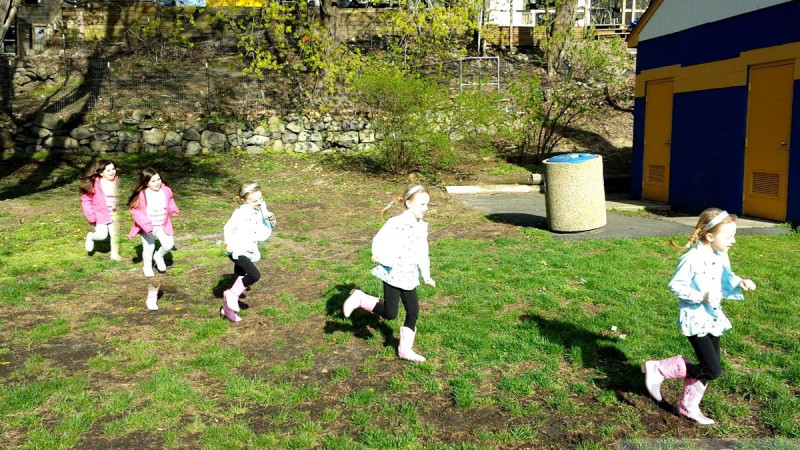 Eraser Shot: As the name implies, this mode takes a number of shots and lets you erase unwanted objects from the final result. The obvious example is when your friend photobombs what would otherwise be a nice image of your parents. You can use Eraser Shot to eliminate your friend. Of course, you have to remember to turn on Erase Shot in the first place...
Animated Shot: This feature lets you create animated GIFs with the GS4 and was a feature that first appeared on phones with the Nokia Lumia 920 last year. Basically, the GS4 records a really short video. You can then choose to isolate some motion in the photo so that one piece, say, someone's arm, is moving while everything else is still. Think of all those silly 3-second cat pictures you've seen on the internet, and you'll get the general idea. The feature worked just fine, BUT it creates files so large that sharing them through social media, email, MMS, etc., is very difficult.
The GS4 walks you through the process of learning how to create each of these types of images. They may sound somewhat involved, but they are really quite simple.
I don't know why the picture-in-picture mode is separate from the other modes, but it is. As the name implies, this feature uses both the front and rear cameras at the same time. You use the main camera to take a picture of, say, your car, and the user-facing camera lets you insert your head next to the car, or behind the wheel, etc. The picture-in-picture frame can be resized, and offers several different shapes (postage stamp, fisheye, oval, etc.). It's fun, but takes a little bit of practice to master. You can also swap it so the main camera shoots the small image, and the user-facing camera shoots the main image. Last, you can give each camera equal weight, and place the two images side-by-side for a "split screen" effect.
Not only are these camera features fun to use, they're pretty easy to use. It takes less than 5 minutes to learn how to use them all, and they open up a wide range of creative possibilities.
Photos
The GS4 has a 13-megapixel camera, which is about the practical limit in terms of megapixels for a sensor this size. The pictures I shot were generally good, but they didn't bowl me over. Focus was sharp about two-thirds of the time, but a bit soft the other one-third of the time. Colors and white balance were rich and accurate most of the time, but every so often images would look washed out and dull. Exposure was more consistently accurate. I didn't see any grain problems, even when I shot images at a concert (admittedly, a challenging environment). The GS4 takes pictures that are good enough, but short of excellent.
Video
The GS4's ability to record video was more consistently good. Things such as color, focus, and exposure were much better, in general. The clarity of the 1080p video I captured was exceptional at times. The GS4 can surely record YouTube-worthy video.
Gallery
The GS4's gallery is one area that Samsung left alone. It uses the stock Android 4.2 Jelly Bean gallery application, with a few extra features tossed in for good measure. The top-level view of your albums can get distracting if you're not careful. The device will automatically sync thumbnails from your Google+ and Dropbox accounts, but you can thankfully turn these off (they add ridiculous amounts of clutter to the gallery). There's a drop-down menu accessible from a button at the top of the screen for sorting between albums.
When you dive down into the individual galleries, the GS4 goes into a split-screen mode: a vertical list of other galleries forms a strip along the left edge of the screen, and the rest is reserved to show larger thumbnails of the images in the gallery you chose to view. You have to press one of the thumbnail images to go into a full-screen view of that image. Once there, you can swipe through photos, perform edits, and share quite easily thanks to the numerous options in the gallery app.
Story Album
Story Album is an app that lets you create photo albums. The app is separate from the gallery or camera apps, but it has hooks in the gallery app and pulls images from there. It can automatically create albums for you based on date or location, or cede full control to the artiste in you. The tools are easy to figure out and the GS4 walks you through the process. Story Album offers a handful of themes and layout configurations, you can manually manipulate photos, add captions, and more. Once you've put albums together, you can export them as PDFs for printing or sharing, as well as order an actual photo album that is professionally printed and delivered via mail.