Review: LG Lucid 2 for Verizon Wireless
Article Comments 14
Apr 11, 2013, 9:32 AM by Eric M. Zeman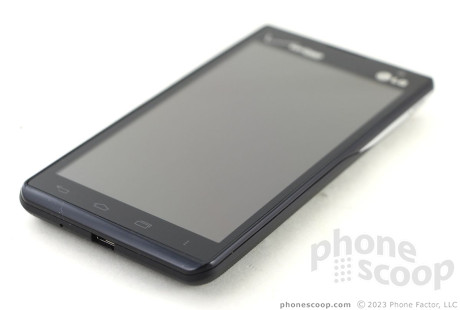 The LG Lucid 2 for Verizon Wireless is one sequel that's worth checking out. Find out why in Phone Scoop's full review.
Advertisements article continues below...
Form
Is It Your Type?
The LG Lucid 2, a compact and lightweight Android smartphone, improves upon the already-very-good original in nearly every way. It offers a roomy display, a modern version of Android, and of course Verizon's flavor of LTE — all for free with a contract.
Body
The LG Lucid, which hit Verizon stores in April 2012, was a solid device. It may have been a bit short on looks, but it performed well across the board. The Lucid 2, which reaches Verizon's stores this week, is a worthy successor.
Like the original, the Lucid 2 (L2) is a bit plain-faced when it comes to design, but the pedestrian looks are put to good use. The L2 is 3mm taller and 2mm wider, but 1.5mm thinner than the original. The dimensions have been updated in order to house a slightly larger (4.3-inch vs. 4-inch) display. The L2 has a rectangular glass front fascia. The sides and back are matte-finished plastic. Rather than go with the all-black approach, LG broke up the look by adding short silver bands, one along each edge. It doesn't stand out overmuch, but it's no wallflower, either.
Looks aside, the L2 feels a bit cheap. The plastic that forms the back and side edges is not high quality, not by a long shot. The L2 is also very light; so light, in fact, that it feels hollow or as if the battery is not installed. The combination of these two elements makes the L2 feel like a kid's toy rather than a fully functional smartphone. However, the sides are rounded so the L2 rests comfortably in your palm. The back and sides have a mild texture to them that prevents the L2 from ever feeling slick or grimey. It will slip into a pocket with no problem.
The screen fills most of the front face; there is very little bezel surrounding the display. Both the Verizon and LG logos are crammed above the display, and four (yes, four) capacitive buttons rest below the display. The capacitive keys (Back, Home, Multitask, and Menu) all work well and will provide haptic feedback if you want them to.
The volume toggle is near the top of the left side. It's easy to find and offers excellent travel and feedback, but I wish it were bigger. It is less than an inch long, which makes it too easy to mistakenly raise the volume when you intend to lower it (and vice versa.) The screen lock button is in a similar spot on the right edge. This button works perfectly. The microUSB port is tucked into the bottom and the stereo headphone jack is up top. There is no dedicated camera button.
The entire back surface forms the L2's battery cover. It pops off with little effort. The 2460mAh battery itself is removable. The slot for microSD memory cards can be used without removing the battery. With the cover removed, you may notice two little golden pins. These work with an optional (and sold separately) back cover that is compatible with wireless charging pads (also sold separately).
I was able to test the charging pad set-up and found it worked fairly well. My only complaint about it is that it takes longer (by perhaps 2 or 3 hours) to reach a full charge. Leaving it overnight is no problem, but if you only have an hour to recharge a dying battery, plug it into the wall rather than place it on the pad — you'll get more out of it.
Performance
Screen
The L2's screen swells from 4 inches to 4.3 inches, when compared to the original, and also boosts the resolution from 800 x 480 to 960 x 540 pixels. It uses the same TFT LCD technology, but also improves the number of colors from 242K to 16.7M. Sure, there are bigger and higher-rez screens out there, but for the size and resolution offered, this screen is great. I've been impressed by most of the LG displays I've reviewed in the last year, and the L2 is no different. The screen offers razor sharp resolution and excellent brightness, though off-angle viewing loses some brilliance.
Signal
Verizon's LTE 4G network is pervasive at this point, and the L2 proved it by finding LTE signal no matter where I took it. The L2 never dropped to 3G during my time reviewing it, and never lost Verizon's network entirely. It remained firmly attached. The L2 performed on-par with other Verizon devices, if not slightly better than par. The L2 didn't drop or miss calls, and data sessions were consistently speedy.
Sound
The L2 is a good voice phone. Calls were mostly clear in the earpiece, with minimal interference, and plenty loud enough to overcome a very noisy coffee shop and other environs. The speakerphone isn't quite as loud as I'd like it to be, but the quality was just fine. The ringers and alerts were sufficient to stir me from a nap, but the vibrate alert is a bit weak.
Battery
The L2's battery is significantly larger than its predecessor's (2460mAh vs. 1700mAh), but that doesn't necessarily translate to better battery life. The power cell managed to regularly live through a full waking day (7AM - 11PM), but just barely. On days during which I used it "normally" (i.e., for making some calls, sending some SMS/email, interacting on Twitter, and browsing the web,) it required a charger by the time I went to bed each night. One day of intense use saw the battery croak at about 9PM. I was hoping for better.
Basics
Menus
The L2 runs Android 4.1.2 Jelly Bean and comes with the same LG-developed user interface skin we've seen on LG's smartphones for the last six to eight months.
First, the lock screen. It's fully customizable. It offers four shortcuts, all of which can be changed or deleted. You can also customize which clock appears on the lock screen, and whether or not weather data and other alerts are sent to the lock screen. Good stuff.
There are five home screen panels for customization out of the box, but you can delete or add screens if you wish. There are a multitude of widgets (57) on board. I really like the animations used by LG for screen transitions.
The main menu is a regular old grid of apps. Thankfully, you have some flexibility as far as customizing it is concerned. You can view it with large icons (default) or small icons to fit more apps on each individual page. You can sort apps alphabetically or via install date. You can't, however, view them in list form.
The drop-down notification shade provides access to controls for all of the wireless radios, as well as brightness, rotation, and sound.
The L2 also comes with different home screen themes (each with its own wallpaper and app shortcuts), and of course the ability to tweak ringers, alerts, and so on. You can even customize the app icons with photos you've taken yourself.
As far as performance goes, the L2 uses a Qualcomm Snapdragon S4 1.2GHz processor. You can tell. It is incredibly quick, and gave me no trouble whatsoever when it came to open heavy duty apps.
Calls and Contacts
The L2's phone and contact apps look and behave just as they do on every other Android 4.1 device out there. As far as widgets go, there are the usual home screen widgets for direct contacts, as well as the a nice widget for a collection of your favorites. The bigger widget lets you access your top nine contacts and gives you a cool UI for interacting with them on the home screen. As expected, contact cards hold reams of data, and can be synced with multiple social networks. Verizon also offers its own contact back-up service.
Messaging
As far as messaging goes, the L2 has the stock Android tools on board and nothing else. The stock Android messaging tools, which include Gmail, Google+, SMS, GTalk, and Google+ messenger, are familiar and work well. There's nothing different in that respect. The native Facebook and Twitter apps are not pre-installed, so you'll have to add them yourself.
One thing the SMS app does that's pretty cool is to select from several different themes. The themes are applied to the conversation view, meaning the message composition screen looks the same no matter which theme you choose, but the threaded conversation can be seen in different types of bubbles. See the images below.
Extras
Media
Mercifully, the L2 ships with little beyond the standard Google-made media apps on board. That includes Google Play Music/Books/Movies/Magazines, and the bare-bones MP3 and video player apps. The Google Play apps work on the L2 just as they do on other Android devices. They can be used to play back content purchased from the Google Play Store. The other two apps are age-old and perfunctory at best. They work, but don't offer thrills nor frills.
The only other apps/service on board are the Amazon MP3 store/app, Amazon Kindle app, and Audible for book listening. On, and of course, YouTube.
When you want to share your media, there are two media-sharing apps on board. There's FileShare, which uses Wi-Fi Direct to push content between two cell phones. There's also SmartShare, which also uses DLNA to push content and files to other DLNA-compatible equipment, such as home theater equipment.
Camera
The L2 has a camera app that resembles the stock Android 4.1 one, with a few extras tossed in by LG. It can be opened from the lock screen and pops up quickly.
The viewfinder fills about three-quarters of the screen and is framed by control strips on either side. It supports touch-to-focus, but you still have to press the on-screen shutter button in order to take a picture.
The settings can be used to adjust some of the basics, including location data, brightness, and white balance. There are several shooting modes: normal, HDR, continuous, and panorama. The L2 also includes LG's Time Catch Shot and Cheese Shutter features. Other controls include setting several scenes (portrait, landscape, sports, sunset, etc.), face tracking and so on. You can also choose which shortcuts are listed in the control strip on the left side, which is offers a nice bit of customization.
I found the camera to be quick all around. It launched quickly, and was able to focus and capture images in a blink.
Photos
The L2's 5-megapixel camera does a fine job for this class of device. I found the bulk of images were in focus, had accurate white balance, and were correctly exposed. The only real problem I saw was inconsistent white balance, which sometimes affected the results. That said, even indoor shots were sharp and clear of grain. Shots taken outdoors looked really good. You really can't ask for much more when you consider the L2's price point.
Video
Video results are just as good as camera results. The L2 shoots at 1080p max resolution and I was pleased with video I captured. As with the regular camera, video was in focus, properly exposed, and had good color. The video was blessedly clear of wobbles and shakes when panned about, and consistently produced YouTube-worthy footage.
Gallery
The gallery is the stock Android 4.1 application, which will connect with various online photo accounts and let you access them all from the device's drop-down albums tool. Photos can be viewed by album or in one massive grid that's arranged by date.
When viewing individual photos, on-screen controls make deleting, sharing, or editing them a snap. Editing features include crop, rotate, straighten, flip, sharpen, and reduce red-eye. There are also a number of effects that can be applied to the images. The gallery connects with most social networks.
There are two separate video editing apps on board the L2, as well. One is called Video Editor and the other is Video Wiz. The first is a simple tool that can be used to trim clips and paste them together. The second is a much more advanced editing tool that lets users add images, soundtracks, titles and credits, etc.
Browser
The L2 ships with just the Google Chrome browser. It is a fine browser for rendering web pages and surfing the mobile internet. I like the way it organizes tabs and ties into your desktop version of Chrome. Alternatives are available for download in the Play Store. In terms of speed, the L2 never let me down. The browser always delivered web sites in a jiffy.
Apps
As with all Verizon Wireless smartphones, the L2 has its fair share of bloatware. Some of the junk Verizon stuffed onto the L2 includes the Amazon App Store, IMDb, My Verizon Mobile, Polaris Office, Richnote (a really, really toned down version of LG's QuickNote app), Verizon Tones, VZ Navigator, VZ Security, and Zappos (what?!). Some of these can be deactivated, but I was unable to fully remove them. The device still leaves a about 4.5GB of user-accessible storage, but I can't stand un-deletable apps.
Bluetooth
The L2 supports mono and stereo Bluetooth headsets. I had no trouble pairing with either. Sound quality through mono headphones was quite good in terms of both volume and clarity. Hearing calls via my car's hands-free system was no problem. Music pushed to stereo Bluetooth headphones was loud, if a bit flat-sounding.
Clock
The L2, as with other LG devices, has a handful of different lockscreen clock options, including a large digital one that's really easy to read from several feet away. Other choices include a clock with a calendar, an analog clock, and a smaller digital clock. The flexibility of the lockscreen clock is a welcome change from what other manufacturers offer.
GPS
The L2 includes Google Maps and VZ Navigator. Google Maps has become quite an excellent app for free navigation. Why Verizon bothers putting its own $10-per-month app on board is anyone's guess (does it hope to score accidental one-month subscriptions by those who don't know any better?) All that said, the GPS radio, in coordination with other location services on the L2 make it an excellent navigation tool. It located me in mere seconds and was accurate to within about 25 feet.
Wrap-Up
The LG Lucid 2 does pretty much everything well. The worst thing I can say about the Lucid 2 is that the materials don't feel as good as the iPhone 5 or HTC One's. That's hardly a death-knell, especially for a device that's free on contract.
The Android user interface is quick and customizable, the network and calling performance are above average, the camera and video camera deliver above-their-grade results, and screen is a joy. The only other detractor might be battery life, but even then it still offers a day of power.
The LG Lucid 2 is, without doubt, the best value currently available from Verizon Wireless.
How long did you use the phone to judge battery life?
Android indexes apps and everything for the first day or two, and I'd imagine you play with a phone much more in the first couple of days, so battery life is always going to be worse initially than later on.
I tested it for 3+ days. I am aware of the indexing behavior. Battery life was worst the third day of testing.
Many LG phones have some real trouble with battery life.

I don't really know how they fix to drain a battery so fast. The same case of the Nexus 4. The Optimus G has better battery life, and they both are the same phone 😕
Have a new BM Eric?
I hope this time I am correct. 😎
Starter and Standard Modes
The phone also comes with a Starter and Standard mode that will help those new to smartphones transition a lot easier. It will also save your layout when switching from one mode to the other.