Verizon's LG Lucid Earns a Sequel
Article Comments 9
Apr 2, 2013, 2:44 PM by Eric M. Zeman
updated Apr 2, 2013, 3:01 PM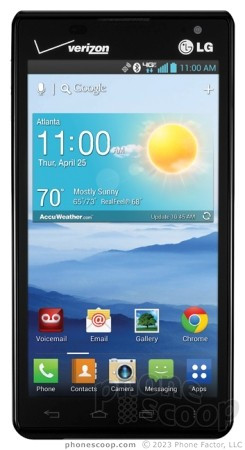 Verizon Wireless today announced the LG Lucid 2, a new Android device that Verizon is positioning as a good entry-level smartphone. The Lucid 2 features a 4.3-inch qHD display and runs Android 4.1.2 Jelly Bean. It has Starter Mode and Standard Mode, which are two different user profiles. The Starter Mode is simpler to operate for beginners, while the Standard Mode is what experienced Android users might prefer. The Lucid 2 also includes some custom LG apps, such as Quick Memo, Video Editor, and Video Wiz. Other hardware features include a dual-core 1.2GHz Qualcomm Snapdragon S4 processor with 1GB of RAM; support for microSD cards up to 64GB in addition to 8GB of built-in storage; 5-megapixel camera with 1080p HD video capture; Wi-Fi, GPS, and Bluetooth 4.0; support for wireless charging; and Mobile Hotspot for up to 10 other devices. The LG Lucid 2 will be available online beginning April 4 and in stores in the coming weeks. It is free with a new two-year contract.
Yawn
The main thing they should have improved is the battery. I had one of these I bought off ebay & just google it worst battery ever. Doesn't sound like much different except for jelly bean. Optimus L9 I have cuurently on Tmobile no contract is just as good or prob better & 199.00 retail again no contract.
Actually the battery life was increased from 8 hours to 21 hours. Jelly bean is preloaded. This phone is not meant to be a high end phone. So comparing it to the Optimus is like comparing apples to oranges. The phone also had LGs new UI and expandable...
(continues)
Full retail???. . .
Seems like a well specced smartphone, Snapdragon S4 is a good processor, LG gas good displays, it comes with Jelley Bean already, hopefully it'll get the Key Lime Pie update.

Anybody know how much full retail is?
No retail price on it yet. I've heard mentions of it launching within the nest week maybe. But it has the same processor as the S3 and Jelly Bean. It's gonna be awesome!
Great spec,s
The lucid2 has some very impressive specs 😁 😁 😁
I just got off the phone with Amazon Wireless and the Lucid 1 retails for $449, they don't have any pricing info for the Lucid 2 as of right now, not bad, and it doesn't have one of the crazy mobster screen sizes, 4.3 us the same as my current Droid C...
(continues)