Review: Sonim XP Strike for Sprint
Form Performance Basics Extras Wrap-Up Comments 17
Media
The Strike has a bare-bones music player application. The app itself really isn't that bad. The controls are easy enough to figure out and it was able to recognize album art and stuff like that. Since there is no music store on the Strike, the only way to get music onto the device is to use a microSD card. The Strike also has an FM radio that I found worked really well and produced good sound (headphones are required). Both apps are very slow to respond, however.
As far as video is concerned, you get a basic app that can play back videos you've recorded yourself. It wouldn't work with any of the video I have (iTunes purchases nor my own ripped MP4 files) on my microSD card. (Not that you'd want to watch movies on this device anyway.)
AD article continues below...
Camera
The Strike has a 2-megapixel camera. It doesn't have auto-focus, but it does have a flash. The camera launches slowly (3 or more seconds.) It takes a second or so to shoot an image, and another second to process an image. It is not a quick camera, so don't think you're going to get Junior's first steps.
You can adjust all of the exposure controls you'd expect with a phone, such as brightness, contrast, color, and so on. I'd guess most users won't bother with these controls, however, especially since they are buried a few layers deep in the camera's user interface. The camera software is pretty basic.
Photos
The Strike produces rudimentary images at best. They're covered with grain and exposure and white balance are a mess. Focus is terrible; every image looks soft and blurry. If you need to capture an image in an emergency, the Strike will convey the basics, but it's really a crummy camera.
Video
The Strike is limited to 176 x 144 resolution video capture, and the results look worse than the pictures.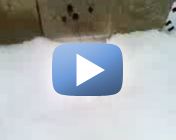 3GPP / MPEG-4 format (viewable with QuickTime)
File size: 407 KB
Gallery
The gallery is not much of a place to view photos. Images are visible in a list of thumbnails. You can open each photo, but actions are limited to share (via MMS or Bluetooth), set as contact/wallpaper, or delete. Thats it. There are no editing features nor other tools for manipulating photos.
Apps
If you want to dig into Sprint's browser-based store, feel free. As I've written before, it's a terrible app and content store. Most of the content doesn't really qualify as "apps". You can buy ringtones and that sort of thing, but legit apps are few and far between. The "messaging" apps I was able to find, for example, were dating services that require monthly subscriptions.
Browser
The Strike has the Access NetFront WAP browser. The controls are a bit fidgety, web pages are slow to render, and the number of physical "clicks" required on the d-pad to do anything gets tedious quickly. Once they arrived, web sites looked OK. The browser's real saving grace is that it has a little pop-up navigation tool that at least lets you get to a Google search or browsing history quickly.
Bluetooth
The Strike has Bluetooth 2.1, and can be used with traditional headsets and stereo headsets. It paired with both types easily, but sound quality of both calls and music was atrocious.
Clock
There is a small digital clock that appears in the corner of the home screen. That's all you get. It is tiny and hard to read.
GPS
The Strike has GPS and Sprint's TeleNav-based mapping service. This $10 monthly app will route you from point A to point B without any trouble, but it doesn't do much beyond that. The GPS radio was accurate, though, and able to locate me fairly quickly.