LG Reveals Optimus G Pro With 5.5-Inch Display
Article Comments 14
Feb 13, 2013, 11:59 AM by Eric M. Zeman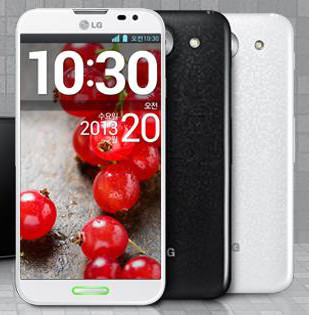 LG today took the wraps off a new flagship phone called the Optimus G Pro. The stand-out feature of the Optimus G Pro is its edge-to-edge, 5.5-inch full HD display. LG said using curved surfaces and pushing the display all the way to the side edges helped it create a narrower device that can better fit in and be used by a single hand. Other details shared by LG about the Optimus G Pro were slim. It runs Google's Android operating system with LG's new 3D user interface, has a quad-core processor, and includes two cameras. LG will provide more information about the Optimus G Pro at Mobile World Congress later this month.
May as well just make calls with the Nexus 7
5.5 inches? Really? Unless you carry a purse, this is getting a bit ridiculous.
I dont carry a purse, I dont wear skinny jeans. I am a man and it fits perfectly in my pocket. Am I going to go running with this phone in my pocket No, Do I take it to the gym, from time to time. This is the best Phone I have ever used!

Better th...
(continues)
I agree! I prefer 4.3-4.5 inch screen but with the same specs as the S3 of course.
S3
look alike? Possible law suit here?
Looks like LG is on top of there
Game I'll take this over the note2 😁 😁 😁
LG is really copying Samsung
I think LG copies Samsung very closely from the Optimus G that resembles the Galaxy S2 to the G Pro that resembles the Note 2 and S3. Im sure thats their new motto just make what Samsung is making.