Review: BlackBerry Z10 for Verizon Wireless
Article Comments 51
Apr 7, 2013, 4:20 PM by Eric M. Zeman
originally published Feb 8, 2013
updated Apr 7, 2013, 4:19 PM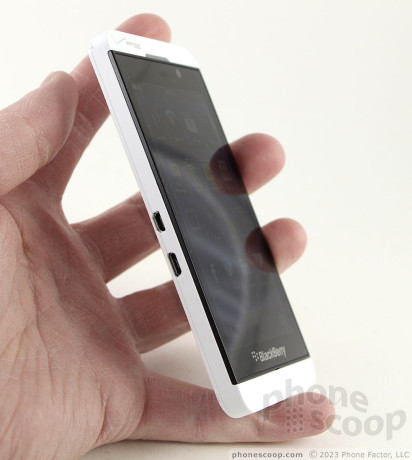 The Z10 is the first smartphone to run the new BlackBerry 10 operating system. It's a dramatic re-write for BlackBerry, and is now available from Verizon Wireless with LTE 4G.
Advertisements article continues below...
Form
Is It Your Type?
Verizon's variant of the BlackBerry Z10 differs little from those of AT&T and T-Mobile USA. If you strayed from your beloved BlackBerry over the years because you coveted the large screens of popular Android devices, the Z10 may be the BlackBerry that gets you to return to your smartphone roots of old.
Body
The BlackBerry Z10 is a conservative slab that still manages to exude the essential qualities of the BlackBerry brand. The most popular BlackBerries of the past decade had QWERTY keyboards for typing. The Z10 doesn't, but that doesn't make it any less a BlackBerry.
If there's one device in BlackBerry's historical lineup that the Z10 resembles, it would be the PlayBook tablet. Trust me when I say this makes sense in its own way. The PlayBook was actually BlackBerry's first stab at a brand new operating system. In fact, PlayBook OS and BlackBerry 10 are based on the same QNX core. This is why it doesn't surprise me to see PlayBook design cues and features on the Z10.
It's a simple rectangular block. There aren't any artistic flairs or other flashy materials or lines in the Z10's design. It looks a bit like the PlayBook would were it shrunk by two-thirds. The front is mostly glass, but has plastic bands above and below the glass that frame it a bit. The glass runs all the way to the side edges and forms a sharp right angle. The sides are flat enough that the Z10 can stand on them unassisted. The battery cover encompasses the entire back surface. The angle between the back and side surfaces is not as sharp as the front, but it certainly isn't gentle or curved.
The overall impression left by the Z10 as you hold it is good. The quality of the materials is good, but short of excellent. The build quality is also good, and also short of excellent. It is made mostly of plastics, and you can tell. The back surface has a dimpled pattern to it and a soft-touch finish. It is not a slippery phone. The size and weight are decent. It's not light, nor is it heavy; it's not too large, either. It fits in jean pockets without trouble, but the shoebox shape makes it easy to feel when you're out for a walk.
There are no buttons or controls on the front of the Z10. The user-facing camera and sensor array are barely visible in the bezel surrounding the screen. The Z10 includes both microUSB and microHDMI ports, which are positioned on the left side. There are no ports on the bottom.
BlackBerry was sure to include its triple-action button on the right side of the Z10. It's basically a volume toggle with a user-defined action button in the middle. I found this button to work well. Both the up and down buttons have good travel and feedback, and the center button does, too. If you're worried you won't be able to tell which is which, fret not. The design is such that it is easy to figure out what you're pressing.
The screen lock button is on top, positioned smack in the middle. Thanks to the flat shape of the top surface, the lock screen button is easy to find and use. The feedback is quite good. The standard stereo headphone jack is next to it.
The battery cover peels off without issue. Underneath, you'll find the removable battery (something not all modern phones can claim to have), a slot for microSD cards, and SIM card slot. The battery, which is long and narrow, needs to be pulled in order to get at the SIM card slot, but the microSD card can be swapped at will. The Z10 will (eventually) have a replacement battery cover that allows it to charge wirelessly (the pins are evident on the chassis). If you look at the inside of the battery cover, you can clearly see where the NFC antenna is, buried under the stylized BlackBerry logo.
In all, I'd rate the Z10 hardware as very good. It could be a little better, but not by much.
Performance
Screen
The Z10's display measures 4.2-inches across the diagonal and has 1280 x 720 pixels, making it an HD screen. It's solid, but I've seen better. It may be pixel dense, but icons, graphics, and text still look a bit soft to me. It is bright, but colors look muted. Samsung's Super AMOLED displays are far better, but the Z10's display is really nothing to complain about. I was able to use it outdoors without any trouble.
Signal
In terms of Verizon's network, the Z10 did an admirable job of finding and holding onto the network. During our entire review period, the Z10 remained tightly connected to Verizon's LTE 4G network. I didn't see it dip down to 3G at all. We tested the Z10 in New Jersey and in San Francisco and saw excellent signal performance in both areas. The Z10 did not miss or drop calls, and data speeds were always quick, whether the Z10 had one bar or five.
Sound
The sound of the Z10 on Verizon's network isn't that much different from the international version we tested earlier this year. Voice quality was very good and I was pleased with the clarity of voices coming through the earpiece. The earpiece is loud, but could be louder. I was able to hear conversations in most environments, but noisy city streets were able to drown out calls now and then. The speakerphone has a nice warm quality to it, and calls were just as clear as through the earpiece. It's also loud enough to be used in the boardroom. The ringers produce enough noise to get your attention no matter what is going on, and the vibrate alert is strong enough to jolt you from a deep sleep.
Battery
The Verizon version of the BlackBerry Z10 makes no improvements over the international version when it comes to battery life. I was not impressed. The device routinely croaked off by about 10PM each day, even with only moderate use. Power users may see the battery give out as early as 7PM (or after about 12 hours). Standby time is pathetic. Left on but entirely unused, the Z10 died in a little over 24 hours. You're going to need to keep a sharp eye on the battery and alway have a charger handy.
Basics
Menus
The Z10 runs the brand new BlackBerry 10 operating system. We reviewed BlackBerry 10 in detail here. If you really want to know all there is to know about BB10, please read that review. If you're looking for the quick-and-dirty version, here goes.
BB10 includes a lock screen that provides messaging notifications, a clock, and a shortcut to the camera, but it cannot be customized. The main "home screen" is used for multitasking. It houses active tiles of the last eight applications opened by the owner; each tile provides a preview of that app and its content. The main app menu is a swipe to the right. Apps are listed in 4 x 4 grids on each page, and can be organized into folders if you wish.
The big element is BlackBerry Flow, which is a series of gestures that are used to move through the UI. The gestures take time to learn and master. The most significant of which is called BlackBerry Peek, which is used to see a preview of new messages and calls from within any app on the phone.
A drop-down shade at the top provides access to controls such as the wireless radios and full settings tools. BB10 offers some customization options, but not as much as on Android or even Windows Phone. The wallpaper can be changed, there are multiple ringer profiles, and of course users can select their own ringtones, and so on. Users cannot customize the home screen.
Verizon did not (and, as with iOS and Windows Phone, cannot) do anything to molest the BB10 user interface, but it did add some of its own apps, such as My Verizon Mobile.
In terms of performance, the Z10 is quick and smooth. The UI flows from one screen to the next and I didn't notice any lagging or stuttering. I did see a few app crashes, though.
Calls and Contacts
The phone app is not unlike that found on Android devices. It has a large software dialpad for punching in numbers, as well as quick access to the call log and contact database. It includes many of the features you're used to, such as send to Bluetooth, speakerphone, and mute.
The contacts app is much more visually pleasing than the older BB7 app, and syncs with far more accounts. The contact app can pull in data from Twitter, Facebook, and LinkedIn, in addition to your IMAP or other email service. I like that the app offers a peek at your recent communiques with various contacts and makes it easy to call or message them.
Messaging / BlackBerry Hub
BB10 includes the all-new BlackBerry Hub. It's a universal inbox for absolutely all of your communication needs.
The Hub handles email, SMS, MMS, IM, BBM, LinkedIn, Twitter, and Facebook. It is your one-stop shop for all messaging tasks, be they long-winded or limited to 140 characters. You can view all of your messages jumbled together in one large heap, or separate them into their respective inboxes. All of the messaging inboxes offer threaded views, attachments, and the same basic set of tools for composing and controlling them.
The Hub itself can be customized in that you can turn some inboxes on or off at will, as well as arrange how they appear in the Hub. You can also get a glimpse of what's in the Hub from any app by using a specific "upside-down L" swiping gesture. It's a neat way to be able to see what's going on in your inbox without necessarily leaving the task at hand. The gesture can be a bit tricky, though.
Social networking is built in to the sharing features of the OS as long as you sign into your various accounts in the set-up pages. Of course, separate apps are available for Facebook, Twitter, and so on. They function just like they do on Android and iOS phones.
Extras
There are many, many new features buried within BlackBerry 10. For a full, in-depth look at everything, please see our review of the operating system here.. Our full review covers file management, document compatibility, Newsstand, StoryMaker, voice control, and much, much more.
Media
BB10 has two apps for media playback, one for music and one for video. Both are somewhat lacking in pizzaz. They are simple and devoid of any advanced features, such as equalizers or other sound effects processing. They do a fine job of playing back the content stored on the Z10, though. Speaking of which, content can be sideloaded via microSD cards (the best option), via the BlackBerry Link desktop app (not recommended), or downloaded from BlackBerry World. The BBW store offers a decent selection of movies, TV shows, and music, with prices that are comparable to the Google Play Store, iTunes, and Windows Phone Store. In general, audio sounded good through my favorite headphones and video looked good on the Z10's display.
Camera
The camera application is the best yet for a BlackBerry. There is no dedicated camera button on the Z10, so you need to use the lock screen shortcut or open the app from the app menu.
The camera on the Z10 opens quickly, and is incredibly fast to focus and capture images. Since there is no hardware button, images are captured by tapping on the screen. Tap the area you want the camera to focus on, and that's what it does.
Additional features are kept to a minimum. There are buttons that let you switch between the video camera, main camera, and user-facing camera. Shooting modes, which control the camera's focus and shutter speed, include normal, stabilized, and burst. Scenes, which are used to help with exposure and white balance, include auto, action, whiteboard, night and beach/snow. You can also toggle the flash between auto, on, or off.
There's also the TimeShot feature, which is meant to help capture the best image of peoples' faces. The feature essential shoots five quick shots and, using the on-screen tools, you can select which of the shots looks best for each of the faces detected in the viewfinder. It's cool if you have little kids or people who blink all the time.
Photos
The Z10's camera is 8 megapixels and takes average photos. I was impressed with its ability to obtain sharp focus and good white balance, but exposure was often incorrect and there was more grain than I'd like to see from an 8-megapixel shooter. It does not perform well at all in low-light situations, and the flash doesn't do much to help.
Video
The Z10 can shoot video up to 1080p HD. Most of the video I shot looks good, but it revealed the same type of problems that the regular camera did. It tended to blow out whites and other bright areas, while also leaving out the details in dark spots. Focus was good, though, and colors looked great.
Gallery
The gallery application works well when it comes to managing, editing, and sharing photos. The default view in the gallery app shows the most recent images captured with the camera. They are shown in a grid. You may also choose to sort via albums, thanks to controls that line the bottom of the screen.
The editing features are robust. Images can be cropped and rotated; enhanced to correct brightness, white balance, contrast, sharpness, noise, and red-eye; given artistic treatments through the application of various filters; and styled with yet more effects in the vein of Instagram. Once you're done editing the photos, you can share them easily to social networks, email, BBM, and otherwise upload the files to web sites and so on.
Apps
There are only two Verizon-branded applications on the Z10; otherwise, everything is a native BlackBerry-developed app or service. Out of the box, BlackBerry provides about three dozen apps on the Z10. The new on-device storefront for BlackBerries is called BlackBerry World. It offers BB10 owners not only apps, but music, movies, and games. The app itself is OK, but not great. The problem is with discovery. The app has tools that allow you to view only Games, Apps, Music, or Video, but even drilling down into these sections leaves you with plenty of work to do to find new and interesting stuff. Further, even though the Z10 launched more than two months ago, the 100,000 apps BlackBerry claims are in the app store are a thin selection at best. Major apps (Instagram, etc.) are still missing. Apps downloaded swiftly over LTE 4G.
Browser
The Z10's browser is a standards-based piece of software that does a much better job of handling the web than the BlackBerry browsers of old. It renders web sites quickly and cleanly, and offers features I like, such as multiple tabs, a solid bookmarking tool, and even advanced stuff such as private browsing. When used on Verizon's LTE 4G network, web sites loaded in the blink of an eye. In fact, I was surprised at how quick they were to load.
Bluetooth
The Z10 connected with other devices easily. When paired with my car's hands-free system, phones calls sounded particularly good. I was able to pair the Z10 with stereo headphones. Playback worked fine, but the sound was thin and raspy. The Z10 can also be paired with other phones/tablets/PCs to share files.
Clock
The lock screen clock is a white digital clock that appears close to the top of the screen. As with many modern smartphones, the background wallpaper you choose plays a direct role in how visible the clock is at any given moment. Lighter wallpapers make it harder to read, darker ones make it easier to read. This is especially important when outdoors. The lock screen clock cannot be customized.
GPS
The Z10 comes with a brand-new BlackBerry Maps application. The app covers the essential turn-by-turn direction features, but lacks some of the extras that make Google Maps or Nokia Maps so good. For example, it can provide accurate routing between Point A and Point B, but there are no 3D flyovers, satellite imagery, or street views. Paired with the Z10's GPS radio, it was rarely able to pinpoint my exact location. It got the general area correct. When used on Verizon's network, the one saving grace is that maps loaded in a jiffy and were able to keep up with voice-guided directions.
Wrap-Up
At the end of the day, the Z10 can't really be compared to BlackBerry's older BlackBerries. It is an entirely new and different animal, both in terms of the hardware and the operating system. That said, there's no doubt that the Z10 is the best effort from BlackBerry.
The hardware isn't perfect (few phones are), but it manages to combine a decent screen, with quality hardware that is easy to use. Signal performance and call quality on Verizon's LTE network were quite good, but battery life is mediocre at best.
For those who prioritize communications, the Z10 has your bases covered and then some. The BlackBerry Hub is an extremely well-organized messaging tool that brings everything together under one roof. As long as you can get used to the new UI gestures, you'll be all set.
Media continues to be a thorn in BlackBerry's side. The Z10 is capable, no doubt, but could be much, much better. The music and video playback features are so-so, and the camera/video camera only earn average marks.
For fans or BlackBerries, there's plenty to like. Though Android, iOS, and Windows Phone all offer a more complete and well-rounding smartphone experience, the Z10 and BB10 are competitive in what they offer.
Rich
Do you guys "break in" your batteries before review?

Batteries always seem to increase in performance after a few cylces, which seems to be the case in one of the threads here below... also my GS1, Inspire, and GS2 did this, but my GS3 didn't seem to...

...or is it just that newer batteries do not require this anymore?? (I don't think battery tech has changed recently)
Modern Li-Ion batteries are not supposed to require that. If that effect exists, it is very small.

Regardless, what we experienced in this case was very inconsistent battery life. It didn't slowly get better or worse; it was all over the pla...
(continues)
Buddy just got one
Just went over to speak to my buddy about this after reading the review on this site.

He said he was having similar battery problems, however, he stated that the battery life has been increasing substantially every day. First day he got 6 horus out of it, second it lasted for 10, and he said that the last few days, it has gotten him all the way through the day.

Device also looks and feels great. The top and bottom edges are slightly tapered so it slides into your pocket. The otterbox design is horrible - it leaves bezzle (sp?) exposed at the bottom of the screen.

The hub is great, however, and the way the device multi-tasks is excellent. When you are typing a message, the "predicted words" appear very small hovering above certain ...
(continues)
Six hours of battery life?

There's got to be a problem with the default settings there....something is turned on by default that shouldn't be....WiFi, Bluetooth, something.....
I Just Can't Get Excited About This One.
The US smartphone market is vicious and as much as we whine and cry for an alternative to the two major OS' s currently leading the market they are leading the market because that's what people are buying and that is what app developers are writing for so they will get paid.

Android is highly versatile and there is enough variety in hardware and manufactures that a buyer doesn't feel pigron holed. If you do choose to go this way your variety of hardware is reduced to 2 choices. Yes, I am aware that Apple only has one choice other than color, memory and generation but to be fair, Apple is different, PLUS they offer an entire eco system that the iSheep cuddle up with at night like a child's security blanket that BB doesnt offer.

I wis...
(continues)
Blackberry is testing the waters first to see if they can win back US market share. I dont think they can survive with WP or Nokia type market share so then they will look at other options. Selling the hardware division would be first.
is why people who don't use the glitchy parts of an OS should care.
So its a 3G phone? Not LTE?
from the article....

"The Z10 unit we have on hand is not optimized for use on any of the U.S. networks, but it is compatible with AT&T's 3G network and T-Mobile's 2G network. "
Both the Z10 and Q10 have LTE, what he's saying is that since he doesn't have the at&t or T-Mobile version the phone is not compatible with their LTE frequencies.....the actual at&t version will obviously be compatible with at&t's network....
We did not review a version with LTE for the U.S.

But versions specifically for U.S. carriers will have LTE. You can see the full specs on our spec pages, linked at the bottom of each page of the article.
I always wanted a good reason to go to Blackberry.
And I am still wanting that.
Just dont expect the phone to be a gaming powerhouse or media machine. Other than that you are good to go.
Review
After reading this review this phone is average at best and battery life is unacceptable.
marufio said:
After reading this review this phone is average at best and battery life is unacceptable.
It is concerning. Eric points out that it hasn't been optimized for any US carriers yet, and that is valid. T...
(continues)
Z10 and Mac
Question for Eric/Rich. Have you tried syncing the phone to a Mac computer? Any difference with the BlackBerry Desktop Manager between a PC and Mac? I'm curious to know since traditionally BB and Mac have not worked so well.
For years Blackberry and Mac didn't work together all that well but I have Blackberry Desktop Manager on my Macbook right now and it seems to work fine...I have no problems with it....
The new BlackBerry Link app is a piece of garbage. I tried to sync music/photos and never succeeded.

I used the BBL software to select about 100 songs (500MB) to sync to the Z10. Only 64 of them transferred, and the process took probably 30 minute...
(continues)