Hands On with the Huawei Ascend D2
Article Comments
Jan 7, 2013, 4:58 PM by Rich Brome @rbrome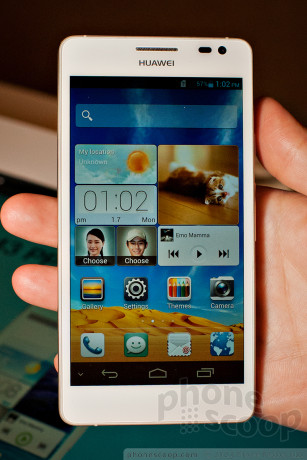 We spent a few moments with Huawei's new flagship phone to take on the iPhone. This 5-inch phone has a solid metal frame with exposed sides, like the iPhone. Huawei is proud of the hundreds of manufacturing steps to make the phone. Is it worth the effort. Read on for our impressions.
Advertisements article continues below...
The Ascend D2 aims to be a huge step up in build quality for the Chinese manufacturer, and largely succeeds.
The D2 looks a bit like a white iPhone, with white front and back, metal sides, and even the iPhone's trademark plastic gaps in the metal sides near the corners. But the shape is just unique enough to keep Huawei out of court (probably.) The sides and back have gentle curves to them that make it comfortable to hold. The seams between the metal and plastic are tight, making the phone feel extremely solid. Adding to the quality feel is a good weight to the device. You can really feel the huge 3,000-mAh battery inside. More weight isn't always a good thing, but a heavy phone rarely feels cheap. The result of all this is hardware with a design and feel that comes closer to the quality of the iPhone than nearly any other phone I've held.
The phone only has three keys on the side, all on the right. There's a lock key and volume control. They have a nice textured metal design that's easy to feel out and press. They work well and look nice.
The front has a clean design. There are no Android buttons; the Ascend D2 uses on-screen back and home buttons, like a Nexus or Motorola.
That's fine, but Huawei has also introduced a curious customization where you can hide those buttons. That gives you more screen real estate when you want it, which is nice. However, once it's gone, it's not obvious how to bring it back. If you miss the quick help pop-up telling you to swipe up, or forget that, you'll be stuck without the crucial home and back keys, stranded in some app with no obvious way to get out. Also, the swipe-up gesture didn't always work well for us, and when it did, sometimes triggered buttons such as the camera shutter release. That's annoying. We hope Huawei fixes this issue.
Another questionable software tweak is that the bottom icon "dock" on the home screen allows the app menu to be removed completely, leaving you no obvious way to access the full list of apps. Again, we hope this is fixed prior to any U.S. launch. It should be.
The D2 has some other neat tricks up its sleeve, like that huge battery and water resistance.
The Ascend D2 is coming out in China in February, followed by other countries, including the U.S. Pricing and timing for the U.S. launch was not revealed.
No messages