Review: Samsung Galaxy Admire 4G for MetroPCS
Article Comments 4
Jan 4, 2013, 3:19 PM by Eric M. Zeman @zeman_e
Samsung's entry-level Android model for MetroPCS offers a lot of bang for the buck. It may be small in size, but it's big on functionality.
AD article continues below...
Form
Is It Your Type
MetroPCS's latest LTE 4G smartphone is the Samsung Galaxy Admire 4G. It lands closer to the bottom of MetroPCS's lineup, and offers a respectable mix of features for the price, but there's at least one major drawback that's not so admirable.
Body
The Samsung Galaxy Admire 4G is a stout, chubby thing. It bears a passing resemblance to Samsung's other Galaxy-branded devices, but this is a case where beauty is only skin deep.
The Admire is white with silver accents. It's a classy look that makes the Admire stand apart from the other devices in MetroPCS's lineup. The entire front surface is glass and the sides and back are made from a single plastic shell that has a slight grain to it. There's a slight bulge on the back surface towards the bottom that is unmistakably Samsung. The materials and build quality are quite good.
Thanks to the small footprint of the Admire, it's comfortable to hold and use. I had no trouble gripping it in my hand, nor reaching the controls without readjusting my hand. There's a slight lip surrounding the glass on the front which serves to protect the display when placed on flat surfaces. It's barely noticeable. The Admire may be short, but it is fairly thick at 11.9mm. The slick materials allow it to be slipped into most pockets with ease, but the thickness always creates a bulge in your pocket.
One thing I really dislike about white phones is that the display and bezel are really noticeable. Black devices are often able to hide the size of the display when the device is off, as the entire face is simply black. Not so with white phones. The effect is amplified when the bezel is large and the display fairly small, as in the case of the Admire. It really stands out. The user-facing camera is plainly visible, as are the two sensors next to it. There are four capacitive buttons below the display for interacting with the Android operating system. They work well and offer haptic feedback.
The volume toggle is on the left and the screen lock button is on the right. Both are easy to find and have good travel and feedback. There is no dedicated camera button. The headphone jack is on top and the microUSB port is on the bottom
Peeling off the battery cover is a cinch. Both the SIM card and the microSD card can be accessed without pulling the battery. The microSD card is buried in a slot along the left edge. It's nice to have hassle-free access to these.
In all, the hardware looks good and functions well.
Performance
Screen
The Admire's screen measures 3.6 inches across the diagonal and offers a relatively low-rez 480 x 320 pixels. The display looks good for the most part, though individual pixels are easily visible. The screen is not as stunning at the Samsung's Super AMOLED displays, but it manages to get by. As for brightness, it performs just fine inside, and loses some visibility under the glare of the sun, but is still visible enough for checking the time and using the camera.
Signal
The Admire worked well on the MetroPCS network in my neck of New Jersey. It connected to LTE when LTE was available and switched back to CDMA seamlessly when LTE wasn't around. Data sessions were definitely quicker via LTE than they were over CDMA. As far as making calls was concerned, the Admire connected them all on the first attempt and didn't drop any. In areas known to have poor coverage, however, the Admire dropped the signal entirely a few times. This is on par with other Metro phones.
Sound
Call quality was decent with the Admire. Most of the calls I made were free of interference or other problems, though there was definitely some snap, crackle, pop action in the earpiece from time to time. Volume of calls through the earpiece was quite good. I was able to hear callers over a loud radio in my home and while walking around my local mall with no problem. Quality of calls sent to the speakerphone was on par with the earpiece, and volume was decent. I wish the speakerphone were just a wee bit louder, but it should be fine for most people. The volume of system alerts, ringers, and other tones was also just shy of what I would have liked.
Battery
The Admire has decent battery life. During my tests, it consistently lasted about a day between charges — even when connected to MetroPCS's LTE 4G network. The smaller display helps conserve power. Bottom line: you should have no problem getting from breakfast to bedtime with the Admire.
Basics
Menus
The Admire ships with Android 2.3.6 and a light user interface treatment from Samsung. No offense to our friends at MetroPCS, but shipping a smartphone with Android 2.3 in the year 2013 is inexcusable. I understand how long cell phone development periods last, but the base code for Android 4.0 has been available to phone makers for more than a year. Foisting such an old phone OS on customers is flat-out wrong.
The overall appearance of the menus is nearly stock Android. There are seven home screen panels for customization and plenty of MetroPCS widgets and apps plastered on them. The main app menu is a grid that slides left and right rather than up and down. The default view is an alphabetized grid, though the grid can be rearranged manually, or shifted to a list view.
The settings are standard for an Android device and allow users to make a wide range of adjustments to the Admire's behavior.
On the performance front, the Admire has a 1GHz processor that had no trouble keeping up. I didn't see any lagging or other performance issues.
Calls/Contacts
The Admire uses the stock Google calling and contacts applications, though they've been given new colors. From the home screen, press the phone icon and the dialer pops open, plus the usual options. The Admire offers haptic feedback when you dial numbers on the touch display. Call features include mute, speakerphone, add a line, etc.
The Admire will import all of your Google and Exchange contacts, as well as Facebook and Google+ if you so wish. Contacts can hold innumerable phone numbers, email addresses, notes, and so on. The Admire doesn't have any nifty contacts or calling widgets for the home screen; only the stock tools are available.
Messaging
The Admire runs all of the stock Android 2.3 messaging applications. You get Gmail, email, Google Talk, and voicemail. There is no Google+, nor Google+ Messenger. Facebook and Twitter aren't pre-installed, either. You have to download these separately from the Google Play Store.
The one app that sets the Admire apart here is MetroPCS's new "joyn" messaging service. Joyn isn't preinstalled, mind you; it has to be downloaded through the MetroPCS-branded app store. Joyn is a standards-based app that collects and merges messaging services, such as IM and SMS. The app lets users conduct threaded text conversations and supports presence, which lets users know when their friends are available. It also makes it easier to share photo and video content when the user is on an active phone call. It also lets MetroPCS customers make voice and video calls to other joyn users via Wi-Fi.
I found the app easy to set up and use, but it is extremely limited. It only works with other joyn users who are MetroPCS customers. Unless you have a lot of friends that are also using MetroPCS, there's not much utility to it, and you'll have to use the standard Android messaging tools to IM and call everyone else in your contact list.
Extras
Media
The Admire includes a basic music player application, as well as the Google Play Music app. The first works as a simple playback app, while the second has a richer feature set in addition to its ties to the Google Play Music Store. It lets you stream music that you've stored on Google's servers. I found the music streaming service didn't work at all when under CDMA-only coverage, but did under 4G LTE coverage.
The Admire also ships with the Rhapsody music service on board, which lets you stream music to the device for a monthly fee. As for video playback, it includes the stock YouTube app and that's it.
Camera
The Admire runs a Samsung camera application rather than the stock tools. On the right are the standard controls, including a software shutter button since the Admire lacks a physical camera key. There's also an on-screen control strip for adjusting the flash, exposure, and more.
The more detailed camera settings give you a fair amount of control. There are six different shooting modes (smile shot, action shot, cartoon, panorama, etc.); 14 different scene modes (sunset, sports, candlelight, etc.); as well as items such as timer, white balance, effects, and metering.
The Admire includes touch-to-focus, but no automatic review screen. It focuses and snaps images quickly enough.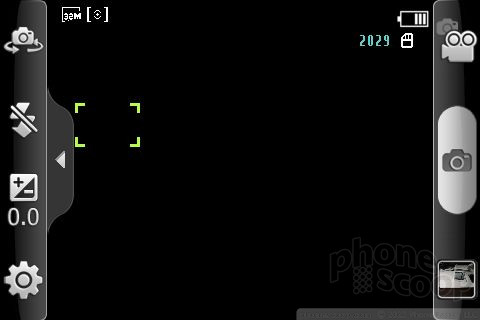 Photos
The Admire has a 3.2-megapixel camera with autofocus and flash. It performed much better than I expected it to. The majority of images I captured were in focus, had accurate white balance and color, and were free of grain and other digital noise. I'd rate them as worth sharing across your favorite social networks and beyond.
Video
The highest video quality that the Admire 4G can capture is 720 x 480 resolution, which is wide-format, but not HD. I was pleased with the video quality for this class of device. There was definitely some grain present, but by and large the video looked very good. Shooting outdoors in sunlight produces the best results, but even in a well-lit room, you'll be satisfied with what you get.
Gallery
The gallery is the stock Android 2.3 option. Photo albums float in stacks in the main gallery view, and you can sift through them in the chronological timeline in which they are arranged. It also taps into your Google+ account.
Editing options are severely limited. Crop and rotate are all you get. Sharing options are solid, and incorporate all the social networking apps on board the Admire.
Browser
The Admire ships with the stock Android browser, as well as some MetroPCS-branded web tools (MetroWeb, etc.). The stock Android browser is a known entity. It works well on MetroPCS's LTE 4G network. Browsing speeds were good, but not as fast as what's available from AT&T or Verizon Wireless.
Apps
The Admire is stuffed full of MetroPCS applications. Some include: M Studio, MetroNavigation, Metro411, MetroWeb, MyMetro, and VirtualCard. Some of these can be deleted, some cannot. There's still enough space left on the Admire for you to download your own applications.
Bluetooth
The Admire supports mono and stereo Bluetooth headsets. I had no trouble pairing with either. Sound quality through mono headphones was good, as was music sent through stereo headphones. The Admire also connects with computers and/or other phones for pushing files around.
Clock
The Admire offers the standard Android clock on the lock screen, which is visible when the device is first woken from sleep. It's a nice, large digital clock that's easily visible everywhere except under direct sunlight. It can't be customized, though.
GPS
The Admire includes Google Maps and MetroNavigation. Google Maps and its Navigation and Places features make for a powerful set of tools when it comes to routing directions and discovering nearby points of interest. The trifecta of these applications means there's no excuse to get lost nor to find a great place for dinner. Of course, its effectiveness is dependent on a strong network connection. The Admire's GPS radio performed very well in most circumstances, and was able to pinpoint my location to within 15-25 feet most of the time.
Wrap-Up
The Samsung Galaxy Admire 4G mostly succeeds. It is a solid little phone that gets nearly every feature right. The hardware, though somewhat thick, is solid and easy to use. I wish the display were better (and bigger, for that matter), but it really is a good phone for the price. The Admire passes the signal, calling, and battery tests with above-average marks for a MetroPCS device.
The only significant flaw I can find is the Android 2.3 Gingerbread operating system. It's old and outdated. Google offers a much-improved version of Android, you just won't find it here. Android 2.3 works, no doubt, but even pre-paid smartphone customers deserve a more capable platform. That said, the software the Admire has performs just fine.
For those with a limited budget, the Admire offers a lot for its $170 price tag. Such a phone can't deliver everything, but the Admire 4G comes pretty close.
Which is better, Admire or Motion?
Eric...?
LG motion is higher spec-ed, has android 4.0, better camera and that funny quick memo software from LG.
Battery life should be better on the admire, it has a bigger battery and lower specs (less power hungry processor).

Recently LG has been making...
(continues)
Do you have a new BMW Eric?
I hadn't seen before the one on the photos.
Loaner car from the dealer while the battery was being replaced on mine.

;)