Review: Nokia Lumia 810 for T-Mobile USA
Article Comments 8
Nov 20, 2012, 8:16 PM by Eric M. Zeman @zeman_e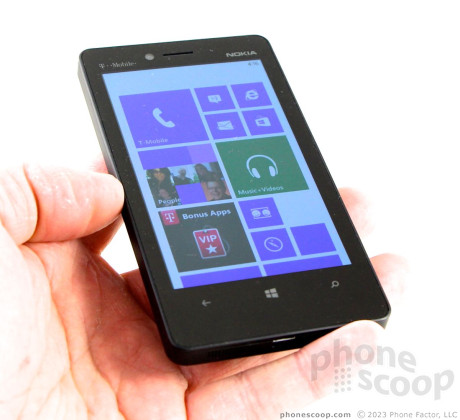 The Lumia 810 is a solid mid-range Windows Phone for T-Mobile USA. What it lacks in style, it makes up for in functionality and performance.
AD article continues below...
Form
Is It Your Type?
The Lumia 810 is a new Windows Phone device from Nokia for the T-Mobile network. It offers Windows Phone 8, an 8-megapixel camera, fast mobile data, and interchangeable shells for added personalization.
Body
The Nokia Lumia 810 doesn't have quite the personality — nor the accompanying heft — that the Nokia Lumia 920 does. It's smaller and lighter, but blockier and more rectangular in design. It's the type of smartphone hardware that Android makers were kicking out in droves back in 2010.
It's a sizable slab of smartphone that (thankfully) comes in a handful of different colors. The corners are pronounced and the sides are flat enough that it can stand on its edges. Rather than offer a smooth transition from the front to the sides, it has a sharp corner where the display meets the edge. This accentuates the blocky look of the phone. It's not bad looking; it's spartan.
Nokia managed to make the 810 comfortable to hold thanks to the curved back surface. I found it no problem to grip tightly in my hand. The side and back surfaces are made from a single piece of plastic. There are no seams. The material has a matte finish that stops short of providing the sort of traction that a soft-touch paint job would provide, but it does add some. You won't have trouble getting it into your pocket, but you'd best put it in so the screen is against your leg, lest the hard front edge make a visible outline on your jeans.
The front of the 810 is a simple black surface. There's a (perhaps too) generous bezel surrounding the display, with nearly an inch of black space below the screen for the three capacitive Windows Phone controls. The controls work well and include a pleasant amount of haptic feedback.
Just as on the Lumia 920, the controls for the 810 are all along the right edge of the phone. The volume toggle is closest to the top, followed by screen lock button, and finally the dedicated camera button. All three of these buttons have excellent travel and feedback. Nokia did a really good job with them. I especially like the two-stage camera button, which has well-defined action. The microUSB port is on the bottom of the phone and the headphone jack is on the top. There are no ports or buttons on the left side.
One of the 810's biggest features is that the back cover is interchangeable. Nokia designed the cover well. It is easy to remove, and doesn't feel flimsy or weak. Sadly, our review unit didn't come with any spare covers, but they are available in a handful of bright and cheery colors. As far as removable covers go, it's the best I've seen in a long time. The 810 also works with covers that can accept wireless inductive charging. They are a separate purchase, as is the charging pad.
Another feature the 810 has that the 920 doesn't? A removable battery. That's right, with the back cover removed, the battery, SIM card, and microSD card are all available for pulling or swapping.
The Lumia 810 may not be a subtle device, but then neither are most of the new Windows Phone handsets.
Performance
Screen
The 810's display measures 4.3 inches across the diagonal and has 800 x 480 pixels. This stops well short of the higher-resolution displays on the 920 and HTC 8X (also sold by T-Mobile), but it still manages to look good. It is very bright and colorful, and all the on-screen elements are easy to read and see. You will notice individual pixels if you hold it close to your eyes, though. Its best feature is that it is perfectly readable outdoors under a full, sunny sky.
Signal
The 810 did well on T-Mobile's HSPA+ network. I carried it around New Jersey and New York City for the better part of a week and it never had any trouble connecting to T-Mobile's voice and data networks. Calls always went through on the first attempt, and the device didn't drop any calls during my tests. Data speeds were slightly inconsistent, but fell in line with what I've seen from other T-Mobile devices tested in the same areas.
Sound
The quality of phone calls made with the 810 were quite good. Not only were they free of background noise and interference, but the earpiece produces clear, sharp, and loud sound. When used around the house, you can probably get away with setting the volume about halfway up. If you're out walking a busy city street, crank it up all the way and you'll have no trouble hearing callers. The speakerphone offers equivalent call quality, but the volume isn't quite as impressive. You'll need to stick to quieter rooms to use it. Ringers and alert tones were loud enough to get my attention from several rooms away, though I thought the vibrate alert could have been stronger.
Battery
The 810 got through a full waking day consistently over the course of a week with normal use. That means I unplugged it at 7 AM and it was still going at 11 PM or midnight. It didn't have much juice left by the time I went to bed each night, though, and was typically dead by morning if left unplugged. (I kept Wi-Fi and GPS on, but Bluetooth off. I used the 810 to check and read email, Twitter and Facebook regularly, as well as browse the web, download apps, listen to music, take photos, plot directions, and so on.)
Basics
Menus
The 810 runs Windows Phone 8 from Microsoft. Handset makers and carriers aren't allowed to mess with the user interface, so the user experience on the 810 looks and feels just like it does on other WP8 devices.
The lock screen now has customizable alerts that pop-up when the screen is locked. You can choose which alerts reach the lock screen and which don't, as well as pick which type of alerts are given priority.
The Start screen is more customizable than before. The Live Tiles can be resized in small, medium, and large variations, and of course the Tiles can be arranged however you wish. More apps support Live Tiles, which makes the Start screen even more dynamic.
The rest of the menus behave more or less the same as earlier versions of Windows Phone.
The Lumia 810 has a 1.5GHz dual-core Qualcomm processor. Windows Phone has always been a snappy smartphone operating system and the dual-core engine under the hood provides more than enough motivation to keep the 810 feeling spry and zippy.
Calls and Contacts
The phone app is simple to use and offers a standard set of features, such as hold, mute, speakerphone, merge calls, and send to Bluetooth. It's easy to text or call a number stored in the call log, as well as add it to a contact.
The People Hub ties in users' Facebook, LinkedIn, and Twitter profile data, as well as their basic contact data. It's the most feature-rich contacts app out there, and provides consistent updates and notifications about those with whom you converse the most.
Messaging
The Lumia 810 has the same WP8 communications tools that other Microsoft-based smartphones include. That means a solid email client, SMS/MMS, IM, apps. In my experience, the email program is quick, Social networking - which is built into the People Hub - is quite useful.
Microsoft employs one program to serve as the SMS, Windows Live (soon to be Skype), and Facebook Messenger applications. I like the idea of keeping all short-form communications in one spot, and of course they are all threaded and support multimedia. This app doesn't support AIM, GTalk, or Yahoo IM, though.
If you want a fuller Facebook or Twitter experience, you'll need to download them from the Windows Phone Store separately. The newest versions of the apps more closely match those offered to the Android and iOS platforms.
Extras
Media
The Lumia 810 has the same XBox Hub and storefront that all Windows Phones do. The XBox Hub covers all the possible entertainment features, including gaming, music, and video. It's a good tool for managing and consuming content, though you'll need to use desktop software to sync your music to the device.
More importantly, the Lumia 810 includes Nokia Music, which is only being offered to Nokia's Windows Phones. Nokia Music is separate from Microsoft's XBox. It has its own store through which tracks and albums can be purchased, and offers streamed radio stations, personalized recommendations, and the ability to browse through local concerts.
The only other options on board include T-Mobile TV, which is a for-pay service that's streamed over the network, and Slacker Radio. If you're a YouTube fan, you'll have to download one of several YouTube apps from the Windows Phone Store yourself.
All these services worked well. Music sounded good and videos looked good.
Camera
The camera application launches quickly with a long press of the dedicated button and is a snap to use for taking pictures. The menus and controls are all self-explanatory and don't take more than 60 seconds to sort out.
As with all WP8 handsets, the 810 supports "Lenses". Lenses for the camera are third-party plug-in apps that perform specific actions with the camera. Nokia offers several of its own lenses, which are not available to other WP8 devices. The 810 has the Panorama, Smart Shot, and Cinemagraph lenses preinstalled, but more are available in the Windows Phone Store.
Cinemagraph is the most interesting of the lenses. It lets you create animated GIFs on your phone. It records about 3 seconds' worth of footage and then lets you select sections of the footage to animate and share via link. It's pretty cool.
Photos
The 810 doesn't have a PureView camera, but it does capture 8-megapixel photos that are, for the most, part pretty good. I noticed the 810 had trouble with white balance when taking pictures inside. Using the flash didn't seem to fix the problem (see the sit-and-spin below). White balance wasn't a problem when shooting outdoors. All the images I took, whether inside or out, were perfectly in focus and showed accurate exposure.
Video
The 1080p HD video that I captured with the 810 was impressive. It was razor sharp, motion was smooth, and exposure was spot-on. I noticed some jankiness with the white balance (see video below), but otherwise the video is more than worthy of your YouTube audience.
Picture Hub
The Microsoft-made Pictures Hub is a fine service for managing your photos. Not only can you manage your own, but you can browse through the photos of your Facebook friends, too. It makes sharing images a snap, and includes support for Microsoft's SkyDrive in addition to other third-party apps.
As far as editing foes, the native People Hub tools are limited to crop, rotate, and enhance by applying some exposure and other fixes. The 810 also includes Nokia's Creative Studio. The Creative Studio app is sort of like Instagram in that it lets users apply various filters and effects to change the tone/appearance of their photos.
Apps
The Windows Phone Store has more than enough apps to make sure the Lumia 810 can keep you connected and entertained. There are some T-Mobile apps on board, and some, such as the T-Mobile Account Manage, are actually useful. Either way, all the T-Mobile apps can be deleted if you want to get rid of them.
Bluetooth
The 810 didn't give me any trouble when I paired it with my car's hands-free system or stereo Bluetooth speakers. Sound quality of calls through my car was quite good, and music wasn't bad through the stereo speakers, either. The 810 can also be paired to other phones, computers, and so on.
Browser
The 810's browser, Internet Explorer 10, is noticeably faster, is better at rendering web pages, and is quick to load web sites. It is chock full of new features (see Phone Scoop's full review of Windows Phone 8), but the one you'll appreciate most is better support for web standards, such as HTML5. For Windows Phones, IE10 is superior to IE9, though it falls a bit short of the features offered by the native Android and iOS browsers.
Clock
As with most smartphones, the 810 has a nice digital clock on the lock screen, It also displays the day of the week and the date. I wish the clock were bigger and customizable, but it is not. It's easy to see outdoors, though.
GPS
Nokia Maps (which is now being rebranded as "Here") has proven to be a powerful navigation tool on Windows Phone handsets. It offers a wealth of features that go head-to-head with the best that Google Maps offers on Android handsets. It helps users manage locations, share points of interest, and route directions. It's all free.
The Lumia 810 also has Nokia's full suite of location-enabled apps on board, including Nokia Drive, Nokia Transit, and others. These are individual apps that perform specific functions. Nokia Drive plots point-to-point driving directions, while Nokia Transit helps manage mass transit route planning. They are each powerful and work as advertised.
The GPS radio of the 810 itself performs flawlessly. It pinpointed me quickly and accurately no matter where I was.
Nokia City Lens
Nokia City Lens is an augmented reality application for finding stuff that's nearby. When you open it, City Lens turns on the camera. You pan the camera around and the app shows you what's nearby. It is easy to pick one of the shops or restaurants in pulls up to see more information and/or details about it. It's pretty cool.
Wrap-Up
The Nokia Lumia 810 for T-Mobile is a solid choice for a mid-range smartphone. It may not have a high-definition screen, nor the very fastest mobile processor, but it makes good use of the tools it does include.
The hardware might be a wee bit on the blocky and spartan side of the design equation, but it is solid, well built, and all the features and buttons work properly. The radio and calling performance was quite good, though battery life could have been a little bit better. The communications tools of the 810 are as good as any other WP8 smartphone.
For media fanatics, the 810 has plenty of avenues through which content can be purchased and consumed. Perhaps the only real negative thing I can say about the 810 is the inconsistency of the camera (which in reality wasn't all that bad).
If you're a fan of Windows Phone or are simply looking for a change, the Lumia 810 is an excellent alternative to the Android devices available from T-Mobile.
Excellent phone
I got to try out this phone earlier today. This is an excellent phone, I was very impressed with the build quality, and it feels great in your hand. Very, very snappy screen too.
Not surprised. Windows Phone OS is the ****. Most don't want to even give it a shot cuz of Android. But Windows takes a giant dookie on Android and iOS. Looking to pick this up too.