New Nokia Lumia 810 Will Be T-Mobile Exclusive
Article Comments 18
Oct 8, 2012, 2:22 PM by Rich Brome @rbrome
updated Oct 8, 2012, 2:38 PM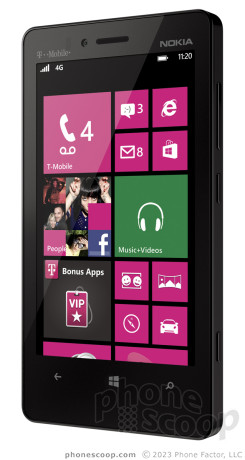 Nokia and T-Mobile USA today announced the Nokia Lumia 810, a Windows Phone 8 device that will be exclusive to T-Mobile. The 810 is mostly similar to the already-announced Lumia 820, but lacks LTE data. The phone sports a 4.3-inch OLED display with Nokia's ClearBlack technology. User-changeable shells in cyan and black will allow the phone to support wireless charging. The main camera will be 8-megapixel with a Carl Zeiss lens. A front camera will support Skype HD. The camera supports a number of unique Nokia software functions, including an animated GIF creator, and Group Shot, which takes a series of photos and automatically merges the best version of each person. The phone also sports a 1.5-GHz Snapdragon processor, NFC, and 8 GB of memory plus a memory card slot. The 810 also comes with Nokia's exclusive navigation software, including City Lens, Nokia Drive, and Nokia Transit. The 810 will be available "in the coming weeks." Pricing was not announced.
source: Nokia
Nokia is doing everything wrong......
Why aren't they releasing phones for every carrier???? They seem to shoot themselves in the foot at every move. Many people would love a Nokia phone, but they aren't smart enough to put it in wide release. They need to be taking ques from Samsung and not Apple with this exclusive BS...
CPU
Is this phone not dual core? If not there should be no reason that phones such as Titan 2 and Lumia 900 not receiving Windows 8.
I'm not sure the dual core was the sole reason for WP8 OS not being put on current phones. Besides, they didn't say it was a WP8 device. It could very well be WP7.8, too. But, my point is, it may be some other features that are hardware specific that...
(continues)
tmobile phone selection
y does tmo mostly always get the next to the top tier phones except with samsung. Example: htc 1s istead of 1x, LG L9 instead of optimus G, windows 810 instead of 920... we would like a pick some top choice phones also instead of the lower tier.
nice
i really like winmo phones.. they're good phones and also not freezing and no forceclose error's..
you mean.. windows phones? winmo has been dead for a while son
Well I think that...
Answers the 'why isn't Nokia releasing phones on every carrier?' criticism....nice phone with nice specs, if I was on T-Mobile I would seriously consider buying it....