Sony Selling Ruggedized Xperia Advance Unlocked in U.S.
Article Comments 13
Nov 9, 2012, 9:19 AM by Eric M. Zeman @zeman_e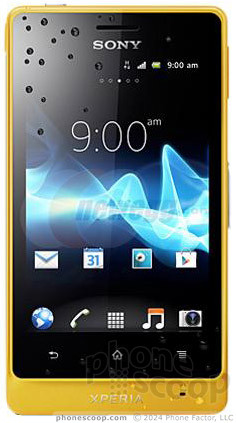 Sony today announced that the Xperia Advance, a ruggedized, water resistant Android smartphone, is available for sale in the U.S. It is being sold directly to consumers for $299.99 unlocked and contract free. The Advance has a 3.5-inch 480 x 320 display, 5-megapixel camera with 720p HD video capture, and a dual-core processor. It runs Android 2.3 Gingerbread, but will be upgraded to Android 4.0 Ice Cream Sandwich. It is compatible with AT&T's HSPA+ network and also includes Bluetooth, Wi-Fi, GPS, and 8GB of internal storage.
Motorola Defy
My two year old Defy with CM7 Gingerbread compares favorably with this phone. Why would I spend $300 for a phone marginally better than a two year old phone?
I use Gingerbread--
--but I'd never buy a phone today with Gingerbread installed. You just never know if you'll get an upgrade to ICS.
Designed specifically to resist purchase
Rugged , weatherproof , and completely uncompetitive , the Sony Xperia Advance is anything but! Available in an assortment of colors that you wouldn't want.
I stopped reading at 3.5 inch screen and gingerbread.
Ice Cream Sandwich ? Really ?
Sony , what are you doing ? Free advice : when you release new hardware , do your best to make sure the software is as up to date as possible.
Doesnt even matter - why would you spend $300 on this phone when you can get a NEXUS 4 for $300 too?