Hands-On: Samsung ATIV S Windows Phone
Article Comments 5
Oct 29, 2012, 1:49 PM by Eric M. Zeman @phonescooper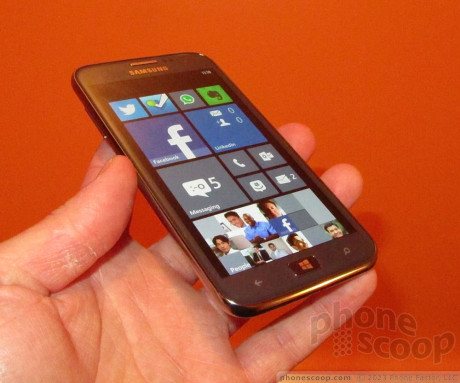 Samsung's ATIV S was on hand at the Windows Phone 8 launch event. We spent a few moments with it and came away impressed.
AD article continues below...
The Samsung ATIV S was announced earlier this year as Samsung's first Windows Phone 8 device. The device boasts an impressive spec list and the real-word experience was enough to leave me looking forward to seeing it again.
In case you need a refresher, the ATIV S features a brushed aluminum chassis that measures 8.7mm thick. It has a 4.8-inch HD Super AMOLED display with Gorilla Glass 2 protecting it from scratches and breakage. The device has a rounded profile, and even the buttons are made from aluminum and not plastic.
Honestly, it feels almost a bit like the Galaxy S III, but the version Samsung should have made. Though the back cover of the ATIV S is made from aluminum, it felt a lot like plastic to me. It has to be the thinnest piece of aluminum ever forged for a phone. It doesn't feel cheap, though. In fact, the overall impression the ATIV S left me has me wondering if Samsung is rethinking its designs. The metallic surface has a brushed texture to it, which provides a really nice tactile feel. Even the sides have a decent feel. It is an extremely thin phone, and light, too.
The display is flat-out ridiculous. At 4.8 inches, it is monstrously large. The Super AMOLED technology is bright, colorful, and amazing. In my opinion, it easily outclasses the display on the Nokia Lumia 920. You're going to like it.
The ATIV S is powered by a dual-core 1.5GHz processor, which is paired with 1GB of RAM. Connectivity includes Bluetooth 3.0, GPS, Wi-Fi, Bluetooth 3.0, USB 2.0, and HSPA+ in the 850/900/1900/2100MHz spectrum bands. In the time I spent with it, it was blazing fast. It had incredible performance of the user interface, apps, and home screen.
The ATIV S has an 8-megapixel main camera with autofocus and flash, a 1.9-megapixel user-facing camera, and a 2,300mAh battery. The device has a physical Start button below the display, and is flanked by two capacitive buttons for the back and search functions. The device has a rounded profile, and even the buttons are made from aluminum and not plastic. The buttons felt really good, especially the Home button below the display. It has great travel and feedback.
In all, I am impressed with the ATIV S. It's far and away better than anything else Samsung has done with Windows Phone, and perhaps even Android. It's got more character than the GSIII or Note 2 and matches them feature-for-feature.
install android
Will be nice to install android on it.
I mean, why bother getting the Ativ S if you want to put Android on it? Why not just get a GS3? It'd be damn near the same thing.
ATT?
Is this phone coming to ATT? Id rather have this than the GS3.
The last thing I read about it, ATT will be getting the phone. It's call Samsung ATIV.