Carphone Warehouse Lists 'Nexus 4' For Sale
Article Comments 11
Oct 25, 2012, 8:09 AM by Eric M. Zeman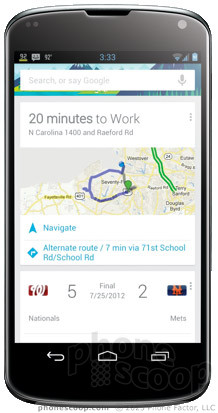 Carphone Warehouse, the largest cell phone distributor in the U.K., has listed a phone on its web site called the Nexus 4. According to Carphone Warehouse, the Nexus 4 has features similar to that of the LG Optimus G. It includes a 4.7-inch HD display, 8-megapixel camera, NFC, Snapdragon processor, and runs Android 4.2 Jelly Bean. Google has not announced or confirmed this device, though it has scheduled a media event for Monday, October 29.
Navigation Fail
Look at the screenshot, the primary route will take 20 mins, but the alternate route is 7? Way to get us to work on time !!
wonder what they are putting into this...
I wonder what the specs are going to be on this? Hopefully they do something big this time. the nexus has always been a good phone but never that amazing.. I wish they do put something great together...
On engadget it said it was listed with only 8gb of storage, and no sd slot. That can't be right though...that would be a fail
The important thing to note...
...is that it was listed as an 'LG Nexus 4'.

Gives some more momentum to the rumor of multiple OEMs and/or a NEW OEM over Samsung.