MetroPCS Selling Samsung Galaxy S III for $499
Article Comments 27
Oct 19, 2012, 7:16 AM by Eric M. Zeman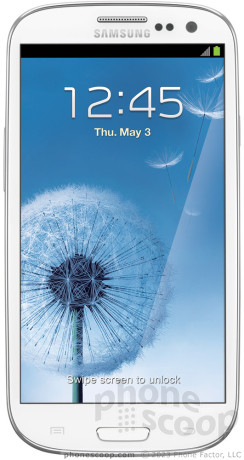 MetroPCS today announced the pending availability of the Samsung Galaxy S III. The device will be available in select stores beginning this weekend, and in all stores and online by October 22. It includes all the same features available on other variants of the device, and supports MetroPCS's LTE 4G network. The MetroPCS version of the Galaxy S III is sold without a contract and costs $499. Service plans range from $30 to $70 per month.
$499
How is it that MetroPCS can sell the S3 for $499,
but Verizon wants what, a whopping $649?
That just doesn't make any sense.
Carrier cost on this device is likely $500. I've been out of the business for a while but that would be my guess.

On a side note, I'm so excited to get this device I don't want to wait until Monday.
Metro does subsidize their phones a bit. Not as much as a contract carrier, obviously, but they do subsidize.
Im thinking Metro will not sell as much as Verizon so the hit will be lower to the bottom line.
The no-contract price is always a ripoff.

T-mobile Exhibit II 4g...
With new contract: $29
Same SKU with "no contract/SRP": $329
Prepaid kit SKU for same phone: $179

No way are they actually giving up $150 on prepaid phones. And you can buy ...
(continues)
Verizon encourages their consumers to subscriber to their contract service; therefore, non-contract phone prices are relatively high.
Reality Check
- Metro is an MVNO
In LAYMAN's terms this means that in order for the major carriers to operate in this country as they do not own spectrum they simply lease it from the American people by proxy of FCC auctions part of THAT lease agreement is that they must allow lesser companies to sub lease spectrum from them at a wholesale pricing for them to operate ... Over simplified but due to a nasty little secret known as TOWER PRIORITY the customers of the post paid customers get priorty in airtime and packet data speeds over the MVNO customers who are paying less to their MVNO Carrier..

So, you GET what you have Paid for... So, why NOT sign a 24 month contract with a MAJOR Post Paid Carrier and get the GSIII for $99.99 (you can get that price...
(continues)
Ignorant. SO ignorant.

Metro PCS is not an MVNO, they are a regional carrier with their own 4G LTE network. They have roaming agreements with Sprint and US Cellular.

Now, let's talk service plans. For $30 per month (out the door by the way) y...
(continues)