Huawei Summit Shows Up on T-Mobile.com for $49
Article Comments 1
Oct 18, 2012, 6:00 PM by Eric M. Zeman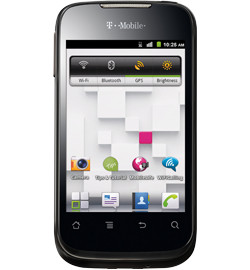 T-Mobile USA recently listed the Huawei Summit for sale on its web site. This bar-style device appears to be almost identical to the Prism, also made by Huawei and on sale with T-Mobile since May. Both phones feature a 3.5-inch HVGA screen, 3.2-megapixel camera, and support for T-Mobile USA's HSPA+ high-speed network. Other features include Wi-Fi (with Wi-Fi Calling), GPS, and Bluetooth. According to T-Mobile's web site, the Huawei Summit runs a proprietary operating system. The software appears to be based on Android. The user manual describes an Android interface, except lacking Gmail and possibly Google's Play Store. It costs $49.99 with a new contract.
Something important that was not added-
This device, while all other t-Mobile smartphones require a data plan to get a discounted device, this device does Not require a data plan to receive it at the discount.