Hands-On: ZTE Render for U.S. Cellular
Article Comments 2
Oct 9, 2012, 9:02 PM by Eric M. Zeman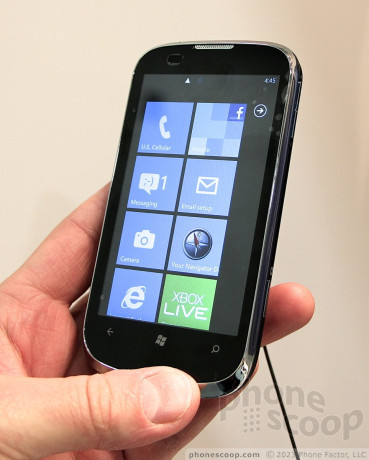 The Render is a Windows Phone device sold by U.S. Cellular. It's been around for a little bit, but today was the first time Phone Scoop had a chance to spend a few moments with it.
Advertisements article continues below...
The ZTE Render is one of the new(er) Windows Phone devices sold by U.S. Cellular. This $79 smartphone doesn't offer the most compelling design, nor the most exciting features, but it does run Windows Phone and you can't beat the price.
The Render is a smallish smartphone, and is very much shaped like a bar of soap. It is smooth, has rounded edges, and feels light and comfortable in the hand. The design is a simple mix of black and glass with a few non-black surfaces tossed in to break things up a bit.
The Render is assembled with plastics and glass. The materials feel exactly how a $79 phone should: cheap. The construction of the phone is decent, but not impressive. The seams and edges were mostly flush and I didn't see any unevenness in the way it was put together.
The controls on the outer edges felt mushy. I didn't care for the action of the volume toggle, nor the lock button, but the camera button had a good feel to it. All three buttons were easy to find thanks to a generous profile.
The display is one of the dullest I've seen in a while. Most of the Windows Phone displays have impressed me over the years, but the Render's display is lacking richness and contrast. It has 800 x 480 pixels, and the smallish size means items on the display look sharp with clean edges. I can't get over how dull and lifeless the colors are, though.
The user interface is Windows Phone 7.5 Tango. It doesn't have anything unique as far as the software goes, since it Windows Phone behaves the same across devices. Suffice it to say, though, that the performance was quite good and the user interface was snappy and quick.
$79 smartphones aren't a dime-a-dozen. With the Render, you're getting exactly what you pay for.
No messages