Huawei Fusion 2 Pops Up on AT&T's GoPhone Roster
Article Comments 7
Sep 28, 2012, 4:38 PM by Eric M. Zeman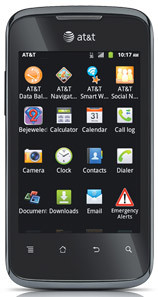 AT&T recently added the Huawei Fusion 2 to its selection of devices available through its GoPhone prepaid wireless service. The Fusion 2 runs Android 2.3 Gingerbread, has an 800MHz processor, 3.2-megapixel camera, 512MB of RAM and 2GB of internal storage. The Fusion 2 has a 3.5-inch display with 320 x 480 pixels, Wi-Fi, GPS, and Bluetooth. The Fusion 2 is available for $99.99 without a contract.
I fail to see what they changed.
Really, it looks exactly the same as the first and is introing at a lower price (but is now the same price as the first one).
Wow, you're right. I can't see a difference. Not spec-wise, and not aesthetic-wise. What the hell, huawei.
I'm not seeing any difference either.