Review: LG Intuition for Verizon Wireless
Form Basics Extras Wrap Up Comments 3
Is It Your Type? Body Performance
Sep 18, 2012, 4:30 PM by Eric M. Zeman @zeman_e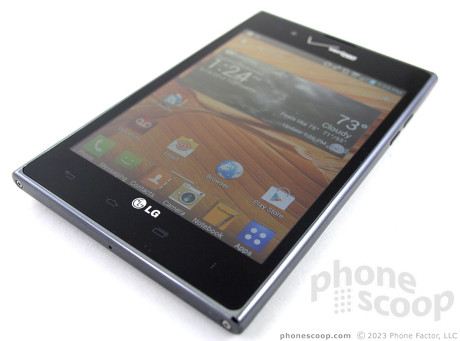 The LG Intuition is one of the biggest phones in the market. This widescreen behemoth is part smartphone, part tablet, and all sorts of awkward. Find out what Phone Scoop's intuition says about the Intuition.
AD article continues below...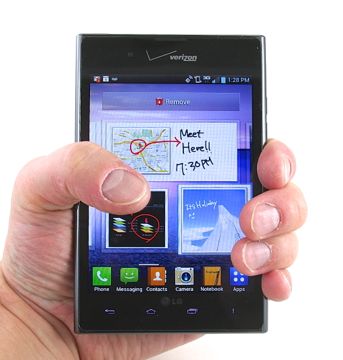 The Intuition is LG's response to the Samsung Galaxy Note. It's a massive smartphone that no one should purchase without using it first. The Intuition, like the Note, is a "phablet" — falling somewhere between a smartphone and a tablet in size and use case. For those who don't want to own two devices and would rather get as much as possible from a single form factor, a device such as the LG Intuition could be the middle-ground solution that works.
HOLY SHEEP $H!T
This sucker is OMG big! I got to mess with it briefly yesterday at Verizon. Screen looks good and seems to run ok but I can't get past how big it is. I kept thinking to myself about the corners thinking, man those things could put an eye out. Looks like just a big square. Too big in my book. I'll pass.
BATMAN PHONE!
Batman phone is all i have to say.

Got to play with the dummy mock up display recently, and it was impossible to hold with my hand and move around like the review says. I thought I was going to get a cramp.

The thing is ugly to look at too. At least the Note looks somewhat pleasing.
I'd like to sit down with the person who decides which LG products get developed....
And figure out why that person is so clueless. I'm honestly wondering how this person, or maybe a few or more have jobs.

I'll help you out LG....

1.) No more cheap exteriors. If you're trying to mimic more expensive materials, but still use cheap plastics, then just refrain from trying to mimic, and make it clear what you're trying to do. No more fake brushed aluminum.

2.) No more awkward shapes - test the phone among users and figure out which is preferred.

3.) Test your software - I'm under the impression that you don't, seeing as you have a track record for having some of the worst bugs.

4.) Use IPS more - this I like. In terms of screen size, give people a 3, 4 and 5 inch variety (Bigger is better to me, but not for a...
(continues)