Hands-On: LG Intuition for Verizon Wireless
Article Comments 12
Sep 10, 2012, 5:04 PM by Eric M. Zeman @zeman_e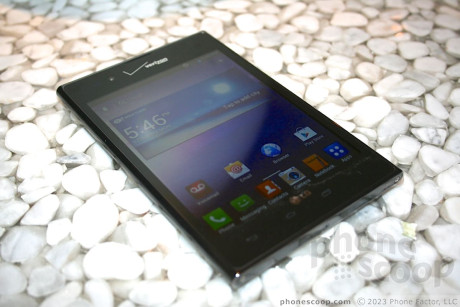 LG and Verizon Wireless offered a first look at the Intuition today. Will consumers flock to this 4G phablet? Here are Phone Scoop's first impressions.
AD article continues below...
My opinion of the LG Vu — nee, Intuition — hasn't changed all that much since I first used it in February. LG launched the Intuition has the Vu at Mobile World Congress in Barcelona. Here we are nearly seven months later and Verizon is trotting the Intuition out as its first phablet (phone + tablet = phablet).
The Intuition is, without a doubt, an enormous, not-for-everyone type device. It is flat-out huge. It has a 5-inch display that has a 4:3 aspect ratio. This is the same aspect ratio as the Apple iPad. Think of it held vertically, and you can understand quickly how wide the Intuition really is. The width is unreal. I cannot wrap my large hands all the way around it. It is awkward to grip and carry.
Verizon says the device is a "lifestyle" choice, aimed at people who want to live on the bleeding edge and want the biggest screen they can carry. For people who want to carry one device — a phablet — instead of two (phone +tablet). If by "lifestyle" Verizon and LG mean "single forever," I think you might get a clearer picture.
Despite the massive width and girth of the Intuition, I was fairly surprised at how light the phone is. It's not a featherweight, but it isn't as heavy as you expect it to be when you first pick it up. Even so, the Intuition is not a device that can be used one-handed, at least not for long. The overall size makes it fatiguing to hold and use for more than several minutes at a time. You absolutely cannot type with your thumb. You need two hands to compose messages.
The display looks incredible. It has a 4:3 aspect ratio and more than enough pixels so that all the on-screen elements look smooth and sharp. It is very bright, and was easily read even when held under harsh, bright light. LG said that the display was made with mobile professionals in mind. It is bright enough so that people working outside will be able to see and use it — even under a blazing sun.
The Intuition is slightly changed in appearance from what I remember of the Vu. The exterior has a different texture, and it feels better against your skin than the rough surfaces did on the original Vu. The volume toggle and power/lock button worked well, but they can be hard to use given the Intuition's size.
The Intuition runs Android 4.0 with the current skin from LG installed. It's not overly noticeable, and similar to what has been made available on other recent LG devices. The lock screen has several different choices and appearances, based on the clock face you want to use. THis is something I appreciate very much. The lock screen lets you swipe-to-unlock from anywhere on the screen, similar to the Samsung Galaxy S III.
Verizon Wireless's presence is unmistakable, too. There are plenty of apps and Verizon-branded services on board, but Verizon kept its fingers off the user interface, from what I could tell. The light user experience doesn't have any sort of impact on the usability and/or performance of the Intuition. It is a very fast phone.
LG is very proud of its QuickMemo application. The QuickMemo app mimics Samsung's S Pen and S Note apps. LG believes QuickMemo is better because it can be controlled without requiring a stylus (though, it includes a stylus anyway). It is a fine note-taking application and lets you write text, draw things, insert pictures and videos, and pretty much add any sort of content you want. You can also share the notes easily to social networking sites or even via email.
The LG Intuition is available both online and Verizon Wireless retail stores for $199.99 with a new two-year contract.
In your opinion Mr. Zeman,
so far does this seem like legitimate competition for the Note?
Phablet? I really hope this is a spelling mistake
Is there really somebody out there who would call this a Phablet ? I would like to meet this person. The word Phablet looks slightly offensive, even though it's really not. I really hope that nobody who visits this site or regularly posts here would ever, ever, refer to anything as a Phablet.
Phabulous post! I phound it quite phunny. 😁
Unforunately "tone" is already a thing.
We didn't invent the term "phablet", although I wish we could take credit. I think Sascha Segan from PC Mag may deserve the credit for coining that one, but most sites I read use that term now.
Yes! Phone is the middle ground between a phone(smartphone to be exact) and a tablet...thus Phablet!

Per ABI research phablet is as a device with a screen that ranges between 4.6 inches and 5.5 inches -
as a device with a screen that ranges betwe...
(continues)