Review: Coolpad Quattro 4G for MetroPCS
Article Comments 9
Sep 11, 2012, 8:09 AM by Eric M. Zeman
updated Sep 11, 2012, 8:17 AM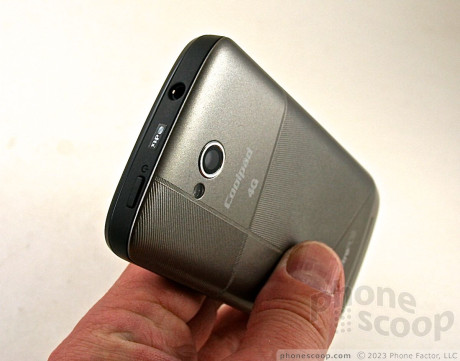 Coolpad's first smartphone for the U.S. lands at MetroPCS. The Quattro 4G has LTE, a 4-inch display, and attitude to spare. Phone Scoop lets you know how the Quattro compares to other phones in MetroPCS's lineup.
Advertisements article continues below...
Form
Is It Your Type?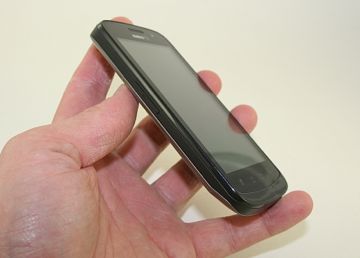 MetroPCS offers a handful of budget-friendly LTE 4G smartphones, and Coolpad Americas' Quattro 4G is the latest. The Quattro includes LTE, a 4-inch screen - and of course Android - all bundled in an affordable package.
Body
If you've never heard of Coolpad before, don't worry. Most Americans haven't. Coolpad is a Chinese device manufacturer, and the Quattro is the first smartphone from CoolPad to be offered state-side.
The front has a business-like appearance, with its deep black colors and conservative shape. Flip it over, though, and Coolpad has a unique battery cover protecting the Quattro's rear. It's a silver-colored piece of plastic that has lines and textures cross-crossing here and there at different angles. It's not a stunning achievement in design, but at least it's not a boring black battery cover.
The Quattro is a bit of a chunky thing. It's not too fat, but Coolpad could definitely learn a thing or two about slenderizing. It has a nice heft to it; not too heavy, but not too light, either. The rounded edges help it feel comfortable when gripped tightly. The materials are all plastics. They don't feel cheap, but they're not top-of-the-line polycarbonate, either. The Quattro has a solid feel, overall, and bests the quality of some Huawei and ZTE devices (also Chinese firms) that Phone Scoop has reviewed in recent months.
The 4-inch display fills most of the front face, but there's still room for four capacitive buttons below the screen. The Quattro has the slightest of chins at the bottom, and a veil-thin lip that edges the entire front surface. (This protects the screen when placed face-down.)
All four edges of the device have buttons, ports, or controls of some sort. The volume toggle is on the left; the dedicated camera button is on the right; the power button and 3.5mm headset jack are on top; and the microUSB port is on the bottom. All the buttons have the same degree of travel and feedback, which is quite good. I like that the volume toggle, in particular, has a notch in the middle that makes it easy to determine which half of the button you are pressing.
The battery cover emcompasses the entire back surface of the Quattro. There's no notch for your thumbnail to remove the cover. Rather, the entire thing must be pressed in and slid down about 1 cm. The microSD card is accessible without removing the battery, but the battery must be pulled in order to access the SIM card.
To be quite honest, the Coolpad Quattro far surpassed my expectations with respect to build quality. It is a well-designed, well-built phone.
Performance
Screen
The Quattro's 4-inch screen has 800 x 480 pixels. The smaller size (compared to today's leading devices, anyway) and decent pixel count combined mean the Quattro's display looks really good. I had to hold it less than six inches from my eyes to pick up individual pixels. From a standard viewing distance (12 - 18 inches) pixels are invisible and all the text, graphics, and icons look smooth. Brightness is decent, but not stunning. I was able to use the camera outdoors, and see basic screens, but reading email and checking text messages had me running for shade.
Signal
The Quattro performed very well on both MetroPCS's 1X and LTE networks in the North New Jersey and NYC areas. MetroPCS's LTE 4G network is scattered in terms of availability, but if it was there, the Quattro found it. When LTE wasn't available, the Quattro fell back to 1X seamlessly. Whatever network was available, the Quattro connected phone calls on the first dial consistently and didn't drop any during my tests. Data performance was on par for each network type: slow on 1X, and good on LTE.
Sound
Call quality was just OK. Calls made with the Quattro were mostly - but not totally - free of distortion and noises. Voices coming through the earpiece were a bit robotic, though, and not all that pleasant. Perhaps most importantly, the earpiece produces enough volume only for quiet environments. In my silent home office, I was able to hear calls fine, but at a coffee shop I really struggled to hear conversations — even with the volume all the way up. If you're out and about, you may need to seek privacy to hear calls. The speakerphone offered about the same quality of calls that the earpiece did, and was also mediocre as far as volume goes; fine for quiet spaces, but not loud enough for the real world. Ringers and alerts were similarly too quiet. I missed several calls because I didn't hear the Quattro from several rooms away. The vibrate alert was good.
Battery
The Quattro will live for 24 hours at a time, but not much beyond that. That means if you unplug it at 7AM, use it for a day, and forget to charge it at the end of the day, it'll be dead when you wake up the next morning. Charge it every night; don't forget.
Basics
Menus/Customize
The Quattro runs Android 2.3 Gingerbread (argh) with the same light skin treatment that MetroPCS has used on most of its phones this year.
The Quattro doesn't offer any lock screen shortcuts, which is a bit disappointing. There are five home screen panels that are all littered with MetroPCS-branded apps and widgets. As with all Android devices, the home screen panels are completely customizable. You can leave them empty, jam them full, or leave them as they are. It's all up to you.
The main app menu is only viewable as a grid. You swipe left or right to access the multiple panels. Though you can't change the view to a list, you can alter which apps are on which menu pages. Be default, the apps are listed in alphabetical order. The Quattro lets owners rearrange app icons however they might like within the grid framework.
The rest of the settings are mostly stock for an Android device and allow users to make a wide range of adjustments to the Quattro's behavior without too much trouble. Wallpapers, screen savers, ringers, and all those personalization items are a breeze to manipulate.
In terms of performance, the Quattro is OK but not great. It's pretty obvious that it's running something slower than a quad-core mega-processor. The home screen lags from time to time, apps are sometimes slow to open, and I had to repeat some screen presses thanks to unresponsive apps. It almost gets the job done, but not quite.
It's important to note, however, that few phones offer 4G and other features found in the Quattro for an unsubsidized price of $149.
Communications
Calls/Contacts
The Quattro uses the stock Android 2.3 calling and contacts applications. One thing I like is that there's a little shortcut to the SMS app from the phone dialer. This means you can type in a new number and then easily start an SMS with that person instead of dialing the number.
The Quattro offers haptic feedback when you dial numbers on the touch display. Call features include mute, speakerphone, add a line, etc.
The Quattro will import all of your Google or Exchange contacts if you have them. Adding Facebook and Twitter friends is optional. Contacts can hold innumerable phone numbers, email addresses, notes, and so on. The Quattro doesn't have any nifty contact widgets for the home screen; only the stock tools are available.
Messaging
The Quattro runs mostly stock Android 2.3 messaging applications, and doesn't offer anything new or unique.
It has the generic email app for POP/IMAP/Exchange email, and the dedicated Gmail application for Google users. Both of these applications are capable and time-tested. There's also a MetroPCS branded email application that covers basic internet-type email accounts. The stock SMS/MMS app offers threaded conversations, as always.
As for IM, the Quattro has Google Talk on board, and a MetroPCS-branded IM catch-all app that covers AIM, Windows Live, Yahoo, in addition to Facebook and Twitter social networking. The native Twitter and Facebook apps, which aren't preinstalled, offer a better experience, though.
Google's own social networking apps/services, such as Google+, aren't installed. If you use them, you'll have to download them yourself.
Extras
Media
M Studio
The Quattro offers a decent range of media options, all of which are anchored to the M Studio application. M Studio is MetroPCS's branded content store. MetroPCS customers can purchase and download music tracks, ringtones, ringback tones, as well as stream a limited selection of videos. The video includes a scattered assortment of cable-style programs, such as Real Housewive of New Jersey, from an array of content providers, such as Bravo, ABC, ESPN, Disney and many others. The streamed content can be viewed for free, and the quality was pretty good.
Google Play Music/Video
The other option, of course, is to skip the Metro app and go with Google. The Google Play Music and Video stores are both on board, and can be used for music, video, book, and magazine purchases. Google has done a good job of expanding the amount of content available from its store.
Other options on the Quattro include the Rhapsody Music app/service (which costs $10 per month to use) and a simple MP3 player for those who like to sideload their music.
All the music and video that I played through the Quattro sounded great through my favorite earbuds, though controls for altering the sound (such as EQs, etc.) were limited.
Camera
Camera
The Quattro uses the stock Android 2.3 camera. The camera itself can be launched with a long press of the dedicated camera button or from a home screen shortcut. Using a home screen shortcut is faster than pressing the button, because the button needs to be held for at least two seconds before it will start the process of opening the camera.
As far as camera software goes, it's not bad, but it's not great, either. The viewfinder consumes the left 80% of the display, with the right 20% offering access to all the controls for the camera app.
There are six options floating within the viewfinder that offer access to the more specific camera controls, such as overall settings (focus mode, exposure value, image size/quality, effects, etc.), location, white balance, flash, zoom, and which camera is being used (front/back).
Though the on-screen controls are speedy enough, the actual picture-taking process is far too slow. There's a significant delay between pressing the shutter button and seeing any sort of reaction from the phone itself. The viewfinder freezes, waits a second, then snaps the picture, then freezes again, and finally goes back to the camera app. I couldn't tell you where in that process the shutter actually fires.
Photos
The Quattro has a 3.2-megapixel camera with flash, but not autofocus. It's not that good. I'd say only about 50% of the images I captured were usable. The biggest problem is white balance. The camera barely gets it right. Poor white balance afflicted many of the photos, which you can clearly see below, rending them garbage. I was surprised that the white balance had trouble not only indoors, but also outdoor under direct sunlight. Any camera should be able to slam-dunk sunlit photos. Not the Quattro. Focus and exposure were consistently decent.
Video
The video is absolutely horrible. If you watch the clip below, you can see the white balance freak out as I pan the Quattro around. The real deal breaker is the audio quality. My voice sounds like it was recorded by a 1960s-era piece of equipment. Not only does the audio sound like it is 50 years old, it sounds like I'm talking through a tin can. Terrible. The focus is pretty soft, but exposure is OK.
Gallery
The Quattro's gallery is the boring old stock Android option. Photo albums float in stacks in the main gallery view and the Quattro syncs with your online accounts such as Google+ and Picasa, so you'll see those photos, too.
The Quattro includes only the most basic editing functions (crop and rotate.) There are no other editing tools, nor is there any third-party software for editing photos pre-installed. You have to download one yourself if you're interested in making changes to images. You can, however, easily share photos to the social network of your choice via the standard Android gallery tools.
Browser/Extras
Apps
MetroPCS is a known bloatware violator. Of the 39 apps on the Quattro, 12 of them are MetroPCS-branded apps/services. The MetroPCS-branded apps cannot be deleted, though a couple of the other extras can. The Quattro offers a pathetic 120MB for your own apps, so you have to be somewhat careful. (By way of comparison, many of today's leading phones offer more than 1GB of storage for user-installed apps.) In addition to the Google Play Store, MetroPCS offers its app store.
Bluetooth
The Quattro's Bluetooth radio worked without problem in terms of connecting to other devices. Sending phone calls to my car's hands-free system was problematic. I had to really crank the volume in order to hear calls, and the quality was not that good. Music sent to stereo Bluetooth speakers sounded good, though.
Browser
The Quattro has the stock Android browser and a browser labeled "MetroWeb." Don't fall for this trick. MetroWeb is really just a landing page. Sure, it has the day's top headlines and weather on top, but what MetroPCS truly wants is for you to get lost in its tangled web of content downloads.
The Android browser itself performs fine, and does a good job of rendering both full HTML web sites and mobile-optimized sites. It was fast enough on MetroPCS's LTE 4G network, but I found it to be tiresomely slow when browsing over 1X.
Clock
Need to check the time? Press the lock button, and the large, digital clock is visible on the lock screen. The clock is large and thick, which makes it easier to see, even when the Quattro is outside. It's a bummer than the lockscreen clock can't be customized.
GPS
The GPS radio of the Quattro worked well. It was able to find my location in less than 10 seconds, and generally pegged me to within 20 feet. Google Maps and its navigation features are the only pre-installed options, though others can be downloaded from the Google Play Store. Using Google Maps with the Quattro's GPS radio services, I easily able to route and follow directions from Point A to Point B. The Quattro is a fine navigation device.
Wrap-Up
The Coolpad Quattro offers a lot for its $149.99 price point. You get a good piece of hardware, solid LTE 4G performance, and a usable version of Android. It's not without a few faults, though.
Despite good network performance, the Quattro suffers a bit when it comes to voice calls thanks to an anemic earpiece and so-so audio quality. I was expecting somewhat better battery life, and the Gingerbread system software felt sluggish at times.
If you want to listen to music, watch some videos, or play some games, the Quattro is a great media device. The same can't be said of the Quattro's ability to capture media, which is about the worst I've seen this year.
MetroPCS offers a handful of LTE 4G smartphones at the same price point of the Quattro, and each has its pros and cons, but the Quattro is definitely a better buy than the Activa 4G.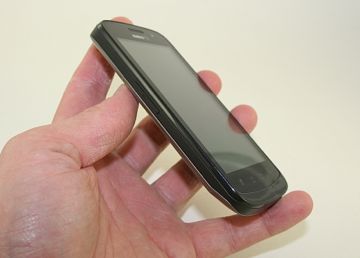 Coolpad, Activa, or the LG Motion...???
Which is the best? they're all the same price
Depends on what you are looking for.
Coolpad has a big screen and great call quality, which is important in poor wireless coverage area.

LG? Not sure, my friends bought one and seems slow in processing, opening apps or check emails.