New Pantech QMD Both Rugged And Green
Article Comments 6
Jul 28, 2012, 11:00 PM by Rich Brome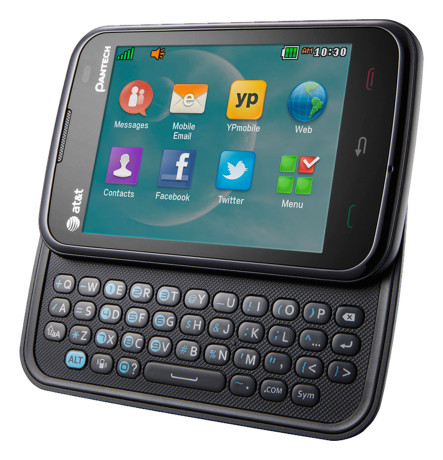 Pantech and AT&T today revealed the Renue, a "quick messaging device" with a slide-out QWERTY keyboard and rugged design made from 67% recyclable materials. The phone doesn't require a smartphone data plan, but uses Qualcomm's BREW-MP platform to provide smartphone-like features, including a touch screen and multiple customizable home screens. The Renue is similar to the pantech Swift, but with a larger screen, better camera, and the rugged shell. The Renue is tested and rated to military specs for sand, dust, extreme temperatures, humidity, vibration, and sun. The phone is available starting today for $70 with two-year contract.
source: Pantech
Pantech... when will they learn
They need to learn that their phones are neither awe-inspiring or memorable. I'm afraid they will go the way of WebOS only without the hype and saddnesss.
I don't get the comparison to webOS. Pantech isn't trying to create their own platform like Palm was.

Pantech is just trying to create decent, affordable phones that fill gaps in AT&T's lineup. I'm not sure they're even aiming for "awe-inspiring or...
(continues)
Rugged.....
So the phone is rugged, but not water resistant, or drop resistance... Just dust, vibration and humidity..... Not really all that rugged. The issues most consumers have is dropping the phone or getting it wet. Not really a huge selling point to me.