Review: Kyocera DuraXT for Sprint
Form Basics Extras Wrap-Up Comments 33
Media Camera Photo/Video Browse/Customize Extras
Photos
I wasn't expecting to get good results from the DuraXT, but I did. It has a solid little camera that, despite its user interface shortcomings, takes decent photos. As is often the case, lighting plays a major role in your success rate. Outdoor shots looked great. I saw plenty of good color and exposure, though focus was often a bit soft. I found the DuraXT was quick to fire off its flash when indoors. Worse, since I'm not used to holding a flip phone to take pictures, I often obscured the flash with my finger, which led to some pretty bad results. However, I take credit for the operator error in those instances. If you manage to let the flash go off unimpeded, it does a decent job of lighting up people's faces in dark rooms.
Video
The DuraXT's camcorder records video at a maximum of 176 x 144 pixels, which is about as low-resolution as it gets. As we've seen on other Kyocera devices using Sprint's Java platform, the window through which you shoot video is so amazingly small, it's nearly impossible to tell what you're shooting. That said, the quality wasn't as bad as on other devices. It wasn't good, not by any stretch, but it wasn't horrible, either.
AD article continues below...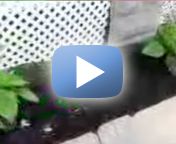 MPEG-4 format (viewable with QuickTime)
File size: 581 KB