Hands-On with the Waterproof Kyocera Hydro
Article Comments 2
May 8, 2012, 6:00 AM by Rich Brome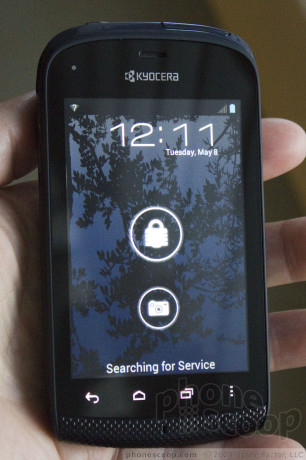 Kyocera has a lot of experience with waterproof phones, both from its rugged walkie-talkie phones for Sprint, and its Japanese phones. Now the company is bringing that waterproof know-how to an affordable Android phone with the Hydro. We spent some time with it. Read on for our first impressions.
Kyocera has been making waterproof phones for Japan for years. It's actually a table-stakes feature there. From what we've heard, a surprising share of Japanese consumers like to use their phone while taking a soak in the tub. So most phones in Japan are waterproof.
The Hydro brings that feature to the US market, where's rare outside of walkie-talkie phones made for construction workers, etc. (Something Kyocera also has experience with.) The Hydro is Kyocera's first waterproof Android phone.
The Hydro isn't just splash-resistant; it's designed to be fully submerged for up to 30 minutes. If you drop it in the tub without realizing it, don't worry; you'll look like a prune before your phone is in danger.
Unfortunately, some compromises had to be made to achieve that durability and keep the phone affordable. The Hydro is not a thin phone, and the side buttons aren't great to use; they don't stick out enough, so they're tricky to find and press. In fact, the overall feel of the phone is just plain cheap. It's very plastic-y. However, what we handled was a late prototype - not 100% final - so perhaps things will improve a bit before release.
But if you want a waterproof Android phone, there aren't many options. And aside from a bit of thickness, it is smaller and more pocket-friendly than the many phones these days with massive screens. It's also quite light.
Unfortunately, there's no dedicated camera key. Kyocera says that keeping physical buttons to a minimum helps with the waterproofing.
As on the Rise, we're glad to see a dedicated menu key on the front. Google would prefer to get rid of hardware "menu" keys on Android 4.0 phones, but they've been roundly criticized for the way they've made that change, so it's nice to see manufacturers like Kyocera listening to users and giving them the menu key they want.
Even better, Kyocera has given the menu key the same three-dot icon that Android 4.0 uses for on-screen "menu" buttons. Not everyone agrees that it's the best icon, but at least the consistency between the hardware icon and software icon makes for a consistent user experience. (It suddenly seems stupid that Samsung uses a different icon for the hardware menu key on the Galaxy S III.)
Speaking of software, like the Rise, the Hydro runs standard Android 4.0 (Ice Cream Sandwich), with only a few minor tweaks. First is the lock screen, which gains a camera shortcut. Second is Kyocera's "eco mode" app, which helps users control settings that affect battery life from one easy interface. A home-screen widget helps users keeps tabs on efficiency, much like the digital readouts in most hybrid cars. It also provides quick acces to changing the settings.
The rest of the Hydro's specs and features are just like the Rise: relatively basic. This isn't a bargain-basement freebie phone, but it's nothing anyone would call high-end, either. The 3-megapixel camera, display, and 1 GHz processor are all on the low end of the spec/performance curve, without being at the absolute bottom.
Kyocera tells us that this is a tri-band CDMA phone supporting 850/1700/1900 MHz. Cricket uses those bands, and seems to have an excellent relationship with Kyocera, so the Hydro coming to Cricket seems like a serious possibility.
For those wanting an affordable Android phone with a thumb-worthy keyboard and pretty face, the Rise may be worth a good look.
So which is it?
In an earlier article you say it is water resistant...now it is full blown water proof???

And yes...there is a HUGE difference.
I know you probably copy/pasted parts from the Rise hands-on
Since they are very similar, but you missed one change, last paragraph:

"the Rise may be worth a good look."

And to be more than a critic on writing, I think both phones look interesting, but they're definitely niche phones. There's a lot of niches that phone manufacturers in the US seem to be overlooking anymore, so seeing Kyocera step up to the plate is rather refreshing.