Review: HTC One X for AT&T
Form Basics Extras Video Wrap-Up Comments 13
Is It Your Type? Body The Three S's
May 1, 2012, 5:00 PM by Eric M. Zeman
originally published Apr 2, 2012
updated May 1, 2012, 5:00 PM
HTC's flagship device for 2012 is the One X. With it and its siblings, HTC hopes to revitalize its position in the smartphone market. HTC took a new approach to its design, and loaded it with the best tech available. The One X is also HTC's first phone to ship with Android 4.0 and Sense 4.0 from HTC. Here's what Phone Scoop thinks of this monster phone for AT&T.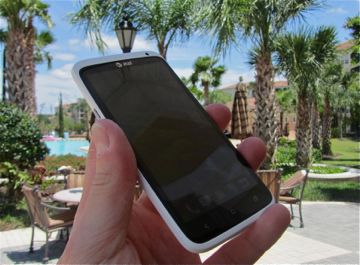 HTC swung for the fences with the One X, its flagship Android smartphone for 2012. The AT&T-specific variant of the One X has several significant factors that separate it from the international version: it loses the Tegra 3 quad-core processor, but adds LTE 4G. These make a huge difference in the performance of the device, which we explore in this review.
What, you guys aren't interested in HTC's best phone?
Discuss!
Personally I can't wait for it to come to Big Red; by Aug I'll be ready to retire my venerable DINC1 and this looks like the perfect go-to. As for the complaining about customization, that's fine with me. HTC/Android seem to be approaching BB in ter...
(continues)
It looks nice enough but I'd be MUCH more inclined to buy it if HTC offered a Nexus like pure android option.

It should be a menu option.
Eric M. Zeman said:
Discuss!
lol I like it but it's on the wrong carriers. Belongs on Big Red. Geeks don't like it cause they're either waiting for an S4 with the faster Adreno GPU or they're waiting for the Galaxy ...
(continues)
I wouldn't use the word "best" to describe any product that has a NON-removable battery! And I really, really hope Samsung doesn't make the same mistake when the Galaxy S3 is announced Thursday at 11am Pacific time!!! I *use* my smartphone, and like t...
(continues)
AMAZE VS ONE X ?
OK AFTER LOOKING AT THE SPECS AND WHAT THE TWO DEVICES OFFER THEY APPEAR TO BE THE SAME WHATS THE DIFFRENCE ? 4.0 THE AMAZE CAN BE UPDATED TO MATCH IT . WHAT I FIND IS THAT THREAD THROUGH THE NEEDLE TO MAKE ME WANNA BUY THIS NEW HTC PHONE THAT EVERYONE IS CRAVING OVER ... 😎
The difference is the Aamaze is T-mobile and the One X is AT&T
HTC Flagship device for 2012?
That's a pretty bold statement.

You're pretty much saying that For this Entire Year after this phone is released, HTC will not release a single phone with better Specs.

I really, really doubt the One X will be HTC Flagship phone for this entire year. No, sorry, It won't be. HTC won't shoot themselves in the foot like that.
Sealed Battery?
thought i heard you say that the battery is sealed? is that correct? it's not really an issue. was just making sure that was correct. although i would say w/my current htc phone, i do have to pull the battery to get it from locking up at times. hopefully there is some sort of master reset on this. it does look quite impressive. i am up for new phone next month, hopefully it will be available then... any idea when it will be released?