Review: Samsung Rugby Smart for AT&T
Form Basics Extras Wrap Up Comments 3
Is It Your Type? Body The Three S's
Mar 13, 2012, 3:34 PM by Eric M. Zeman
Saumsung's latest Rugby device offers both brains and brawn with Android and a rugged shell. Find out if this tough phone is the right phone for you in Phone Scoop's full review.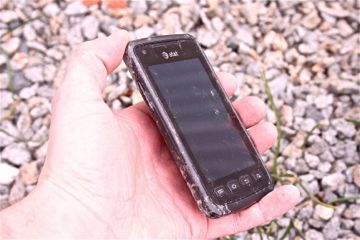 For the adventurer who spends more time outdoors than in, many of today's top smartphones won't cut it — they're simply not tough enough. Enter Samsung and the Rugby Smart. The Rugby Smart, as the name so aptly implies, takes Samsung's rugged Rugby line and throws in Android 2.3 Gingerbread to take things to the next level. The result is a Terminator-tough device that not only survives abuse, but comes back for more.
I would totally get this if.....
I have an Infuse now, I think I would get ticked of at a screen that small now lol. I really hope they put out another with a slightly larger screen. I'd totally pay for it.
not a bad device...
I wonder if the screen is gorilla glass, or something extra/more durable??? I think I will be offering my old samsung infuse 4g (upgraded to the note) up for a trade for this devcie and use this as my dedeicated "take to the beach phone". 😎
Not according to the Gorilla Glass website, but they may have just not updated it recently.