LG Fusic / LX-550
Info Photos News Forum 100+ Reviews 100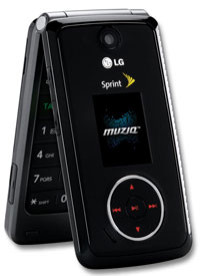 Sprint today announced the LG Muziq, the successor to last year's Fusic music phone. The Muziq retains all the same features of the previous model while updating the looks. It has a sleeker shape with an internal antenna. The music control pad on the cover has also been updated to a touch-sensitive unit with vibration feedback. The Muziq retains all the features of the Fusic including 1.3 Megapixel camera, which is now moved to the front of phone, stereo Bluetooth, FM transmitter and MicroSD card slot, which is now SDHC compatible. The Muziq will be available on July 15.
---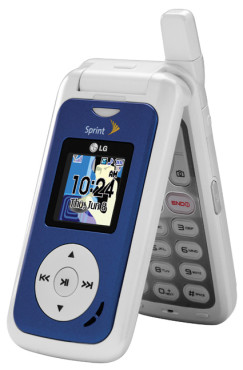 Sprint and LG today announced the availability of the LG Fusic - a new EV-DO handset with a focus on music. Not only does the Fusic feature Sprint's music player and music store with external playback controls, but it also can broadcast your music over both stereo Bluetooth (A2DP) or FM radio. The Fusic is the first phone to launch in the US with a low power FM transmitter for music playback over nearby stereos. In addition to the music features, the Fusic has a 1.3 Megapixel camera, MicroSD card slot, with internal and external color LCDs. It also features a glowing keypad and changeable faceplates. When asked about the name change, an LG Spokesman confirmed that the company will launch more phones with names instead of model numbers in the future.
---

On-the-scene coverage of CTIA Wireless 2006. Exclusive photos and hot info from Las Vegas. New phones from HTC, Pantech, LG, Disney, Helio, Samsung, Nokia, Kyocera, and more.
---