Samsung Galaxy Z Fold5
The Samsung Galaxy Z Flip5 and Galaxy Z Fold5 are now officially available. Samsung is offering some previously-unannounced free trials as extras when the phones are ordered from samsung.com. With either phone, get four months of YouTube Premium, four months of Microsoft 365 Basic, and two months of Adobe Lightroom. Like the wireless carriers, Samsung has its own trade-in deals that let customers save up to $600 on the Flip5 and up to $1,000 on the Fold5.
---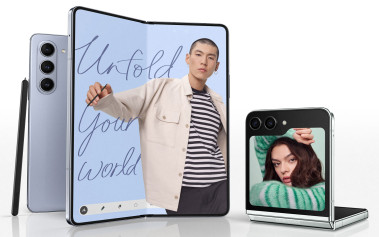 Samsung has unveiled its newest generation of Galaxy Z foldable phones: the Galaxy Z Fold5 and Galaxy Z Flip5. The Z Flip5 has an outer display that's almost 4x larger. Samsung calls it Flex Window and it has greatly increased functionality — including quick reply and widgets — much like Motorola's new razr+. Other changes are more minor, including a new hinge design that folds completely flat, allowing both phones to be thinner. The Z Fold5 is lighter as well, and its inner display can reach a higher peak brightness when outdoors. Samsung has also made the S Pen Fold Edition and its special case slimmer and more compact. The bodies of both phones are made from Gorilla Glass Victus 2 and Armor Aluminum, and are still rated IPx8 for water resistance. Both phones have been updated to Qualcomm's latest flagship chip: the Snapdragon 8 Gen 2 for Galaxy. The Z Flip5 comes with double the storage by default (256 instead of 128 GB) and it now supports Wi-Fi 6E. Otherwise, both phones have nearly identical specs and features compared to their predecessors, including the cameras, battery, charging, and RAM. Pricing also remains the same, starting at $1,000 for the Z Flip5 and $1,800 for the Z Fold5. Pre-orders are eligible for a free storage upgrade (from 256 to 512 GB, for example). The Z Flip5 will be available in Mint, Graphite, Cream, and Lavender, plus the samsung.com exclusive colors Blue, Gray, Green, and Yellow. The Z Fold5 will be available in Icy Blue, Phantom Black, and Cream, plus the samsung.com exclusive colors Blue and Gray. Samsung and carriers are offering generous trade-in deals of up to $1,000 off. Pre-orders are now open and the phones will be available August 11.
---