Google Pixel Fold
The top three US carriers will all sell both the Google Pixel 7a and Pixel Fold. All three will sell the Pixel 7a starting this afternoon. T-Mobile will sell it for the same price as Google ($500), while AT&T will charge $520 and Verizon will charge $540. The 7a comes in both mmWave and non-mmWave versions. The addition of mmWave 5G accounts for the price difference with Verizon. Although T-Mobile's version does not support mmWave, it will support three-carrier aggregation on the company's unique 5G SA network. AT&T's version does not support mmWave either, but does support mid-band 5G: band 77-C today and band 77-A (3.45 GHz) "enabled in a future software update". T-Mobile and AT&T say they will offer the Pixel Fold "soon" or "this summer" (respectively). Verizon is being much more specific, saying Pixel Fold pre-orders start June 20th, with full availability on June 27th. Verizon will offer the phone with the option of either 256 or 512 GB of storage.
---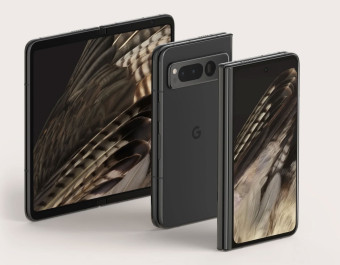 Google today announced its first foldable phone, the Google Pixel Fold. The Pixel Fold features a 7.6-inch flexible inner display for a tablet-like experience when open. The concept is similar to the Samsung Galaxy Z Fold series, as are the high-end specs. When closed, the 5.8-inch outer display offers OLED technology and FHD+ resolution. Both displays support up to 120 Hz refresh. Google claims that the Fold is the thinnest foldable on the market (when open), and has the best zoom camera (5x optical) of any foldable phone. Google also claims that its hinge mechanism is the most durable on the market, thanks to "multi-alloy steel construction" and a custom "dual-axis, quad-cam synchronized mechanism". Like Samsung's Z Flip series, the hinge is stable at any angle, allowing you to set the phone down and keep the camera pointed wherever you choose. A unique Dual Screen Interpreter Mode uses both displays to give two people real-time, two-way language translation. Corning Gorilla Glass Victus protects the outside and the phone offers IPx8 water resistance. The Pixel Fold is powered by Google's own Tensor G2 processor, paired with 12 GB LPDDR5 RAM and 512 GB UFS 3.1 storage. The battery is rated 4,821 mAh and the phone supports wired fast charging up to 30W (no charger is included) as well as wireless charging. The main camera is 48 megapixel with OIS, while the tele and wide camera are both 10.8 megapixel. Although Google claims the inner selfie camera is the best in a foldable, it is just 9.8 megapixel and fixed focus. The phone also includes mmWave 5G, UWB, Wi-Fi 6E, and stereo speakers. It will be available for $1,799 in either Obsidian or Porcelain. It ships "next month". Pre-orders start today and include a free Pixel Watch.
---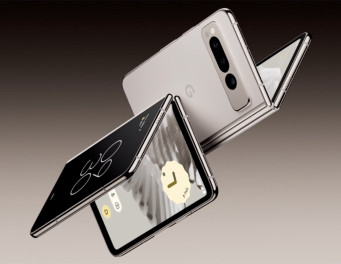 Google has released the first official images of its new foldable phone and confirmed that it will be called the Pixel Fold. The company also promises to release more details about the device during the keynotes at its Google I/O event next week, starting May 10th. The new images show a device similar to the Samsung Galaxy Fold series, with a large vertical outer display on one side and a larger, flexible landscape display on the inside. Also visible are three rear cameras, an inner camera, and a smooth metallic hinge. The long-rumored device was first confirmed via an FCC approval published on Monday. That confirmed several radio-related features, such as UWB, wireless charging, mmWave 5G, and Wi-Fi 6E.
---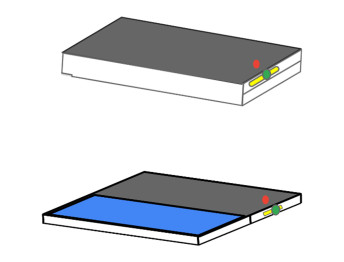 A new device approval appearing on the FCC's web site appears to confirm the rumor that Google has its own foldable phone coming out soon. Among the information available are diagrams showing "open" and "closed" configurations. The crude drawings show a device that appears similar to the Samsung Z Fold series, as rumored. The approval also confirms that the device will be high-end and feature-rich, with features like UWB, wireless charging, mmWave 5G, and Wi-Fi 6E. The company is holding its annual Google I/O developer conference next week, starting May 10th. The day-one keynote event often includes major announcements. Given the timing of this FCC approval, it seems likely Google will announce this foldable device at that event next week.
---