Samsung Galaxy S23+
BMW is rolling out its Digital Key Plus feature to compatible Android phones with UWB, such as the Samsung Galaxy S23+ and Pixel 7 Pro. The feature is already available for Apple products. The enhanced "Plus" version lets you keep your phone in your pocket, whereas the earlier Digital Key feature (already available for select Android phones) requires that you tap your phone on the door handle. Cars with the feature produced since November 2022 are compatible with Android, while a future remote software update will add compatibility to older cars. Older Samsung and Google phones are compatible as well, as long as they have the necessary UWB feature. This includes most Plus and Ultra Galaxy S phones, Samsung foldables, and the Pixel 6 Pro. Digital Key Plus is based on an industry standard from the Car Connectivity Consortium (CCC).
---
Samsung today announced Message Guard, a new security feature that protects Galaxy S23 phones (which go on sale today) against zero-click attacks delivered as images in messages. Samsung will update other Galaxy phones with the feature later this year. Message Guard intercepts incoming images before they reach Samsung Messages and Messages by Google, sandboxing and inspecting the files before they can carry out an attack. Only once Message Guard ensures a file "cannot infect the rest of your device" does it become available to the messaging app for viewing (processing an image for viewing is when this kind of attack can occur.) Samsung also committed to extending Message Guard to third party messaging apps "at a later date".
---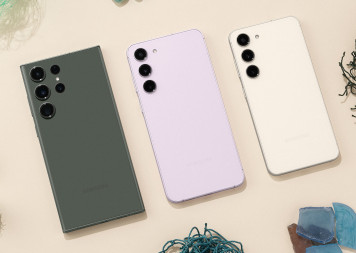 Samsung has officially unveiled its new flagship phones for 2023: the Galaxy S23 series. The S23 and S23+ have modest upgrades over last year's models, while the S23 Ultra has a significantly upgraded main camera. All three models are powered by a custom Snapdragon 8 Gen 2 "for Galaxy" chip, with an accelerated CPU and upgraded GPU compared to the standard Snapdragon 8 Gen 2 powering other flagship phones this year. Samsung will use this chip from Qualcomm in all S23 variants worldwide, instead of using its own Exynos chips in some markets as in past years. The Galaxy S23 Ultra has a 200 megapixel main camera, which can output full 200 megapixel images or use 16-pixel binning for very low-noise photos even in low light. An Astrophoto mode lets users capture the night sky. The main camera also has wider OIS, meaning the camera can now move up to 3 degrees to compensate for hand shake, reducing blur. All three models have an AMOLED display with adaptive refresh up to 120 Hz. On the S23 Ultra, it's a 6.8-inch panel with QHD+ resolution. The edges are curved, although the curve has been reduced compared to the S22 Ultra. The battery stays at 5,000 mAh, but Samsung claims up to 20% better battery life thanks to the more-efficient Snapdragon 8 Gen 2 for Galaxy chip. The Ultra still has an integrated stylus. All three models come with 8 GB RAM standard, although a 12 GB option is available for the Ultra. The Galaxy S23+ and Ultra both come with 256 GB storage standard, up from 128 GB last year. The Galaxy S23 and S23+ both have slightly larger batteries (an extra 200 mAh for each) and upgraded front cameras (now 12 megapixel). The design is more unified across all three models, with the Contour Cut design scrapped in favor of "floating" cameras on matte glass, with the same four color options for all three models: Phantom Black, Cream, Green, and Lavender. All three feature Gorilla Glass Victus 2 (front and back) set in an Armor Aluminum frame. Most other specs and features carry over from the last year's S22 series. This includes dedicated wide and telephoto cameras (3x tele on all, plus a second 10x tele camera on the Ultra). All three also include IP68 water rating, mmWave 5G, Wi-Fi 6E, Bluetooth 5.3, ultrasonic in-display fingerprint reader, fast charging, and two-way wireless charging. The S23+ and S23 Ultra also include UWB and faster wired charging (45W instead of 25W). Like last year, the standard and Plus models have flat FHD+ displays and 50 megapixel main cameras. The Galaxy S23 starts at $800 (128 GB storage; 256 GB also available). The Galaxy S23+ starts at $1,000 (256 GB storage; 512 GB also available). The Galaxy S23 Ultra starts at $1,200 (256 GB storage; 512 GB and 1 TB also available). Pre-orders start today, with widespread availability on February 17th. Pre-orders include a free upgrade to more storage, and pre-orders through samsung.com also include a $100 credit to spend with Samsung. Samsung.com is also offering four additional exclusive colors: Lime, Graphite, Sky Blue, and Red.
---