Google Pixel 7 Pro
Google has released its June 2023 "Feature Drop" (a software update for Pixel devices that adds new features). Although most of the new features are small, there are a lot of them this month. Google can alert your designated emergency contacts when you're in trouble, including sharing your location with them. This can now be activated in three new ways: when your phone detects a car crash, by asking Google Assistant, or by asking Google Assistant for a safety check at a designated time (the alert is sent if you don't respond to the safety check). Cinematic wallpapers uses AI to turn your 2D photos into dynamic 3D wallpapers. The Recorder app new has enhanced speaker labels, enabling users to "export transcripts into Google Docs, generate speaker-labeled video clips and search for speakers within recordings". The camera app now lets you start a self-timer with a hand gesture. Adaptive Charging is now smart enough to learn your charging habits and "slowly charge to 100% one hour before it's expected to be unplugged", which can extend the lifespan of the phone's battery. Adaptive haptics will now "lower its vibration intensity when it detects that it's on a hard, flat surface like a desk or table". On the Pixel 7 Pro, macro mode is now available for video. The rest of the features are available for Pixel 6 and newer Pixel phones.
---
BMW is rolling out its Digital Key Plus feature to compatible Android phones with UWB, such as the Samsung Galaxy S23+ and Pixel 7 Pro. The feature is already available for Apple products. The enhanced "Plus" version lets you keep your phone in your pocket, whereas the earlier Digital Key feature (already available for select Android phones) requires that you tap your phone on the door handle. Cars with the feature produced since November 2022 are compatible with Android, while a future remote software update will add compatibility to older cars. Older Samsung and Google phones are compatible as well, as long as they have the necessary UWB feature. This includes most Plus and Ultra Galaxy S phones, Samsung foldables, and the Pixel 6 Pro. Digital Key Plus is based on an industry standard from the Car Connectivity Consortium (CCC).
---
The January software update for Pixel phones adds static Spatial Audio to the Pixel 6, Pixel 6 Pro, Pixel 7, and Pixel 7 Pro. An update coming soon to the Pixel Buds Pro will add support for spatial audio with head tracking.
---
Google has released another "feature drop" software update for its Pixel phones. The update includes several major, previously-announced features, such as free VPN service, Clear Calling, and automatic multi-person transcription in the Recorder app. Clear Calling helps reduce background noise from the other end of a phone call. The updated Recorder automatically separates and labels different speakers when recording a conversation. "And once the recording is complete, you can easily re-label speakers with their names." The free VPN and Clear Calling are exclusive to the Pixel 7 series, while the new Recorder is available for Pixel 6 and up.
---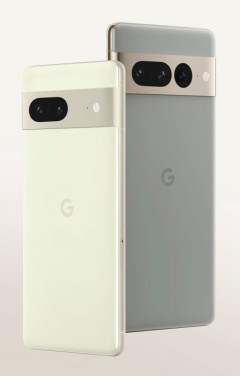 Google has revealed the full details of its new Pixel 7 and Pixel 7 Pro flagship phones. The new Pixel 7 is smaller, while the larger Pixel 7 Pro has a much more advanced camera system than any previous Pixel phone. An evolved design features a 100% recycled aluminum frame — unified with the camera bar — with a zirconia-blasted matte finish. Corning Gorilla Glass Victus covers both sides. Both models are powered by a new Google Tensor G2 chip with machine learning that's 60% faster and 20% more efficient compared to the original Tensor chip (in the Pixel 6 series). A 50 megapixel main camera with laser auto-focus offers high-quality 2x zoom via multi-frame capture. Video capture is improved in several ways, including 4K video at 60 fps, 10-bit HDR that works with third-party apps, Cinematic Blur (portrait mode for video), and improved stabilization & auto-focus for video. The front camera is also improved, with a larger sensor and 4K video capture. The standard Pixel 7 is smaller than the Pixel 6, with a 6.3-inch display with FHD+ resolution, 90 Hz refresh, and 25% higher peak brightness. The larger Pixel 7 Pro has a 6.7-inch display with QHD+ resolution and variable refresh up to 120 Hz. The Pro also adds a telephoto camera and improves the wide camera. The 12 megapixel wide camera is 21% wider and has auto-focus, allowing it to take macro photos. The 5x 48 megapixel telephoto camera works with the other cameras and multi-frame capture to provide a total "Pro" zoom of 0.5x – 10x, or up to 30x for video. Both phones have fast wired and wireless charging and reverse wireless charging. They also both have Wi-Fi 6E, Bluetooth 5.2, NFC, and an in-display fingerprint reader. The bodies are rated IP68 for water. The Pixel 7 has 8 GB of LPDDR5 RAM while the Pro has 12 GB. Both phones also have new software features, including emoji dictation, transcription of incoming audio messages, a voice recorder that separates different speakers, Guided Frame to help low-vision users take well-framed photos, and Photo Unblur to "fix" older photos taken with other phones. A feature drop coming later will add Clear Calling, which uses machine learning to clean up incoming audio on calls. Google is also introducing a free VPN service for Pixel phones to improve privacy. The Pixel 7 series will receive a guaranteed five years of security updates. Both models come in three colors. The Pixel 7 will be available in Obsidian, Snow, or Lemongrass. The Pro will be available in Obsidian, Snow, or Hazel. The new Pixels are available now for pre-order, and reach store shelves on October 13th. The smaller Pixel 7 will cost $599 (or $700 for the Verizon version with mmWave 5G), with the Pixel 7 Pro (with mmWave standard in the US) going for $899 for all US carriers. Both models start with 128 GB of storage, but have a 256 GB option. The Pro is also available with 512 GB.
---