Motorola edge+ (2022)
Info Photos News Forum 3 Hands-On ›
Motorola is offering deep discounts on its newest unlocked phones, with some models 40–50% off. The Moto g stylus 5G is now just $200, 1/2 off, and the flagship edge+ is down to $600, a $400 savings.
---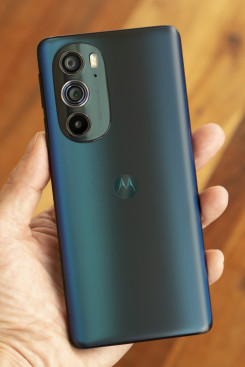 Motorola's newest flagship phone ticks all the standard boxes for a high-end phone, but it also has one totally unique feature: a wide-angle camera with a full 50 megapixel resolution, the same as the main camera. The selfie camera has a similarly unheard-of resolution at 60 megapixel. This phone looks good on paper, but what's it like in person? We take you on a tour and give our first impressions in this hands-on.
---
The 2022 edition of Motorola's edge+ flagship phone goes on sale March 24th. Verizon will sell the phone starting at $850 for 8 GB RAM / 128 GB storage, while the unlocked model will have 512 GB storage and run $900 ($100 off) as "a limited time offer".
---
Motorola has announced its new flagship phone for 2022: the Motorola edge+ (2022). Its most unique specs are the camera resolutions: 50 megapixel for both the main camera and wide-angle camera; the selfie camera also clocks in at an unprecedented 60 megapixel. The wide-angle camera doubles as a macro camera, delivering both auto-focus and 50 megapixel resolution for both wide and macro shots, which is a first. The new edge+ also has new and advanced support for an optional stylus. It also supports multiple scenarios connected to an external display, which Motorola calls "Ready For". This includes desktop-replacement and TV/entertainment modes, where the optional stylus can act as an "air mouse". But it also includes a new webcam mode where the phone's high-quality main camera can be used as a webcam for desktop video calls. This feature works both wired and wirelessly, and includes a subject tracking feature. As a flagship phone that will run $1,000 unlocked, it includes expected flagship specs such as a Snapdragon 8 Gen 1 chip, 6.7" FHD+ HDR10+ OLED display with 144 Hz refresh, 4,800 mAh battery, 30W fast charging, two-way wireless charging, Wi-Fi 6E, and Android 12. Motorola promises two years of OS upgrades and three years of security updates. It can capture 4K video in HDR10+ and still photos in 10-bit RAW. The phone is powered by a Snapdragon 8 Gen 1 chip (Qualcomm's best) and comes in several (somewhat-unusual) memory configurations: The unlocked model (for $1,000, or $100 less for limited time) has 8 GB of RAM and 512 GB storage. The phone does not accept memory cards. Motorola has yet to announce the launch date for the unlocked version (or any version). Verizon, Boost, and Republic will also offer the phone "in the coming months". Verizon will offer the phone with either 8 GB RAM + 128 GB storage or 12 GB RAM + 256 GB storage. Pricing for US carriers has yet to be announced, but in recent years Motorola phones have reached US carriers at far lower prices that what Motorola offers initially (unlocked). The Motorola edge+ will be available in "Cosmos Blue" or Stardust White".
---