Samsung Galaxy S22 Ultra
Samsung has started rolling out an OS update that brings several key features of the new S23 series to older high-end models such as the Galaxy S22, S21, and S20 series. The update is also rolling out for the S21 FE, S20 FE, Z Fold4, and Z Flip4, and soon the Z Fold3 and Z Flip3. The One UI 5.1 update adds Expert RAW features as part of the Galaxy Camera app, bringing new pro-level options and a new Photo Remaster tool. (Only higher-end models will get this feature.) Samsung Notes with Google Meet offers new real-time collaboration tools. The update also includes new connectivity and integration features with Galaxy Book laptops. There's also a new weather widget, and "Modes and Routines have expanded to enable custom wallpapers, ringtones, touch sensitivity and fonts".
---
T-Mobile has launched 5G SA (stand-alone) technology in its mid-band spectrum (primarily band 41) nationwide. This step not only moves to a more modern network with lower latency, but will enable 5G CA (carrier aggregation) of 3 frequency bands of simultaneous 5G, allowing faster data speeds of up 3 Gbps. This new, faster 5G mode will "begin" to roll out this year. The Samsung Galaxy S22 will be the first phone able to use this mode, "and it will expand to additional devices in the near future." Initial 5G networks operated in NSA (non-stand-alone) mode, which required mobile devices to stay connected to a 4G network in one band. This limited the specific frequency band combinations devices could use, limiting 5G data speeds and — in some cases — 5G coverage. T-Mobile addressed the coverage issue with the nationwide launch of 5G SA in its low-band frequencies in 2020. Today's announcement extends 5G SA to mid-band frequencies, addressing the data speed issue.
---
T-Mobile has successfully tested 5G triple carrier aggregation (NR CA) using 5G standalone (SA) and mid-band spectrum, achieving an impressive downlink data rate of 3 Gbps. Triple CA is not new, but non-standalone (NSA) 5G requires that one of those three carriers be slower 4G, limiting potential data speeds. SA mode allows all three carriers to be 5G, and two can even be in the same band. T-Mobile's band 41 mid-band spectrum is wide enough to allow that in some parts of the country. T-Mobile's test combined 100 MHz of band 41 (2.5 GHz) + another 90 Hz of band 41 + 20 Mhz of band 25 (1.9 GHz), for a total of 210 Hz of bandwidth. The test used a Samsung Galaxy S22, and customers with that phone can experience NR CA in some areas today. "This capability will expand across the Un-carrier's network and to additional devices in the near future."
---
Google announced that its "Material You" interface design — introduced with Android 12 and launched first on Pixel phones — will soon launch on phones from Samsung, OnePlus, and more. Specifically, these phones will all get the "dynamic color" feature, which automatically matches the user interface color scheme to your chosen wallpaper. This personalized color scheme applies not only to the system interface and Google apps, but also within third-party apps that have been fully updated for Android 12. The new Samsung Galaxy S22 series will ship with this feature, and a forthcoming software update will bring it to OnePlus phones such as the OnePlus 9 Pro.
---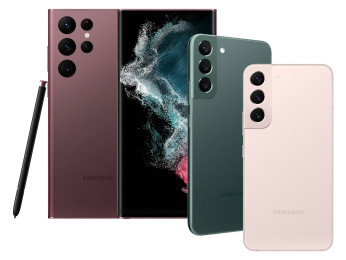 Samsung today announced its lineup of flagship phones for 2022: the Galaxy S22 series. The top-end S22 Ultra sees the biggest changes as it essentially absorbs Samsung's Note series with an integrated S Pen stylus and a more Note-like shape and design, instead of the Contour Cut design of the other models. Those two other models — the Galaxy S22 and S22+ — have a reconfigured camera system that's more like the Ultra models, with the main camera having extra resolution instead of the telephoto camera like last year. The main camera is 50 megapixel, plus a 12 megapixel wide-angle camera and 10 megapixel 3x tele camera. All three models have new Adaptive Pixel technology that captures both pixel-binned and non-binned images and merges them so users don't have to choose between high resolution and better low-light image quality. A new AI Stereo Depth Map feature delivers portrait shots with well-defined edges down to the hair level, and works with both people and pets. Auto Framing can track up to ten subjects at once and adjust focus and zoom to match. The S22 and S22+ are slightly smaller and lighter than their predecessors, with slightly smaller displays and batteries to match. All three models use the new Snapdragon 8 Gen 1 flagship chip from Qualcomm in their US variants. Other specs and features are mostly the same compared to last year's models, including 120 Hz AMOLED displays, 8K video capture, IP68 water rating, at least 8 GB RAM, ultrasonic fingerprint reader, and two-way wireless charging. Pricing and availability are also in line with last year.
The Galaxy S22 Ultra has a slightly shorter and wider shape compared to last year, but the display still measures 6.8" diagonally, and the battery is still 5,000 mAh. The camera configuration and basic specs are the same, including a 108 megapixel main camera, dual telephoto cameras (10x and 3x), and a 40 megapixel front camera. An exclusive Expert RAW app provides a "DSLR-like experience" and lets you capture 16-bit RAW images using any camera. The OIS (optical image stabilization) has been improved with wider correction angles. The S Pen has 70% lower latency compared to the S21 Ultra. The S22 Ultra also supports up to 45W fast charging. The starting configuration still costs $1,200 and comes with 128 GB storage, but only comes with 8 GB RAM instead of 12 like last year. (Samsung made a similar tweak with the S21 and S21+ last year.) Step-up options come with 256 GB, 512 GB, or 1 TB of storage, all with 12 GB RAM. Color options are Phantom Black, Phantom White, green, and burgundy. Samsung will offer three additional colors exclusively through its web site: Graphite, Sky Blue, and Red.
The Galaxy S22+ has a 6.6-inch display, 4,500 mAh battery, 45W fast charging, and Wi-Fi 6E. It's more durable thanks to a body made almost entirely of two new materials: Samsung's own Armor Aluminum, and Corning Gorilla Glass Victus+. The S22+ starts at $1,000 for 8 GB RAM and 128 GB storage, with a 256 GB option also available. It will be available in Phantom Black, Phantom White, Pink Gold, and green. The samsung.com exclusive colors will be Graphite, Cream, Sky Blue, and Violet.
The standard Galaxy S22 is smaller, with a 6.1-inch display and 3,700 mAh battery. Other differences compared to the S22+ include 25W fast charging, Wi-Fi 6 (not 6E), and no UWB. But it keeps everything else, including the same camera system and advanced materials. The color and storage options are also the same. It starts at $800.
All three phones go on sale February 25th with all major carriers. Pre-orders start today, and include a free upgrade to the next storage tier (1 TB option excluded). Samsung is also offering a credit of $100–200 to spend on either a Galaxy Watch4 or Samsung's new Freestyle smart projector. Separately, but for a limited time, AT&T is offering 50% of select Samsung accessories with the purchase of any Samsung smartphone.
---