Motorola moto g stylus (2022)
Motorola is offering deep discounts on its newest unlocked phones, with some models 40–50% off. The Moto g stylus 5G is now just $200, 1/2 off, and the flagship edge+ is down to $600, a $400 savings.
---
Cricket has started selling the 2022 editions of the Motorola moto g power and moto g stylus. The new moto g power was announced in November. Motorola sells it unlocked for $200, but Cricket is selling it for $140. (Metro sells it for $190 while Verizon sells it for $250.) The new moto g stylus was announced in February. Cricket is selling it for $190. Motorola sells it unlocked for $300, although that version has more storage and RAM. Motorola has, in past years, offered a 5G version of the g stylus, but both of these new models for Cricket only support 4G.
---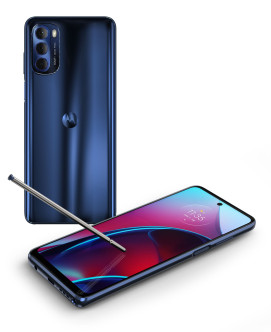 Motorola has a new version of its affordable stylus-oriented phone. The new "moto g stylus (2022)" is similar to last year's 4G model, but with a larger battery (now 5,000 mAh) and an upgraded display with 90 Hz refresh. Its 50 megapixel main camera can save photos at full resolution, (unlike last year's edition,) and the 8 megapixel wide-angle camera now does double-duty as the macro camera, delivering higher resolution macro images. The new model is also powered by a MediaTek Helio G88 chip instead of the Snapdragon 678. Other specs are identical, including a large 6.8-inch display with Full-HD+resolution, 16 megapixel front camera, dedicated depth camera, fingerprint reader, expandable storage, fast charging, and headset jack. It will ship with either 4 or 6 GB of RAM, and 64 or 128 GB inbuilt storage. The model with extra RAM and storage is available for pre-order now for $300, with a ship date to be announced. The new moto g stylus will also be offered by Cricket and Consumer Cellular "in the coming months". Last year, Motorola offered a separate 5G version that was much more popular with major US carriers.
---