OnePlus 10 Pro
Verizon has certified the new OnePlus 10 Pro for its network, meaning users can buy the phone unlocked and Verizon will activate it.
---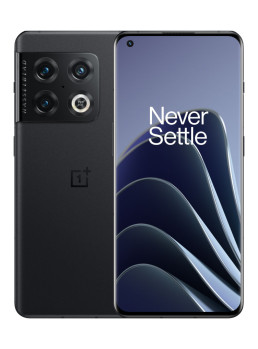 OnePlus has finally released US launch details for its new OnePlus 10 Pro flagship phone. The 10 Pro is priced at $900 from T-Mobile or unlocked. It will be available from T-Mobile starting April 14th in Volcanic Black. The unlocked version (also black) is available for pre-order now from OnePlus's web site, showing a delivery date of April 21. oneplus.com will also offer an "Emerald Forest" green color at a later date. All versions have 8 GB RAM and 128 GB storage. The OnePlus 10 Pro is powered by a top-end Snapdragon 8 Gen 1 chip. It has a 6.7-inch QHD+ AMOLED display with up to 120 Hz refresh, and triple rear cameras including a 50 megapixel ultra-wide camera and a 48 megapixel main camera. The large 5,000 mAh battery supports 65-watt fast charging for "a day's power in 15 minutes". It's also rated IP68 for dust, dirt, and water.
---
After a period of relative silence outside of China, OnePlus has given an update on its global plans for 2022. The company's current flagship phone, the OnePlus 10 Pro 5G, will launch in North America by the end of March 2022. The phone was first launched in China in January. The company also announced a new focus on Canada and Mexico and an expansion to South America, dramatically expanding its presence in the western hemisphere beyond the US. OnePlus also announced that its OxygenOS flavor of Android will remain "independent", a major change from the previously-announced strategy of fully merging OxygenOS with sister brand Oppo's ColorOS. That move was controversial. "This new course was taken in accordance with feedback from our Community", according to OnePlus founder Pete Lau. While the two OSes will still have a merged codebase on the back-end "to allow for faster updates and better build quality", OxygenOS 13 will have "an experience that long-time OnePlus users will be familiar with while ensuring it upholds hallmarks of OxygenOS". This means "a light and clean experience that is close to stock Android and oriented towards usage globally". Finally, OnePlus revealed that a new OnePlus phone coming in the second quarter of 2022 will feature unprecedented 150-watt fast charging called "150W SuperVOOC". This technology "can charge a 4,500 mAh battery from 1-50% in just five minutes."
---