Google Pixel 6
Owners of Google Pixel phones will soon be able to perform common repairs themselves using genuine parts from Google. The move comes hot on the heels of a similar announcement from Samsung just last week. Similar to Samsung, Google is partnering with iFixit, which will sell the repair kits (including necessary tools) as well as individual parts. The program includes all Pixel phones starting with the Pixel 2, and "things like batteries, replacement displays, cameras and more". The program launches "later this year". Apple launched a similar program in November.
---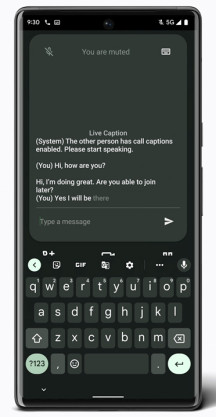 Google has started rolling out a new update for most of its Pixel phones that adds new features. One standout new feature is an enhanced Live Caption function for voice calls. Now it will not only display captions for what the other person is saying, but also let you respond by typing, or by tapping a suggested response. The phone will then speak the response so the other person can hear it. The button to activate Live Caption mode appears after pressing the volume button during a voice call. The update also brings existing features to additional Pixel models. Direct My Call and Wait Times will now be available on the Pixel 3a and newer. This month's update is rolling out now for Pixel 3a and newer, except for the Pixel 6 series, which will roll out later this month.
---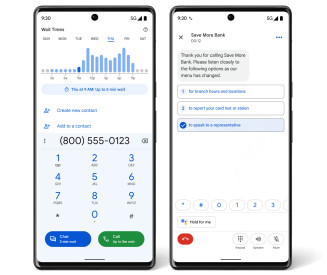 The newest version of Google's Phone app includes two major new features that make it easier to call businesses that make you navigate a menu tree and/or wait on hold before reaching a representative. The first feature, Wait Times, automatically displays a graph showing current and projected wait times for any specific toll-free number you're about to dial. If wait times are unusually long, you can quickly see when in the day or week they are likely to be shorter. The second feature, Direct My Call, automatically listens to and transcribes automated menus, turning them into a visual menu with simple on-screen buttons. The two features are available initially only on the new Pixel 6 series phones. Google often rolls out these types of features to new Pixels first, then to older Pixel models. Some such Pixel features are eventually made available to non-Pixel phones.
---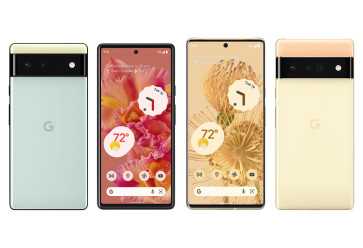 Google released details of the new Pixel 6 series phones that the company has been teasing for months. The Pixel 6 and Pixel 6 Pro are both high-end phones with a striking new two-tone design and the company's own Tensor chip instead of a Qualcomm Snapdragon chip. Google describes the higher-end Pixel 6 Pro as the company's first true "flagship" model. The Pro has a 6.7-inch QHD-resolution display with 10–120 Hz adaptive refresh. It has three rear cameras, including a 4x periscope telephoto lens with 48 megapixel resolution, and its front camera can record 4K video. It has 12 GB of RAM and the largest battery ever in a Pixel. It also has UWB. The smaller Pixel 6 has a 6.4-inch display with 90 Hz refresh and 8 GB of RAM. Both models have an always-on display with Gorilla Glass Victus and an under-display fingerprint reader. Both models are available 128 or 256 of storage, while the Pixel 6 pro is also available with 512 GB. The distinctive "camera bar" houses upgraded cameras with larger sensors and laser auto-focus. The main camera in both is 50 megapixel. Google claims its new Tensor chip is considerably faster than the Snapdragon 765G chip in the Pixel 5, plus dramatically faster on-device AI. That on-device AI powers several new camera features, including Magic Eraser, Face Unblur, and Motion Mode. It also powers a new, upgraded Voice Typing feature with support for automatic punctuation, intelligent people names, and emoji. Google has also improved the camera software with Real Tone, to better capture skin tone of people of color. Real Tone works in the camera app, third-party software, and the auto-enhance feature in Google Photos. Google promises five years of security updates for the Pixel 6 series. Both phones are available for pre-order starting today, and on store shelves October 28th. Each comes in three unique color options. The Pixel 6 starts at $599; the Pixel 6 Pro starts at $899. The standard unlocked version supports sub-6 GHz 5G. Each model will also come in a distinct Verizon variant that adds support for mmWave 5G. For the Pixel 6, the Verizon version costs and extra $100, while the Pixel 6 Pro for Verizon starts at the same $899 price.
---