Samsung Galaxy S21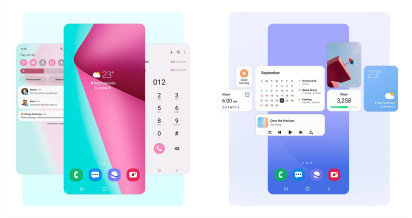 Samsung has completed the beta period of its One UI 4 software for Android and started rolling out the final version to its phones, starting with the Galaxy S21 series. One UI 4 is Samsung's customized version of Android 12, which was finalized and launched by Google last month. One UI 4 includes many key features of Android 12, including improved widgets, visible indicators when the camera and/or microphone are in use, and a new privacy dashboard in the settings area. The S21 series will get the update starting today, while recent S series, Z series, and A series phones will get the update "soon". This includes the S10 series and newer, Note10 series and newer, all Z series and Fold models, and the Ax2 series models, from the A42 and higher.
---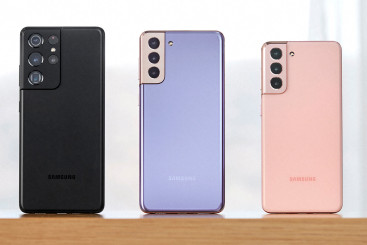 Samsung today officially unveiled its Galaxy S21 series of flagship phones for 2021. All three models sport a distinctive new "Contour Cut Camera" design where the metal frame extends around one corner to surround the rear cameras. Each of the three new phones has a starting price a full $200 lower than last year's models. Samsung achieved this on the S21 and S21+ by reducing RAM from 12 to 8 GB and switching from curved QHD-resolution displays to flat FHD displays. Also, none of the S21 series has a memory card slot nor ToD depth camera. Naturally the processor has been updated on all models to Qualcomm's new flagship chip, the Snapdragon 888. Samsung is also using Qualcomm's new Gen 2. ultrasonic in-display fingerprint reader, which offers a 70% larger sensing area and is 50% faster. The phones ship with Android 11 and have a number of software improvements to the camera, such as Director's View, Vlogger View, and multi-mic recording. Samsung has also used AI to improve Single Take, Portrait Mode, and Space Zoom. The camera hardware on the S21 and S21+ is nearly identical to that on the S20 series. The S21 Ultra has the most-upgraded specs of the three, despite starting at a lower price than last year's model.
Galaxy S21: The specs are very similar to last year's S20, including 4,000 mAh battery, 120 Hz refresh display, 64-megapixel main camera, 8K video capture, IP68 water resistance, fast wireless charging, and Wireless PowerShare. Unlike the S20, the S21 will come with mmWave 5G (including support for Verizon's "Ultra Wideband" network) from day one. It will come with 128 GB of storage, in Phantom Violet, Phantom Gray, Phantom Pink, and Phantom White, for $800. A 256 GB version will also be available in Phantom Gray for an extra $50. Phantom Gold and Phantom Red colors will be available exclusively from samsung.com.
Galaxy S21+: Its 4,800 mAh battery is larger than that in both the S21 and last year's S20+. It also adds UWB for directional tag-finding and wireless car keys. This is the first time Samsung has put UWB in its S-series. It retains all of the other specs and features of the S21, with a larger 6.7-inch display like the S20+. It will come with 128 GB storage, in Phantom Violet, Phantom Silver, and Phantom Black, for $1,000. A 256 GB version will also be available in Phantom Black for an additional $50. As with the S21, samsung.com will be exclusive seller of Phantom Gold and Phantom Red colors.
Galaxy S21 Ultra: This top-end model keeps the curved-edge, QHD-resolution display, 12 GB RAM, 108 megapixel main camera, and 40-megapixel front camera of last year's model, while adding several new features, all for a lower $1200 starting price. New this year is Wacom technology bringing full support for Samsung's S Pen, previously only offered on the Note series. The S Pen is an optional accessory. It also adds UWB, Wi-Fi 6e, adaptive display refresh from 10 – 120 Hz for power efficiency, and the ability to use 120 Hz refresh at QHD resolution. The telephoto camera system now includes dedicated 3x and 10x cameras, both 10 megapixel with OIS and dual-pixel auto-focus. All five cameras (front and back) can now shoot 4K video at 60 fps. The 108mp main sensor now has 12-bit HDR and can capture 12-bit RAW photos. It also has laser auto-focus. Pricing starts at $1,200 for 12 GB RAM / 128 GB storage in Phantom Silver or Phantom Black. Versions with 12 / 256 GB (for an extra $50) or 16 / 512 GB (for $1,380) will also be available, in Phantom Black only. Samsung.com exclusive colors will include Phantom Titanium, Phantom Navy. and Phantom Brown.
All three phones will launch on major US carriers as well as unlocked on January 29th. Pre-orders start January 14th at 11am ET. All pre-orders will include a free Galaxy SmartTag, and consumers who pre-order the S21 Ultra get a $200 credit to use on samsung.com or the Shop Samsung app.
---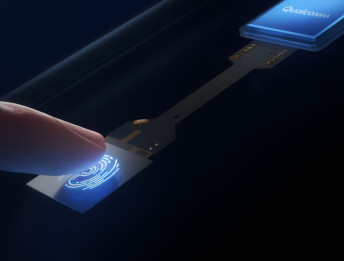 Qualcomm has introduced 3D Sonic Sensor Gen. 2, a new and improved version of the ultrasonic, in-display fingerprint sensor used in the Samsung Galaxy S10, Note10, S20, and Note20 series. The new sensor is 50% faster and has a 1.7x larger sensing area. The sensor itself is just 8 x 8 x 0.2 mm, allowing it to fit under the display without impacting phone size. (The first-generation sensor was 4 x 7 x 0.2 mm.) This line of standard-size sensors is not to be confused with 3D Sonic Max, a much larger sensor at 20 x 30 mm. Ultrasonic fingerprint sensors have an advantage of working even while the surface or finger is wet. Qualcomm 3D Sonic Sensor Gen. 2 is expected to debut in mobile devices early this year.
---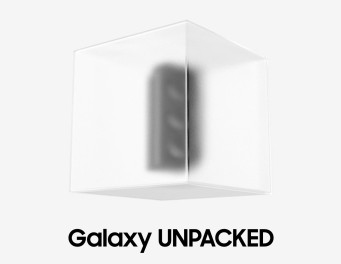 Samsung has set January 14th at 10 AM EST as the date and time for its next Unpacked event to launch its "next Galaxy" flagship device. The event will be live-streamed in samsung.com. The company is also offering $60 in instant discounts when customers "reserve" a pre-order prior to the event. The $60 comes in the form of $50 toward accessories in your order, plus $10 in the Android Shop Samsung App. The event is widely anticipated to include the Samsung Galaxy S21, the company's next flagship phone. A teaser video for the event features a series of past Galaxy S flagship phones.
---