Motorola one 5G ace
Metro by T-Mobile today announced the launch of the Motorola one 5G ace, a relatively affordable 5G phone at just $280, a significant discount from the $400 Motorola charges for the unlocked version. T-Mobile will also launch the one 5G ace soon. The more-affordable moto g play (2021) also just launched on both T-Mobile and Metro, for $150 and $160, respectively. Motorola charges $170 for the unlocked version. Separately, Cricket just launched the moto g power (2021) for $120 (plus $25 upgrade fee for existing customers). The g power sells for $250 unlocked. Metro is offering launch deals on the Motorola 5G ace for a limited time: New customers can get the phone for just $20, while existing customers adding a line can get the phone for $90. All three phones were announced in early January and went on sale unlocked January 14th.
---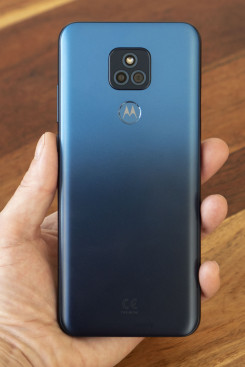 Motorola has a full slate of new affordable phones for 2021, ranging from $170 to $400 for the 5G model. The company's G series has long been well-regarded for quality and value. The new entries are the moto g play (2021), moto g power (2021), and moto g stylus (2021). There's also the Motorola one 5G ace, which — while technically part of the "one" series — seems closely related to the other three. In fact all four phones are quite similar, clearly sharing certain components and design priorities. But what are these phones like in person? How do they feel and what should you know beyond the specs? We're here to show you in this hands-on report.
---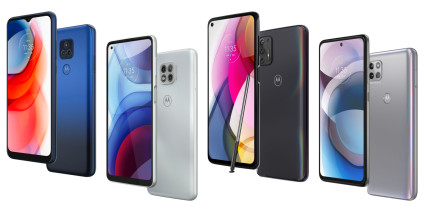 Motorola today unveiled a full lineup of four new affordable phones, including three g-series models ranging from $169 – $299 and one 5G model for $399. All four feature large batteries (4,000 – 5,000 mAh) and large displays (6.5 – 6.8 inches). All four also include a fingerprint reader, multiple cameras, headset jack, memory card slot, USB-C connector, and a "water-repellant design" that protects against accidental spills, splashes, sweat, or light rain. They ship with Android 10 and Motorola promises one full OS version update plus two years of security updates. Moto's latest camera app supports AI scene detection and optimization, Google Lens, portrait mode, RAW format, Active Photos, Auto Smile Capture, Gesture Selfie, time-lapse, and slow-motion on all models. All four also support gestures such as Lift to unlock, Flip for DND (Do Not Disturb), Pick up to silence, and Fast flashlight, where a quick double-chop motion turns the flashlight on or off. All four phones will be available unlocked as well as from many US carriers.
Unlocked versions of all four phones are available for pre-order starting today, with full availability on January 14th. Unlocked models can be purchased from Best Buy, Walmart, B&H Photo, Amazon, and motorola.com.
---