Samsung Galaxy A32 5G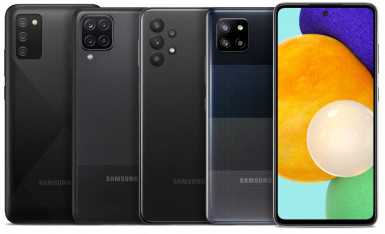 Samsung today announced the US launch of five new phones in the company's affordable Galaxy A series, including three 5G models. The Galaxy A32 5G will be the most affordable 5G model at just $280, and will be exclusive to T-Mobile (and Metro) at launch. Samsung is able to offer 5G at this prince thanks in part to the MediaTek Dimensity 720 5G chip in the A32 5G, whereas the two pricier 5G models use the Qualcomm Snapdragon 750G. Samsung announced the A32 5G and A52 5G a few weeks ago, but withheld US launch details at that time. The Galaxy A52 5G will run $500 and come to both AT&T and T-Mobile (including Metro). New is the Galaxy A42 5G, which is similar to the A32 5G but adds mmWave 5G for Verizon. It also swaps the 90 Hz LCD display for a 60 Hz Super AMOLED display, switches to an in-display (optical) fingerprint reader, and has double the storage at 128 GB. Most other keys specs are identical to the A32 5G. The A42 has a unique design on the back divided into four equal parts. Verizon starts selling the Galaxy A42 5G tomorrow for $400. All three 5G models will be available by the end of this week. The two more affordable 4G models are the A12 and A02s. We reported on the Galaxy A12 for AT&T on Monday. That model will also come to T-Mobile this week, and Verizon on April 29th. The most affordable model is the new Galaxy A02s (shown), "starting at" $110, although Verizon will sell it for $150 and T-Mobile says "Stay tuned for pricing details." The A02s has the same 6.5-inch HD display and huge 5,000 mAh battery as the A12, but with expected cost-trimming on the cameras (13 megapixel main and no wide-angle), processor (Snapdragon 450), and RAM (2 GB instead of 3). The A02s also loses NFC and the fingerprint reader, but keeps 15W fast charging, USB-C, memory card slot, and the headset jack. The A02s is distinguished by its textured design on the back, divided into sections diagonally. Verizon starts selling the A02s on April 29th; T-Mobile has yet to announce a launch date.
---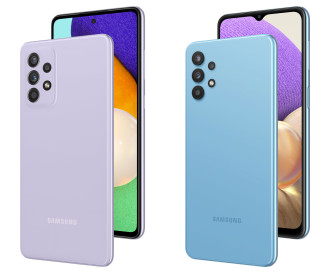 Samsung today announced the Galaxy A52 5G, the update to last year's Galaxy A51 5G. Upgrades over the A51 include 120 Hz display refresh, 64 megapixel main camera with optical image stabilization (OIS), IP67 water resistance, and stereo speakers. Other specs remain similar to least year's model, including 6.5-inch FHD+ AMOLED display, 4,500 mAh battery, 25W fast charging, quad rear cameras, 6–8 GB RAM, expandable memory, and NFC. Samsung didn't reveal US launch details, but regulatory filings indicate that a US version is planned for multiple carriers, including AT&T and T-Mobile. While the A51 5G was Samsung's most affordable 5G phone in 2020, Samsung's Galaxy A32 5G, announced in January, is likely to be the company's most affordable 5G phone in 2021. A recent FCC approval indicates Samsung is preparing to bring the A32 5G to the US market as well. The Galaxy A32 5G has a 6.5-inch HD display, 48 megapixel main camera, 8 megapixel wide camera, 5,000 mAh battery, 15W fast charging, 4–8 GB RAM, and a side-mounted fingerprint reader. Samsung also announced a 4G-only Galaxy A72 today. It's similar to the A52 but with a larger display and battery. There is no indication yet that the A72 will come to the US.
---