LG Wing
---
LG today announced that it will continue to issue Android operating system updates for three years for its premium phones, and two years for its lower-end phones. The pledge follows the news earlier this week that LG will stop making phones by mid-year. For premium phones, LG's commitment is "up to three iterations of Android operating system updates from the year of purchase". This applies to G series and V series phones released in 2019 and later, as well as the Velvet and Wing. Lower-end models include the K series and Stylo phones released in 2020 "will receive two OS updates".
---
Verizon will start taking pre-orders for the LG Wing on Oct. 1 for $1000, with full launch on Oct. 15. AT&T and T-Mobile will offer the Wing at a later date.
---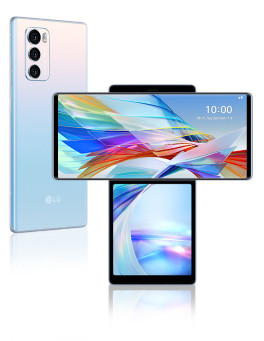 The first phone in LG's "Explorer Project" series is the LG Wing, a phone with a unique swivel display design. The 6.8-inch full-HD OLED main display swivels up to reveal a 3.9-inch second screen. The hinge features a hydraulic damper for smooth motion, and is rated for 200,000 swivels. The unique design is optimized for viewing videos full-screen while commenting or messaging on the second screen, for example. It can also keep GPS navigation full-screen while offering call controls on the second screen. A Grip Mode ignores accidental touches while recording video with the hinge open. A "Gimbal Motion Camera" mode takes this further with joystick, lock, and follow controls on the second screen. The 64 megapixel main camera is accompanied by two wide-angle cameras: a 12 megapixel "big pixel" camera plus another 13 megapixel wide camera. One wide-angle camera is mounted in standard portrait orientation while the other is rotated 90º to match the shape of the swivel screen when open. The 32 megapixel selfie camera pops up from the top of the phone. The Wing is powered by a Qualcomm Snapdragon 765G chip with 8 GB of RAM. It will come with either 128 or 256 GB of storage, plus a memory card slot. The 4,000 mAh battery can be charged via Quick Charge 4.0 or wireless charging. The Wing is rated IP54 for water and dust resistance. Available colors include Aurora Gray and "Illusion Sky". In the US, the LG Wing will launch first with Verizon, followed by T-Mobile, AT&T, and other US carriers. "Specific pricing, availability, specs and color options will vary by network partner."
---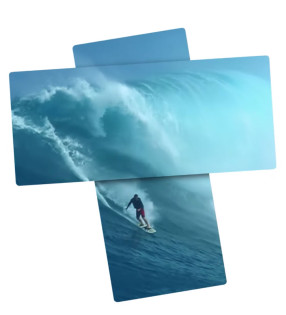 LG today released a new video teasing the first phone in the company's new "Explorer Project" lineup of unique phones. The video includes visuals that line up with rumors of a "Wing" phone with two halves that rotate form a cross shape with two displays. LG explains that its mainstream phones such as this year's Velvet are now considered part of the company's "Universal Line", while the "Explorer Project will focus solely on new usability that is discovered with innovative designs". LG will reveal more details on September 14th.
---