Motorola edge+ (2020)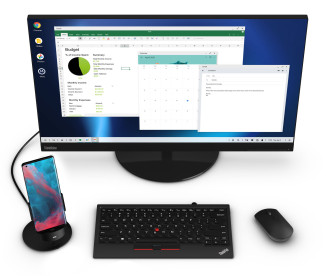 Motorola starting rolling out the Android 11 update to its edge+ flagship phone today. The update includes one surprise feature addition: wired video output including a full windowed mobile desktop experience. Connecting the phone to a TV or monitor automatically launches a new software experience that Motorola calls "Ready For". It focuses on four areas: In addition to Gaming and the Mobile Desktop (which supports a Bluetooth keyboard and mouse), there are also Video Chat and TV modes. The Video Chat mode lets you pick between the main camera or the 16 megapixel wide camera, and works with all major video chat services, including Zoom, Teams, and Meet. The TV mode shows a dashboard of all your favorite video streaming apps. Motorola also launched a new accessory called the Ready For dock, which makes it easy to position the phone at the best angle for video chats, and can be mounted to a tripod.
---
Motorola and Verizon are running a Valentine's Day sale offering a $500 discount on the flex-screen razr (2019) and the 5G edge+. Both are normally priced at $1000, so the discount cuts the price in half, to just $500. That is, by far, the lowest price for a foldable phone to date. This discount is available to both new and existing customers, and does not require a new line nor trade-in, but it does require a "select unlimited plan" and is only available online. The sale started February 4th and runs through February 14th. Further discounts can lower the price to zero with an eligible phone trade-in. The companies are also offering a buy-one-get-one-free (BOGO) deal on the edge+ "with new line activation and premium unlimited plan."
---
Verizon is offering a $200 discount on the brand-new Motorola edge+ flagship phone through June 3rd. Customers must purchase he phone online and will receive the discount in monthly credits over 24 months, but there are no other conditions.
---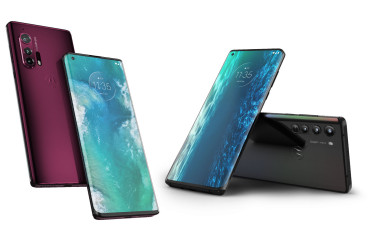 The Motorola edge+ is the company's first truly top-end phone in several years. It will be exclusive to Verizon in the US and go on sale May 14th. It's being introduced alongside the slightly more affordable — but still very high-end — "edge" model, which will be available in the US unlocked this summer. Both phones have the same 6.7-inch OLED "Endless Edge" display that curves a full 90º around the sides. An Edge Gaming feature adds virtual shoulder buttons to the curved display edge for games. The full-HD display also supports 90 Hz refresh and HDR10+. Both phones also have 5G, a water-repellent design, 3.5mm headset jack, NFC, and stereo speakers with Waze tuning that Motorola claims are the loudest of any smartphone.
The edge+ for Verizon supports both mmWave and sub-6 GHz 5G, is powered by a Qualcomm Snapdragon 865 chipset, has 12 GB of LPDDR5 RAM, and a 5,000 mAh battery. It also has 256 GB of UFS 3.0 storage, 18W fast charging, 15W wireless charging, and reverse wireless charging. It has a 108 megapixel main camera, a 16 megapixel combo wide and macro camera, an 8 megapixel 3x telephoto camera, and a 25 megapixel front camera. It can record 6K video, slow-motion (120 fps) video at full-HD resolution, and has a portrait mode in video . It will be available from Verizon in Smoky Sangria and Thunder Gray, starting May 14th, for $999.
The edge is powered by a Snapdragon 765 chip with integrated support for all US sub-6 GHz 5G networks. It has 4 GB of RAM, 128 GB of storage, a memory card slot, 4,500 mAh battery, and 18W fast charging. It has a 64 megapixel main camera, a 16 megapixel combo wide and macro camera, an 8 megapixel 2x telephoto camera, and a 25 megapixel front camera. It can record in 4K using either the main or wide-angle camera. It will be available unlocked this summer in Midnight Magenta and Solar Black. Pricing to be announced.
---