OnePlus 7T Pro 5G McLaren
T-Mobile will launch the first 5G service for US prepaid customers on its Metro brand this Friday, Dec. 6th, the same day the company's nationwide 5G service becomes available to T-Mobile customers. T-Mobile "launched" its nationwide 5G network today, but compatible 5G phones won't be available with either T-Mobile or Metro until Dec. 6th. Metro will offer the Samsung Galaxy Note10+ 5G. T-Mobile will offer that phone as well as the OnePlus 7T Pro 5G McLaren. T-Mobile's new "nationwide" 5G network covers 5,000 cities and towns across the country, 200 million people, and more than 1 million square miles. It uses low frequency bands that have the same coverage as 4G service, unlike mmWave 5G that can only cover small areas.
---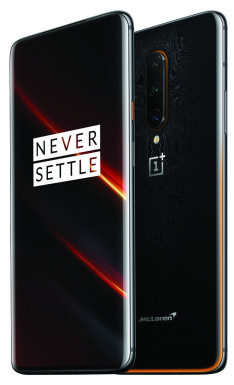 OnePlus announced the OnePlus 7T Pro two weeks ago, saying that the phone would not come to the US. That was half true. The 5G version of the phone will come to T-Mobile later this year, and it will be the special McLaren limited edition of the phone. The OnePlus 7T Pro 5G McLaren is the second 5G phone to be announced by T-Mobile, after the Samsung Galaxy Note10+ 5G. The new OnePlus will support sub-6 GHz 5G, specifically in band 71, T-Mobile's low-band 600 MHz spectrum that reaches farther than most other frequency bands. The OnePlus 7T Pro is based on the 7 Pro, with updated specs to match and best the newer 7T. It packs a Qualcomm Snapdragon 855+ chip, 12 GB of RAM, three cameras (including a 48 megapixel main camera and 3x optical zoom), 4085 mAh battery, and Warp Charge 30T fast charging. Its 6.67-inch OLED display sports HDR, 90 Hz refresh, and quad-HD resolution; it's curved at the sides and covers the whole face with no notch, thanks to a pop-up selfie camera. The McLaren design sports a carbon-fiber back with a wood-grain look, and accents in McLaren's "hallmark papaya orange racing tint." It comes with a case accented in carbon fiber and Alcantara. T-Mobile is not yet announcing pricing nor a specific release date.
---