Google Pixel 4
---
Google has rolled out another "feature drop" for its Pixel phones, adding several new features via software update. The Personal Safety app, previously exclusive to Pixel 4, will now be available on all Pixel phones. It also gains a new "Safety Check" feature that lets you schedule a time for the app to ask if you're safe. If you fail to acknowledge, it will alert your emergency contacts. The app will also support car crash detection on Pixel 3 devices. The feature drop also includes a new "bedtime" feature in the Clock app, which includes an array of features to help you maintain a consistent sleep schedule. Finally, the update also improves battery life and adds Assistant shortcuts for the Recorder app.
---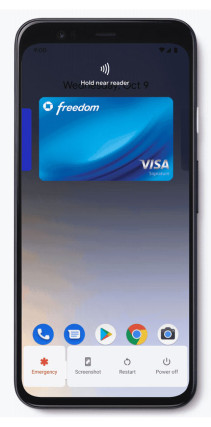 Google today started rolling out a new software update for Pixel phones that adds new capabilities. A long-press of the lock/power button will now surface a simple Google Pay interface that lets you swipe to choose a card or pass before tapping. Another new feature will automatically detect airline boarding pass barcodes when taking a screenshot, and suggest the option to add them as a pass in Google Pay. There is also a new option to have Dark Theme enabled automatically when the sun sets locally. On Pixel 4 phones (which have a RADAR-based gesture sensor), a new mid-air "tap" gesture will pause/play music. Pixel 4 phones will also now be able to capture depth information with the selfie camera, "which improves Portrait Blur and color pop, and lets you create 3D photos for Facebook." Finally, new settings let you configure location-based actions, such as silencing the ringer when at work, or Do Not Disturb mode at home. These can be triggered by either standard location or being in range of a specific Wi-Fi network.
---
Google is rolling out a "feature drop" software update for its Pixel phones, which adds new and improved features to Pixel models going back to the Pixel 2. The Pixel 4 gains improved Call Screen; on-device intelligence will now detect robocalls and keep the phone from ringing at all. Other unknown callers will be screened as before. The Pixel 4 also gains improved Duo video calling. The phone will digitally track and frame your face automatically. It also uses machine learning to automatically fill in small audio gaps when the connection is spotty. A new Google Photos feature lets all Pixel users add portrait effects after a photo is taken, and Duo video calling gains a portrait effect as well. Google is also rolling out certain Pixel 4 features to certain older Pixels, including: Recorder app, Live Caption, Focus Mode, and Flip to Shhh. The update also improves memory management in all Pixel models, allowing more apps to stay open at the same time.
---
Google has stopped selling Daydream VR headsets and the new Pixel 4 phones won't support Daydream VR. The Daydream headset used a phone's display and processor to power a mid-range VR experience.
---
Google has unveiled the Pixel 4 and Pixel 4 XL, its new own-brand flagship Android phones. The phones have Motion Sense, which uses a tiny RADAR sensor to read mid-air hand gestures, and power advanced face recognition for phone security. Google claims its face unlock is the fastest on the market, and requires no screen touch at all. This technology was first developed as Google's Project Soli. The OLED display supports an auto-adjusting refresh rate, up to 90 Hz. The Pixel 4 also reacts to squeeze gestures. The Pixel 4 comes with Google Recorder, which includes real-time, on-device voice recognition and dictation that produces searchable transcripts. The camera includes both standard (12 megapixel, f/1.7, 77º) and telephoto (16 megapixel, 52º) lenses, as well as multi-frame hi-res digital zoom. The improved HDR+ now supports live preview and dual exposure controls for greater creative control. An AI-powered white balance feature recognizes scene elements to provide better color. The improved portrait function uses both cameras. The new night mode supports astrophotography with long exposures up to 4 minutes. The larger XL model has a 6.3-inch QHD+ display and 3,700 battery, while the smaller model has a 5.7-inch FHD+ display and 2,800 mAh battery. Both models have a Snapdragon 855 processor, 6 GB of RAM, 64 or 128 GB of storage, and 18W fast charging. The Pixel 4 will be available from all major US carriers on October 24th, with pre-orders available today. It will start at $799 ($899 for the XL) and come in Just Black, Clearly White, and Oh So Orange.
---