BLU Vivo XI+
Info Photos News Forum 4 Our Review ›
For the first time, Verizon customers can use an unlocked Blu phone certified by Verizon for use on its network. Two models are compatible: the recently-launched Blu Vivo XI and Vivo XI+. The phones can be used with Verizon's Bring your Own Device Promotion, where customers will get a $150 prepaid MasterCard and free SIM card with activation. Best Buy is also running a sale today of $20 off the Vivo XI. Customers who have already purchased one of these phones can request a software update from Blu that will add official Verizon compatibility.
---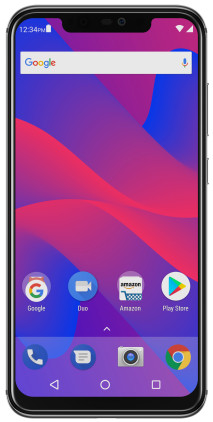 Blu Products today announced its flagship phone for the second half of the year, the Vivo XI+. This phone drops the mostly metal build of older Blu phones in favor of a glass front, metal frame, and plastic rear that are assembled with a smooth profile all around. The Vivo XI+ boasts a 6.2-inch full HD+ display with a notched area up top. The phone is powered by the MediaTek Helio P60 processor with 6 GB of RAM to ensure smooth performance. The Vivo XI+ sports AI-assisted Face ID that relies on infrared to detect the owner's face and irises. Blu gave the Vivo XI+ a dual camera system on the back. The main shooter has a 16-megapixel sensor while the second had a 5-megapixel sensor. Together, they can take bokeh/portrait shots, as well as time-lapse, slow-motion, HDR, and beauty shots. The selfie camera has a 16-megapixel sensor and screen-based flash. The 3,050mAh battery supports wireless charging (Qi) and rapid charging. Other features include support for microSD memory cards or two SIM cards, USB-C, WiFi, GPS, and LTE. It runs Android 8.1 Oreo. The phone can operate on the networks of AT&T/Cricket and T-Mobile/MetroPCS. It is being sold unlocked from Amazon.com for $350. For a limited time (while supplies last), Blu is offering the phone for sale at $250.
---
Blu Products today said it plans to announce a new flagship phone at the end of the month. The Vivo XI+ will feature 128 GB of storage and 6 GB of RAM. Blu didn't say what other features the phone might have. The new device arrives in the midst of a revised strategy for Blu. The company says its previous pattern of releasing a lot of phones each year left it unable to support them well with software updates and parts. Moving forward, Blu will focus on fewer phones in order to better support them down the road. Blu says this change will deliver a "renewed commitment to quality" and "stronger" phones that are more well thought-out. More details about Blu's new flagship will be revealed later this month.
---