Sonim XP8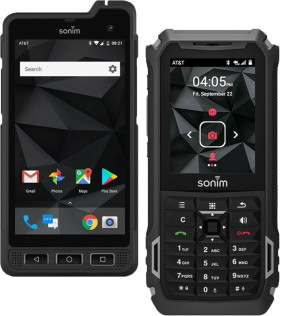 AT&T recently added the Sonim XP8 and XP5s to its roster of rugged phones. Both devices are intended to be used by FirstNet customers (first responders), though they are also available for consumers to purchase. Each meets mil-spec 810G for protection from abuses such as drops, impacts, temperature extremes, and vibration. They also offer IP68 protection from water and dust. Other shared features include dedicated push-to-tak buttons and compatibility with AT&T/FirstNet's e-PTT service. The phones support microSD memory cards for expanded storage.
XP8: This Android smartphone has a 5-inch full HD display and a Snapdragon 630 processor with 4 GB of RAM and 64 GB of storage. It includes a 12-megapixel main camera and an 8-megapixel user-facing camera. A 4,900mAh battery delivers up to 30 hours of talk time and a 100dB speakerphone ensures that calls can be heard in even the noisiest spaces. Other features include dual-band WiFi, NFC, Bluetooth 5.0, and a bevy of internal sensors. It runs Android 7 Nougat. The Sonim XP8 sells for $699, or $23.34 per month for 30 months. Orders placed online now will ship in early May.
XP5s: This bar-style feature phone has a 2.64-inch screen with 320 by 432 pixels. It is powered by a Snapdragon 427 processor with 2 GB of RAM and 16 GB of storage. It has a 5-megapixel camera, 3,180mAh battery, Bluetooth 4.3, dual-band WiFi, as well as apps including email, media player, and a browser. The Sonim XP5s costs $339. Orders placed online will ship within a week.
Both the Sonim XP8 and XP5s are backed by a three-year warranty.
---