ZTE Axon M
Info Photos News Forum 3 Hands-On › Our Review ›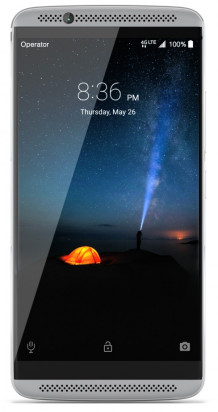 ZTE has pushed a maintenance release to its aging Axon 7 flagship handset device in order to patch up the phone's security. Primarily, the update applies Google's security fixes through the December 2017 patch. The security maintenance release also adds Hiya v6.3.3 for improved call blocking and protection, and installs a wide range of other performance tweaks and bug fixes. The release was made available over the weekend and should reach all Axon 7 devices in the weeks ahead. ZTE first debuted the Axon 7 during the summer of 2016. Though ZTE brought the foldable Axon M to market in 2017, the company did not release a follow-up flagship to replace the Axon 7. ZTE is expected to make some announcements at the Mobile World Congress trade show scheduled to take place next month in Barcelona.
---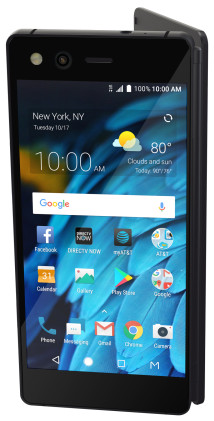 AT&T today said it will open preorders for the ZTE Axon M starting November 1. The company expects the dual-screened handset to go on sale in retail stores on November 17. The Axon M is unique in that it has twin 5.2-inch displays that fold out to create one large, 6.9-inch screen. The design bring with it incredible improvements to multitasking, allowing people to run two full-screen apps side by side, as well as more easily share content with others in mirror mode. The ZTE Axon M costs $24.17 per month on AT&T Next for 30 months, or about $725.
---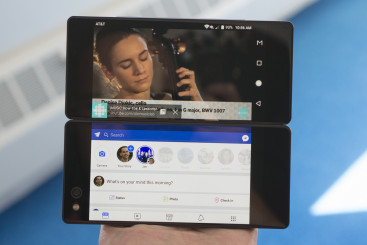 ZTE is trying something different with the Axon M. Rather than push out another boring slab, ZTE created an interesting Android smartphone with twin folding displays that can be set in a number of different and useful configurations. Need extra screen real estate in that document, or want to run two full-screen apps side by side? The Axon M does that and more. Here are Phone Scoop's first impressions of this AT&T-exclusive handset.
---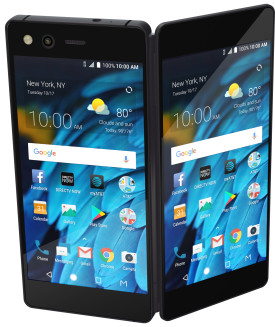 ZTE today announced the Axon M, a unique Android smartphone that has two full-sized displays that can unfold to create one larger screen for multitasking and viewing video. ZTE calls the Axon M a flagship handset, and it includes solid specs under the foldable aluminum chassis. Both screens measure 5.2 inches across the diagonal with full HD resolution. When fully opened, the combined screen real estate stretches 6.9 inches across the diagonal with 1,920 by 2,160 resolution. The displays are each covered by 2.5D Gorilla Glass 5. The Axon M includes three viewing modes suited to different tasks, such as running two apps at the same time, expanding the size of any given app, or sharing video with another person. ZTE says a decent number of apps will support the new viewing modes at launch, but it is releasing a series of tools to developers so they may adjust their apps to the Axom M form factor. The phone is powered by the Qualcomm Snapdragon 821 processor with 4 GB of memory and 64 GB of storage. The phone supports memory cards up to 256 GB. The Axon M has a single 20-megapixel sensor that doubles as the main and selfie cameras. Imaging features include an aperture of f/1.8, phase-detection autofocus, image stabilization for photos/videos, as well as dual LED flash. The M carries over the Axon line's high-quality audio thanks to Dolby Atmos, the AKM 4962 audio chipset, and powerful stereo speakers. Other hardware features include Bluetooth, GPS, WiFi, LTE, rapid charging, and USB-C. The device runs Android 7. 1 Nougat, but ZTE said an update to Oreo isn't too far off. The Axon M will be an AT&T exclusive in the U.S. ZTE said it expects the phone will reach stores in time for the holiday shopping season. AT&T said it will charge $24 per month for 30 months for the phone, or about $725.
---