Asus ZenFone 4
Info Photos News Forum 1 Hands-On ›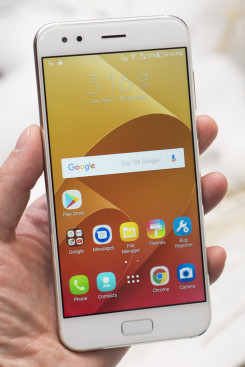 Asus' mid-range ZenFone 4 and high-end ZenFone 4 Pro may look alike, but they differ quite a bit under the hood. Where the former is an affordable handset, the latter is closer in price to today's flagships. If you're looking for a finer Android phone from Asus, the ZenFone 4 and ZenFone 4 Pro are where you should start. Here are our initial thoughts.
---
Asus recently announced plans to bring its ZenFone 4 series of phones to the U.S. unlocked market this year. The lineup includes the flagship ZenFone 4 Pro, the mid-range ZenFone 4, and two versions of the ZenFone 4 Max, both of which have large batteries but otherwise lower-end specs. The ZenFone 4 Max 5.5" is available now, while the rest will go on sale in the coming months. All have basic support for AT&T and T-Mobile LTE networks, including bands 2, 4, 5, and 12.
ZenFone 4 Max 5.2": Has a 4,100 mAh battery, 5.2-inch HD LCD display, Snapdragon 425 processor, 2 GB of RAM, and 16 GB of storage. Also includes a fingerprint reader, memory card slot, 13 megapixel camera, 5-megapixel wide-angle camera, and 8-megapixel front camera.
ZenFone 4 Max 5.5": Has a 5,000 mAh battery, 5.5-inch HD LCD display, Snapdragon 430 processor, 3 GB of RAM, 32 GB of storage, and a metal body. Other features are the same as the 5.2" version. (shown)
ZenFone 4: Has a 3,300 mAh battery, 5.5-inch Full-HD LCD display, Snapdragon 630 processor, 4 GB of RAM, 64 GB of storage, and a glass back. It also sports NFC, USB-C, Cat. 12 LTE, and a better main camera with OIS and 4K video recording. Like the rest of the series, it has dual rear cameras and the touch screen works through gloves.
ZenFone 4 Pro: A flagship-class phone with all of the features of the ZenFone 4, plus a Snapdragon 835 processor, 6 GB of RAM, an AMOLED screen, 3,600 mAh battery, fast charging, auto-focus front camera, 16-megapixel telephoto camera (instead of a wide-angle camera), laser focusing, and better support for AT&T's LTE network with bands 29 and 30.
---