Huawei Honor 8
Info Photos News Forum 4 Reviews 2
Huawei said its Honor 8 smartphone will receive Android 7 Nougat and EMUI 5.0 through an update planned for February 2017. According to Huawei, EMUI 5.0 streamlines the user interface and cuts down on the number of steps needed to reach core functions. The update will also reduce the amount of UI chrome, leaving more room on the screen for content. Huawei will allow people to choose a home screen with or without an app drawer, as well as run multiple profiles (personal, work) and easily switch between them. Further, EMUI 5.0 employs machine learning to analyze and adapt to user behavior over time. On the security front, EMUI 5.0 will allow owners to password protect individual apps. Huawei did not say exactly when the update will be made available. The Honor 8 has been for sale in the U.S. since the summer. It is available online and is sold unlocked.
---
A planned update to the USB Type-C specification will give it more control over audio functions, paving the way for it to fully supplant the 3.5mm headphone jack on most phones. Speaking at the Intel Developers Forum, engineers Brad Saunders and Rahman Ismail explained that the new USB audio standard lowers power usage through USB and defines how buttons on headphones can control music. The standard "will really make USB Type-C the right connector for audio," said Saunders. The 3.5mm headset jack is universally available on most consumer electronics, but is decades old. Dropping the jack will free up internal space, lowers the potential for interference, and negates the need for a digital-to-analog converter. Moreover, Saunders says the updated spec allows for software-based audio effects and signal processing that can, for example, cancel out nearby noise. Last, the updated USB-C spec improves support for video. Saunders says the new video capabilities will be good for working on a PC or watching a movie, but not necessarily for graphics-intensive gaming. USB-C is slowly gaining traction in smartphones. Samsung's Galaxy Note7 made the switch to USB-C, as did HTC 10, LG G5, and just-announced Huawei Honor 8. The connector is slim and reversible, and Type-C cables can push power in both directions.
---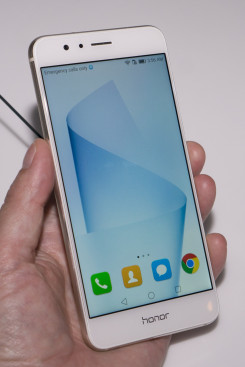 Huawei's Honor brand finally has a true flagship model in its lineup, and it combines Huawei's manufacturing chops with the Honor design flair, plus true flagship specs. It has the features of the Huawei P9 (another flagship) plus a few small extras. The design has a bit more flair, though. It's very iPhone-like. But how is it in person? We go hands-on.
---
Huawei's Honor brand today announced the Honor 8, the company's first true flagship-class phone under its Honor brand. The Honor 8 has most specs in common with the well-regarded Huawei P9, the company's flagship outside of the Honor brand. That includes the 12-megapixel camera with laser focus and a secondary camera providing monochrome exposure info for improved image quality. It also includes the 5.2-inch, full-HD display, Kirin 950-series processor, 3,000 mAh battery, 8-megapixel front camera, fast charging, fingerprint reader, NFC, memory card slot, and USB Type-C connector. Further, the Honor 8 improves on the P9 with 4 GB of memory instead of 3, and adds an infrared emitter for controlling home A/V gear. The design is glass on the front and back, with an aluminum frame. A 15-layer process creates a unique visual effect behind the glass. It will be available in blue, white, and black, with the blue color being exclusive to Best Buy for the first 60 days. The phone will be sold unlocked for $400 (32GB) or $450 (64GB) starting September 3rd. Pre-orders begin August 17th.
---