OnePlus 3
Info Photos News Forum 8 Our Review ›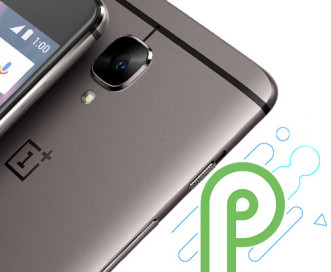 OnePlus say its OnePlus 3 and OnePlus 3T phones will both be updated to Android P. The company had originally said updates for these phones, which are two years old, would stop with Android Oreo. They currently run Android 8.0. OnePlus says it will skip the Android 8.1 update and go straight to Android P. "After internal discussions and evaluation, we have decided to focus our development resources on the Android P project instead of upgrading the device to Android 8.1, so that we can offer more exciting features and improvements for our OnePlus 3 and 3T users," said the company. OnePlus says the OnePlus 6 will be the first device to receive Android P, followed by the OnePlus 5/5T, and finally the OnePlus 3/3T. OnePlus didn't say when these updates will arrive.
---
OnePlus has made OxygenOS Open Beta 25, based on Android 8 Oreo, available to the OnePlus 3 and OnePlus 3T smartphones. Owners of these phones can, if they wish, download the beta build for pre-release testing. The beta includes core Android 8 Oreo features, such as the new Quick Settings design, auto-fill, smart text selection, PiP, and notification dots. Items specific to OxygenOS include new a OnePlus account login for access to Shot on OnePlus, as well as the ability to upload photos directly to Shot on OnePlus through wallpapers. OnePlus warns there are some bugs in the beta build, including slow downs with the fingerprint reader, stability issues with NFC and Bluetooth, and the loss of the camera shortcut to Google Photos. OxygenOS Open Beta 25 is free to download for those signed up with OnePlus' beta program. OnePlus says users will be able to downgrade to the Nougat-based version of OxygenOS if they find Open Beta 25 too unstable.
---
OnePlus recently made the OxygenOS 4.5 system update available to its 2016 OnePlus 3 and OnePlus 3T smartphones. The platform puts the 3/3T on feature parity with the newer OnePlus 5 flagship the company released in June. Some of the new features for the 3/3T include a gaming do not disturb mode, network speed status bar, scheduled night mode, the Slate font, and redesigned Dash Charge animation. The system introduces stability and battery improvements, and includes the redesigned calling user interface, photo editor, file manager, and secure box. OxygenOS 4.5 is available to download from OnePlus for free.
---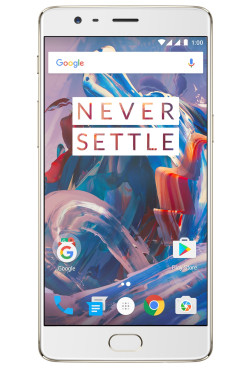 OnePlus today announced its third-generation flagship smartphone, the OnePlus 3. The 3 features a sleek, unibody design milled from a single block of aluminum and it measures 7.3mm thick. OnePlus selected a 5.5-inch full HD AMOLED display with thin bezels and a dual-polarizing layer to help colors remain vivid under bright light. The phone has a 16-megapixel main camera with a variety of capture modes, such as Smart Capture, Auto HDR, and Dynamic De-noise, which OnePlus claims eliminates noise by merging several images. The camera also includes optical and electronic image stabilization, as well as RAW image capture. The 8-megapixel selfie camera features a Smile Capture function to help ease the process of snagging those self portraits. The OnePlus 3 is powered by a 2.2 GHz quad-core Snapdragon 820 processor with 6 GB of RAM. OnePlus says the ceramic fingerprint sensor can identify prints in 0.2 seconds. The phone adopts OnePlus' Dash Charge technology, which can give the 3,000mAh battery a 60% charge in 30 minutes. The OnePlus 3 runs OxygenOS, which is based on Android 6 Marshmallow. OxygenOS includes off-screen gestures and the ability to customize the hardware and software buttons used to control the user interface. The phone will be sold unlocked with support for a wide number of LTE networks around the world. The OnePlus 3 is available online starting today for $399 — no invitation required.
---
OnePlus is on the verge of announcing the OnePlus 3, its third-generation smartphone. The company plans to reveal the phone in full during a virtual event scheduled for June 14. OnePlus says the phone will be shown in a virtual reality space called The Loop (app download required). Consumers interested in the OnePlus 3 will be able to buy it directly from OnePlus on the day of its announcement — no invitations required. OnePlus has long relied on invitations to manage supply and demand. The company said it is confident it can meet demand for the OnePlus 3 without invitations. The June 14 event starts at 12:30pm Eastern Time, with online sales at OnePlus.net following at 3:00pm. OnePlus didn't provide any details about the phone itself.
---